While our live chat can help with quick questions, filling out our 'Request a Quote' form allows you to share your designs, material choices and products you require with our team of specialists.
Selecting products to grow your brand or further your promotional campaign can be difficult. You may be struggling to find a print product or design that fits your brand and purpose, whilst appealing to your target audience. Or perhaps you aren't sure about the materials and finishes required for printing.
Whether you are a small business owner looking to check the printing finish details you need to complete for a product, or working on a large marketing project and need a specific promotional prop, our team can provide advice quickly and easily.
Requesting a Quote
The request a quote form offers the options to choose an existing product from our extensive range or to provide details for your own custom product. You can complete the form by following the steps below.
We can then provide a quote and advise on material and finish choices if you need a helping hand, or scope out custom requirements for you.
TIP:
Whether you choose to go with one of our existing products or customise your own, please try to complete the 'finishing requirements' and 'additional details' sections, as this will ensure our team can best understand your brand and its ambitions.
Quote Title
Once you have your product(s) in mind, you can begin filling in the form by giving a title to your quote that describes what you're looking for, for example 'indoor floor graphic for retail space' and select whether you're looking for an existing/custom product option.
Selecting your product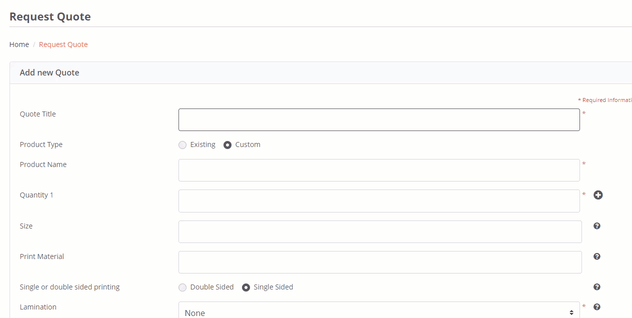 Before requesting a quote, you should first browse our store to decide whether one of our existing products fits your needs, or if you would like to request a quote for a custom product that we need to scope out.
Existing product type
If you choose this option, then you can select a product type from the drop-down menu of products currently available within the raccoon.store. Using this will enable the Raccoon sales support team to quickly respond to your quote request without having to ask additional questions.
Custom Product Type
If you have viewed the standard products available on the raccoon.store and can't quite find the option that you require, then feel free to select the custom product option. You can then enter a product name yourself. If we are able to print your graphics using this product type, then we will provide you with a quotation.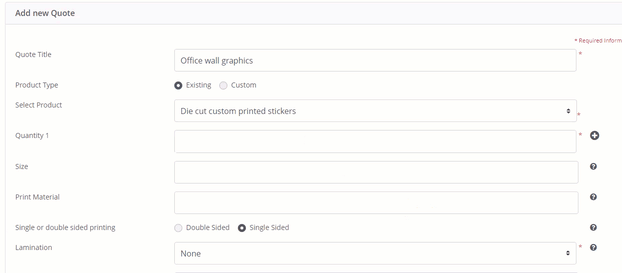 Quantity and Size
Next, adding the quantity of your selected product and size allows us to give you the most accurate quote possible.
Although the size section of the form is not a required field, we strongly encourage you to give us an approximate size - it helps us to help you!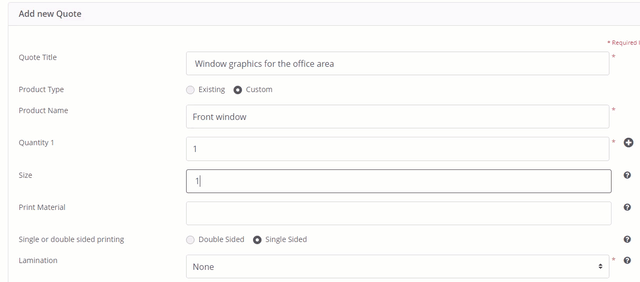 TIP:
You can add multiple quantities by using the small grey '+' symbol next to the text box so we can provide you with multiple quotes to work out what works best for your budget.
Printing material
After selecting your product, along with the size and quantity, you can tell us a print material that you would like us to use. This can be a material shown within our store or something specific that you would like us to use. If we are unable to print on your choice, then we will either offer an alternative or let you know that we are unable to provide a quote.
If you are unsure which material would work best, you can leave this blank and our team can provide their advice, or you can check out our glossary article to form your own opinion.
To give your product the best final print, you also have the option to select a matte or gloss lamination if desired and indicate whether the print product will be single or double-sided.
Additional details
If you have a clear picture of the product you need and its purpose then you can use this field to provide more information and ensure your product remains personal to your brand and specific use. Please let us know about any finishing requirements and additional details, such as if it will be used indoors/outdoors, hung, mounted to a wall etc.
Alternatively, this field can be used to ask for the opinion of our team who will collaborate with you to make sure the finer details are ironed out. You can tell us more what you intend to use the product for, i.e. an event or in a retail space, and include any dimensional info of the space you're working in or how long the product will be in place for. This helps us to make the best recommendations for you.
Uploading artwork
Finally, you can upload any artwork files you have directly through our 'Request a quote' feature to ensure your brand is at the forefront of our team's minds.
We do encourage you to have your own print-ready artwork to ensure our collaboration is efficient and effortless for you, however, we can provide assistance with artwork if requested in the additional details section. Alternatively, you can read for any artwork/design queries you have.
Submitting the form
If you would like to add another product to your quote, hit 'Save and add another product' – this is particularly useful if you have bespoke branding requirements for an event.
Once you have entered all your details and submitted the form, a member of our team will look to reach out to you within 1 working day to discuss your requirements further and to provide a quote.
Still need help?
If you still need help, please fill out our Contact Us form and a member of our team will be in touch.