Here are a few different ways to upload or create your artwork to send to our team - whether you're simply requesting a quote or submitting your final order.
There are three different ways that you can share your artwork with us via the store:
Uploading when placing your order
Uploading via request a quote form
Creating artwork using our Design App tool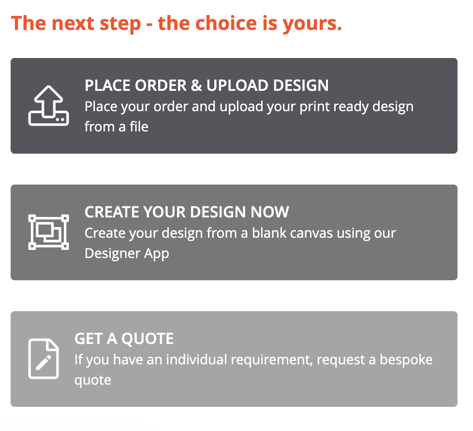 TIP:
All artwork needs to be approved by our team before production can start. Please ensure the artwork you do upload is fully proofed and all images are high-resolution when placing your order.
Uploading when placing an order
Alternatively, if you are ready to purchase a product, uploading your artwork can be done along with your order details here (https://www.raccoon.store/). Again, you can upload your artwork file directly from your documents.
TIP:
If uploading your artwork, please note that file(s) should be less than 50MB in size and in one of the below formats:
jpg/ jpeg
gif
png
eps
ai
pdf
zip
tar
rar
cdr
psd
svg
For more information on this feature and how it can help you get the most out of uploading your artwork, our 'How do I request a quote?' article may be a useful read.
Uploading via request a quote form
If you are still in the early stages of finding the right product for your brand, then using our 'Request a quote' feature may be the most convenient way of submitting your artwork. (https://www.raccoon.store/quote_create.php)
Just directly upload your artwork file, along with further details of your potential order, to our team. From this point, we can collaborate with you to perfect your custom product(s) and artwork to represent your brand.
Creating your artwork in our Design App tool
You can create your artwork from scratch using our Design App – simply select the option to create artwork instead of uploading it and you'll be able to upload imagery and add text, shapes and backgrounds.
Once you're happy with your design, click the trolley icon and you'll be taken back to your basket – where you can see a preview of your artwork next to the order.
TIP:
Another great app to create artwork is Canva - you can insert your specific dimensions (in metres), upload imagery, add text and custom backgrounds.
Still need help?
If you still need help, please fill out our Contact Us form and a member of our team will be in touch.