Events are a dynamic platform for communication, promotion, and engagement. Effective event signage serves as a visual ambassador, guiding attendees, conveying messages, and enhancing the overall experience.
In this comprehensive guide, we will explore the best types of event signage, including banners, floor graphics, wall graphics, decals, flags, bunting, A-frames, pop-up displays and more!
Understanding the diverse range of event signage options empowers event planners, exhibitors, and organizers to make informed choices that align with their goals and audience.
1. Banners: The Bold and the Beautiful
Banners are a versatile and eye-catching signage option, known for their ability to command attention. They come in various materials, including vinyl, fabric, and mesh, offering durability and customization. Here's a breakdown of banner types:
Vinyl Banners: Ideal for outdoor events, vinyl banners are weather-resistant and can feature vibrant graphics and text. They can be hung vertically, horizontally, or suspended for maximum visibility.

Example: A vinyl banner displaying a company logo and tagline at a trade show booth.

Fabric Banners: Fabric banners lend an elegant touch to events. They are lightweight, making them easy to transport and hang. Fabric choices include polyester, satin, or canvas.

Example: A fabric banner with high-resolution images of artwork at an art exhibition.

Mesh Banners: Perfect for windy outdoor settings, mesh banners allow air and light to pass through, reducing the risk of damage and providing visibility.

Example: A mesh banner showcasing event sponsors at an outdoor charity run.
2. Floor Graphics: Paving the Way
Floor graphics transform event spaces into interactive, navigable environments. They are printed on adhesive vinyl with non-slip coatings, ensuring safety and durability. Here's how they're used:
Directional Floor Decals: These guide attendees with arrows, footprints, or text, ensuring they find their way smoothly through large venues.

Example: Floor decals leading visitors to various pavilions at a trade fair.

Branded Aisle Runners: Aisle runners adorned with event logos or sponsors' branding add a touch of sophistication to galas and award ceremonies.

Example: A red carpet-style aisle runner featuring the event's logo at a film premiere.

Interactive Floor Displays: Utilizing augmented reality (AR) or projection technology, interactive floor graphics engage attendees in immersive experiences.

Example: An interactive floor display at a science museum that responds to visitors' movements.
3. Wall Graphics: Transforming Spaces with Visual Storytelling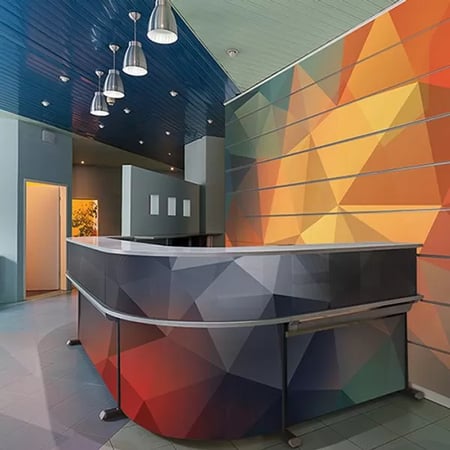 Wall graphics are a powerful form of event signage that transforms plain surfaces into engaging, informative, and visually striking canvases. They are versatile, customizable, and ideal for creating immersive event experiences. Here are some key ways wall graphics are used:
4. Window Decals: Transparency with a Twist
Window decals leverage available glass surfaces to convey messages, promote brands, and enhance aesthetics. They come in various forms:
Vinyl Window Decals: Easy to apply and remove, vinyl window decals can feature event branding, schedules, or artistic designs.

Example: A vinyl window decal displaying event dates and a countdown on a store window.

Frosted Window Decals: These provide privacy while maintaining a modern, elegant appearance. They often feature event logos or subtle patterns.

Example: Frosted window decals showcasing an art gallery's logo while obscuring the view of the interior.

Perforated Window Film: Perforated film allows one-way visibility from inside. It's commonly used for storefronts and vehicle windows for branding.

Example: A perforated window film on a food truck, displaying the menu and company branding.
5. Flags and Bunting: A Splash of Colour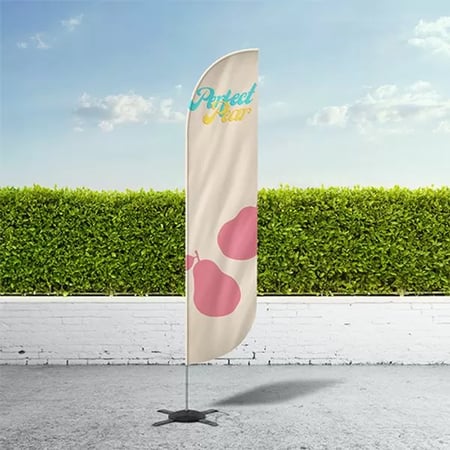 Flags and bunting add vibrancy and elegance to outdoor events. They come in various sizes and shapes, such as feather flags, teardrop flags, and pennant bunting. Their applications include:
Branding and Decoration: Flags with event logos or themed bunting can adorn event entrances, stages, and walkways.

Example: Stringed pennant bunting in vibrant colours used for a carnival-themed fundraiser.

Directional Flags: Tall feather flags with arrows or text can direct attendees to specific areas within a sprawling event space.

Example: Feather flags pointing towards food stalls, restrooms, and parking areas at a music festival.

Sponsorship Flags: Event sponsors' logos can be prominently displayed on flags or banners throughout the venue.

Example: A row of sponsor flags lining the track at a motorsports event.
6. Digital Signage: The Tech-Savvy Choice
Digital signage blends technology with visual communication. It encompasses various electronic displays:
LED Screens: Large LED screens can broadcast event schedules, live feeds, or dynamic advertisements.

Example: A massive LED screen displaying live scores at a sports tournament.

Interactive Kiosks: Touchscreen kiosks provide attendees with event information, wayfinding maps, and registration services.

Example: Interactive kiosks for on-site registration at a business conference.

Video Walls: Multiple screens combined to create a single, large display, often used for immersive experiences.

Example: A video wall showcasing breathtaking nature footage at an environmental awareness event.
7. Temporary Signage: Flexibility in Design
Temporary signage is designed to be easily installed and removed. It's perfect for short-term events and promotions. Examples include:
Corrugated Plastic Signs: Lightweight and cost-effective, these signs are commonly used for directional purposes or as event yard signs.

Example: Corrugated plastic signs directing participants to a charity run's starting line.

A-Frame Signs: Portable and sturdy, A-frame signs are ideal for event entrances, menu displays, or safety notices.

Example: An A-frame sign outside a café advertising daily specials during an art fair.

Pop-Up Banners: These retractable banners offer quick setup and are often used for branding or informational purposes.

Example: Pop-up banners showcasing event sponsors near a conference registration desk.
Where can I get event signage?
Check out the Raccoon Store to explore a diverse range of signage for events, retail promotions, exhibitions and more.
We also provide a consultative all-in-one service to handle the creation of all temporary branding for displays, booths and promotions. We can also create custom signage for you through this service, including the design, production and installation of 3D props or prop elements.
Where can I learn more about event signage?
To learn more about effective signage, check out our Ultimate Guide. You'll learn what makes good signage effective, different types and purposes of signage, how to measure the impact of signage and how to install and maintain it.