Are you an online retailer seeking new and exciting ways to organise a product launch? Or are you a brand looking to create excitement and break into new locations to get people talking?
Now that the Lockdown rules have relaxed and shoppers are back on the high street, now is the perfect time to adapt your business to current trends by creating a fresh, new experience around your brand.
Many businesses decided to shut up shop completely and focus on virtual selling during the pandemic, resulting in thousands of retail units now lying empty and disused all over the country. Consequently, many landlords are trying to attract new tenants as in-person shopping returns. This offers a fantastic opportunity for businesses to make an impact in a temporary pop-up store, using unique and memorable experiences to attract customers back to the high street and increase their brand visibility. But just how can you draw visitors in?
In this blog we explore how you can offer an immersive shopping experience to your customers, with tried and tested examples from big name brands. We also run through some practical tips on how you can transform your pop-up space into something extra special.
1. What is experiential retail?
Experiential retail is all about finding a creative and innovative way to engage with consumers that goes over-and-above a standard store visit.
Many stores have established their own unique style of consumer interaction with their brand and products to make a visit to their shop a shareable "event". Creating a sensory experience, and providing more personal levels of service gives shoppers a reason to keep returning. Just think about the legendary TopShop and Nike flagship stores on Oxford Street – in-store DJs, beauty bars, luxury changing rooms and an indoor basketball court made each a longer must-visit experience for shoppers.

Experiential retail gives online brands the perfect opportunity to use pop-ups to see how their brands are received in person. Glossier is a great example of this. Their London pop-up store did really well as people could interact with a brand and products that they had only ever seen online. This created a sense of uniqueness and a one-of-a-kind experience. Thanks to the pop-up's success, Glossier is due to open a new, permanent London store in winter 2021.
Some experiential retail examples combine retail with entertainment, including product sampling events, in-store demonstrations, brand activations and temporary set builds. These transport customers into an exciting 'retailtainment' environment where they feel part of something special. IKEA were well ahead of the game when they hosted its first overnight pyjama party in their Essex store in 2011 as a PR stunt, answering a long-held wish for many fans of their brand to sleepover at its stores. The party was a success and has been repeated across the globe, playing a critical role in customer attraction, engagement and retention!
Ideas for immersive experiences that may resonate with your brand:
Fun games requiring skill/dexterity
Culinary demonstrations and sampling

Live in-store music and DJ sets

Make up or hair consultations

Larger-than-life VR experiences

Wall displays of customer-generated content to encourage social sharing
In-store cafes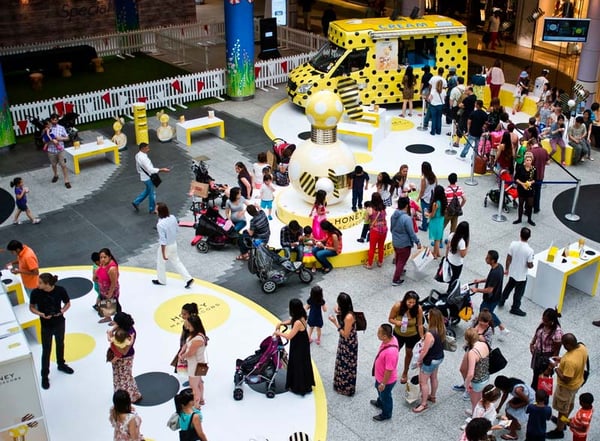 2. Why is experiential retail important?
Experiential retail is playing a key role in giving a boost to shopping destinations. The high street was in decline before Covid-19, but the pandemic has been a catalyst for getting people back into stores for an immersive shopping experience, after missing face-to-face contact during Lockdown.

It is not only the high street that benefits from experiential retail. The interest, fun and human interaction generated by a great immersive experience gives customers a significant morale boost that has a ripple effect throughout the economy.

A clever and unique experiential campaign will provide customers with lots of shareable moments that can hugely increase the exposure of your brand in a positive way. Not only that, if an experiential campaign is run for just a limited time, "fear of missing out" will prompt people to get along to the store as soon as possible, instead of putting their visit off until later.

By using digital technology alongside the retail experience, there are lots of ways you can capitalise on your campaign, through data collection. You can record not only customer contact details, but also shopping trends and feedback to help with deciding which lines to stock up on going forwards.
State-of the-art technology can also be used to add a whole new dimension to the in-store experience. For example, at Charlotte Tilbury's flagship store in London, customers have access to two touch-screen Magic Mirrors. The screens allow you to virtually 'try on' each one of Tilbury's 10 signature looks in just a few seconds. Customers can apply the look digitally to see what suits them best, then they can e-mail themselves a picture.
3. How to create an immersive experience for your customers
First of all, decide the format of the experience. What will be the atmosphere you want to create when someone enters? How can you stimulate their senses – visuals, sounds, scents and textures to bring that to life? For example, if your brand is all about mindfulness, can you use calming sounds and scents, neutral pastels and soft curved surfaces for a welcoming, clean space? This will be influenced by your budget and resources but also to a large extent, by your imagination.
Then think about the location. If you don't already have a store that can provide the space, maybe you could book a pop-up space for a limited time. Websites such as "Appear Here" list available pop-up spaces.
Then you can focus on how your experience comes to life, making the most of the space you have. Partition areas with temporary walls and use large format print products to create window displays and themed props to introduce an engaging, visually immersive experience that people will want to visit and share.
Click here to discover how we can help with temporary branding for pop-up retail experiences.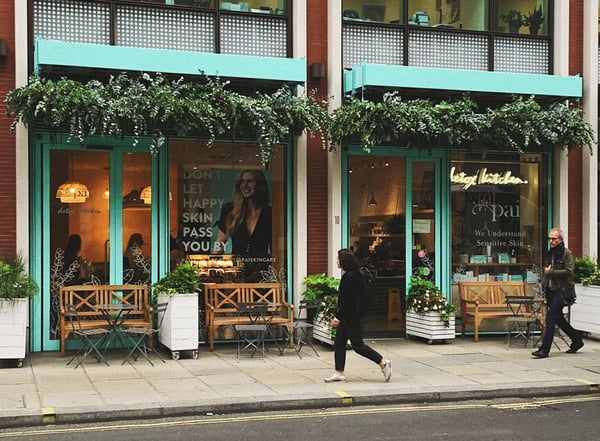 Here are a few creative ideas to try for size!
Use 3D print technology to create larger-than-life props of your product or logo.

Install beautiful flower and plant walls for a fresh, outdoorsy effect – not to mention an Instagrammable focus.

Create themed wall backdrops with printed vinyl wallpapers or retail window graphics that can be easily removed after your pop-up finishes

Use digital wall-mounted screens or projectors to share user-generated content

Hire themed props to re-create a wedding venue, circus, boudoir... whatever best fits with your promotion!

Create a stunning installation using themed Large Format Print products, such as pop-up counters and display items.

Instal colourful outdoor banner flags at the entrace to your pop-up to draw the attention of passers-by.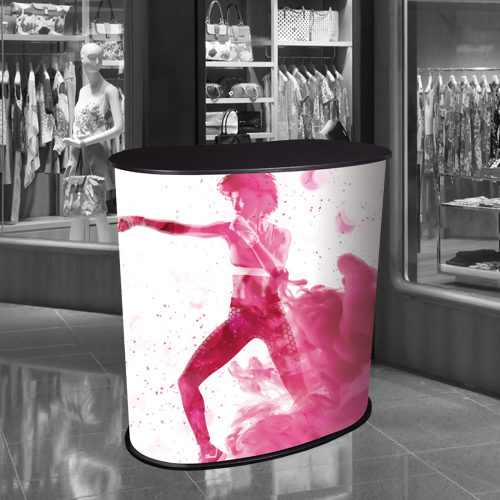 4. Ways to promote your pop-up store
Send out regular teasers via social media before the launch of your experiential event. Use online platforms such as Tik Tok, Instagram, Twitter, Facebook, YouTube – whichever platforms will most resonate with the customer demographic you want to reach. Once word is out there, your customers will help to spread the word for you, building excitement and anticipation.

Organise physical promotions nearby, for example actors dressed as celebrities/superheroes/fictional characters handing out fliers, a promotional vehicle or banners displayed outside your store.

Contact local media to see if they would be interested in a press release or interview with you. They will be looking for an interesting angle, other than simply to promote your store. Any collaboration with another local initiative or cause will help to generate the interest of local media. Another option is to pay to advertise your event in local publications, if their readership ties in with your target audience.
Now you're ready to dive in!
The benefits of a successful experiential retail event will continue for as long as you can maintain the loyalty of new customers. If you have collated their contact details, you can nurture ongoing relationships with them and keep them in the loop about any future promotions you are holding in-store. The event will have created positive associations with your brand that will give it the edge over your competitors and it's important to maintain that feeling in all your future marketing activity.
Here at Raccoon, we can provide much of what you need to enhance your event with stunning, branded display products and accessories. Just visit our large format print store for some great ideas!
Read our article for some creative product launch ideas to inspire you.