Looking to get the most from your vehicle wrap supplier but confused by your extensive warranty options?
In this article, I will explain common vehicle wrap warranty policy structures including standard warranties, performance guarantees, component based policies and partnership level warranties.
Contents:
Standard Warranties
A standard warranty usually covers a replacement or the cost of replacement for a defective product during it's expected product life. If you order a roll of vinyl and receive damaged goods for example, you could expect any decent company to send you a replacement or refund you for the purchase.
Standard warranties are valid as long as you have fulfilled your obligations as recipient under a company's terms and conditions. If you were to make a claim with Arlon for example, the company will have expected you to have stored, prepared and installed the wrap in line with their standards and expectations.
It's worth noting that standard warranties do not protect you from loss of revenue. They will only cover the wrap itself, so you still lose money on manufacturing, materials (e.g. inks), labour, travel business overhead or any other costs you may have.
Expected product life or durability varies dramatically according to climactic, exposure, elevation and even pollutant factors. Make sure you read all the details of your warranty carefully before you commit to a brand, as some have more favourable durability conditions than others.
Climate factors
Standard warranties are based on the expected durability of the companies product in your local climate. Typically this means that warranty policies vary based on climactic zones and other factors .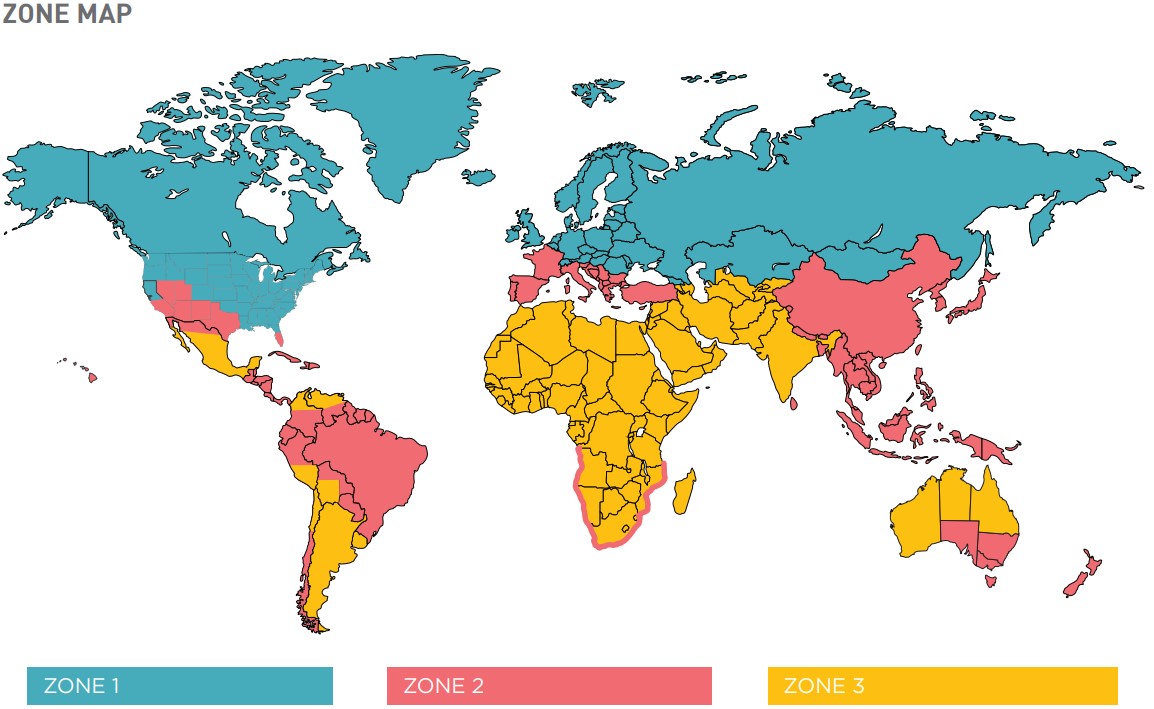 This is Arlon's global zone map, Zone 1 is anywhere with a mild climate, Zone 2 is humid or warm, whilst Zone 3 is dry or hot.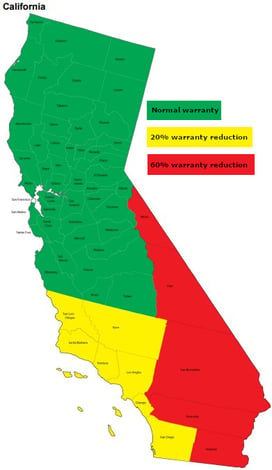 The further you are from Zone 1, the lower your wraps expected performance life will be and consequently, the shorter the period of warranty you will be offered.
Generally Zone 1 is full warranty, Zone 2 is mildly reduced, whilst Zone 3 is typically greatly reduced (by as much as 60%).
Zone categorisation will vary from company to company, so it's a good idea to investigate all your potential options. Orafol (owners of the Oracal brand) even included Antarctica on their map – just in case you were thinking of wrapping your snowmobile!
Companies like Avery Dennison take this concept to another level, even denoting separate zones within specific American states. If you live in the north of California for example, you are eligible for a full warranty, but if you live in a yellow zone it's a 20% warranty reduction, whilst a red zone is 60%.
Angle of exposure
Even the angle of your vehicle graphics relative to vertical (0°) affects your end warranty as it is again tied to durability. The more horizontal your vehicle graphics are the more time they will be exposed to solar radiation relative to a more vertical facing panel. As a result horizontal facing panels generally have half the maximum expected service life of a vertical panel.

Vertical is usually defined as any angle within 10° of 0°. A non-vertical angle ranges from 10° to 85° and a horizontal angle is roughly 85-90° though this will vary slightly policy to policy. A non-vertical or horizontal angle will usually cut the duration of your product warranty in half.
To put this in perspective, if you use Black & White Avery Dennison Supreme Wrapping Film in the UK (a zone 1 country), the vertical facing part of your wrap gets 12 years of warranty, whilst the horizontal or non-vertical parts get just 6 years. This same product in a zone 3 area such as Arizona gets 8 and 4 years respectively.
Altitude
In regions at a high elevation relative to sea level the air is thinner and there is generally less of it between you and the sun. This means the intensity of solar radiation, specifically ultraviolet (UV) light is much higher as less of it is reflected by the atmosphere. With every 1000 metre increase in altitude, UV levels increase by 10-12%.
As a result your wrap is likely to fade at a much faster rate than a wrap kept closer to sea level. Companies have varying policies to account for this but 3M voids warranties in scenarios where a wrap is kept higher than 1500 metres above sea level.
This is something to keep in mind if you live in a mountainous or high altitude location. If you lived in Colorado for example, which has an average elevation of 2074 metres, Avery Dennison might be a better choice for you, though it is worth noting that like California above, they subdivide the state into three zones, with only the lower altitude north east receiving full warranty.
Pollutants
Pollutants and particulates are found in much higher concentrations in urban and congested areas, reducing the expected durability of a vinyl wrap product. Horizontally angled body panels on a vehicle are particularly at risk as they trap contaminants on the surface of your vinyl.
Damage caused by pollutants will come under general wear and tear, so it is not something you can make a claim on under standard product warranty.
Performance Guarantees
A performance guarantee is usually defined as the minimum amount of time a wrapping film can be expected to perform as expected if stored, printed on and installed according to the technical bulletins of the company.
The exact definition of this may vary company to company. For 3M this means product specific guarantees when used in line with 3M qualified inks, printers and product bulletins.
Component Based Policies
Using approved techniques and products in line with a graphical film product is known as a component system, and most performance guarantees will feed into one.
This means that if you are using printers, printing systems, inks or laminates qualified by your wrap brand, they will cover you against faults that occurs during processes that use those components.
This results in more comprehensive coverage against faults that may occur during graphic production, installation, performance life and wrap removal.
Unlike a standard warranty a component based system won't just compensate you for the cost of the graphics you purchased, but the cost of the finished graphic with ink and laminate applied.
Partnership Policies
High end warranties cover you against a whole lot more than just the price of your graphics. Depending on your partnership, you can expect to be compensated for costs such as labour, graphic production, installation and anything else the company deems to be reasonable.

High end warranties are usually reserved for customers ordering large volumes of product but some companies like 3M organise this into tiered partnerships, with a Gold and Platinum partnership, for different levels of client investment.
To achieve a partnership level policy, you usually need to get certified by the company in question. If that company is Arlon for example, they will come down to your business for a whole day to assess your entire graphic production and installation process.
This is to make ensure they can reasonably back you with the level of trust required to achieve partnership level warranty. If they get the necessary peace of mind knowing you do everything right, you will receive a certification qualifying you for partnership level policies.
Partnership level policies aren't always set in stone either, whilst Arlon has fairly rigid policies and even formulas for reimbursement, Avery and 3M use the term "reasonable" in warranty documentation, and examine each warranty claim on a case-by-case basis, ensuring fair reparations are paid in each scenario.
What are my next steps?
Now that you know a little more about how vehicle wrap warranties typically operate, you might be wondering: which brand has the best warranty options?
If this is you then check out our warranty comparison of 3M, Arlon, Avery Dennison, Metamark, Oracal and Mactac.