Looking to maximise your commercial vehicle investment? Struggling to fulfil brand colours efficiently? We are here to help.
When it comes to maximising your returns on a commercial fleet, you might think sourcing the vehicle is the hard part. Unfortunately, branding can present far more of a problem than you might think. Sourcing paints to match up with a brands signature colours can be difficult, especially if time is of the essence; and let's not forget about depreciation.
Customisation in general devalues vehicles, and nothing devalues your shiny white van faster than painting it. So in order to mitigate depreciation, preserving your van in a 'blank state' should be a top priority.
That's easier said than done, so how can you brand a fleet without affecting your return on investment (ROI)?
Wrapping
Yup, that would be our one word answer to solve all your problems. To be more specific: Wrapping is the cheapest and fastest way to deliver a commercial fleet on brand whilst maximising resell value.
Cheap and fast does not mean low quality though. Wrapping is simply the most cost effective long term solution to fleet branding. As for quality, that will depend on the wrapping company used but in general a good wrap will last 3-7 years as long as attention is paid to vehicle wrap aftercare.
Wrapping vs painting
So why is this better than paint? Both cover the vehicle after all. Aren't we just biased as a vehicle wrap company? Well, whilst we love vehicle wrapping, no amount of bias changes the truth: A wrap is much easier and cheaper to remove than a paintjob. For the full breakdown of the differences between the two check out our guide: wrapping vs respray. For the commercial advantages of wrapping, read on.
Branding

When it comes to branding, commercial vehicle wrapping is your friend.
Cost
The average cost to wrap a van ranges from £1500-£3000. If you are wrapping a fleet of vehicles at the same time, the cost per vehicle will often be less. For more on the cost of vehicle wrapping, examine our pricing guide.
Painting a commercial vehicle is an option, but it costs far more, in the range of £1000-£15,000, at worst enough to wrap 7 vans! And that's just for the first respray, if you are worried about selling it down the line, you will probably have to repaint it. At the very least you will have to respray for minor damage: scratches or scuffs on the paint work etc.
This means you will be paying for not one but two paintjobs! So times whatever the first paint job costs by two. This is not a problem shared with vehicle wrapping, which actually puts money back in your pocket. More on that in the depreciation section.
Logistics
Then there is the difficulty of sourcing and delivering on brand colours on time using paint. You may be unable to source suitable colours for your vehicle, or be put on a waiting list – not ideal when you have customers waiting.
A good vehicle wrapping company can operate at a fleet level, quickly sourcing whatever materials are required, whilst setting up reliable long term supply chains for custom orders, rebranding or repairs. Vinyl suppliers have a much broader range of colours available off the shelf, and specific colours or materials aren't expensive at scale.
The wrapping process itself is also speedy, only taking a few days compared to the weeks required for resprays.
Design
Paint is also far more limited in terms of design options, something that adds up down the line if you also want to add logos, decals etc.
With a high quality vehicle wrap, design options are almost unlimited, and you don't have to worry about painting a van, then sourcing additional signwriting – everything can be added in one fluid design.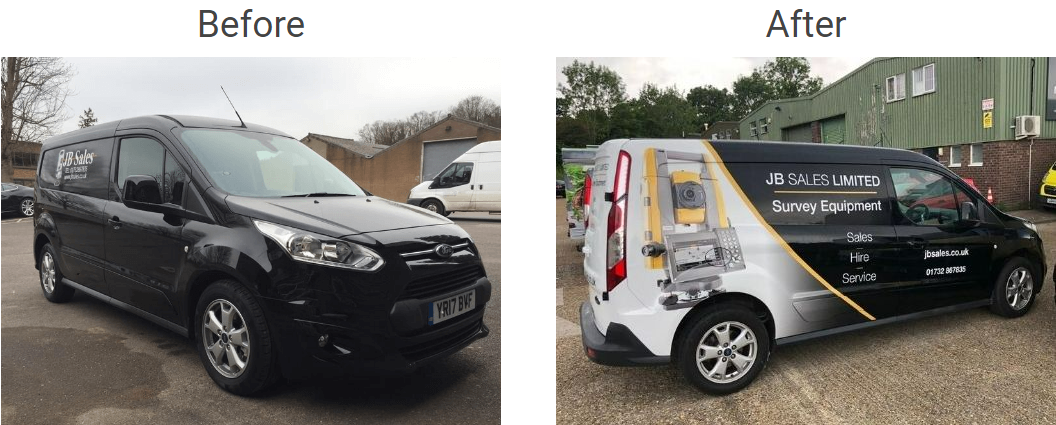 Depreciation
So, what about your bottom dollar? As promised above here vehicle wraps are the clear winner when it comes to saving you money, both short and long term.
A high quality vehicle wrap acts as a time capsule, sealing your car or van in a protective layer of vinyl. This layer acts as a second skin, shielding the underlying paintwork from nicks and scratches. So not only do you have a fresh white van when the wrap is removed, but the paintwork is still intact, a huge boost to your resell value.
Aside from the design freedom, this is one of the main reasons companies wrap instead of painting: the vehicle will hold value for longer. The longer it holds the higher you can sell, which is important as demand for commercial vehicles continues to rise. Demand in the UK has increased for 11 years in a row, and 1.7% in 2021 YoY.
Maximising resell value is key to remaining competitive in the market, especially as emission charges become increasingly stringent, rendering older vans economically redundant. Staying ahead of the curve is critical, and only possible with a keen eye on the future.
Case study – AA vs Sky
Case in point AA vs Sky. AA paint their vans yellow, as part of a branding tradition going back over 100 years. As eye catching as a yellow van is, it doesn't have much after market value, meaning AA loses money on every sale.
Sky wrap their whole fleet, as they often update their branding and because they are thinking long term. Sky vans are so well preserved at end of life that they have become the second-hand van of choice for many customers, fetching a high premium for vehicle leasing companies.
What are my next steps?
If you read this far you can probably see that wrapping is the best way to brand a commercial fleet, visually, logistically and economically. In the long term it is the least hassle, and the best way to maximise your return on investment.
Thinking about branding your fleet? Just hit the button below to get a custom quote, sent straight to your inbox.
--
For more information, check out our Ultimate Guide to Fleet Wrapping.
You will learn the benefits of branding your fleet, how fleet wrapping works, how much it costs, how to maximise the effectiveness of your branding, different types of fleet wraps, how other companies use vehicle wrapping and frequently asked questions.