The benefits of vehicle wrapping for business vans and personal cars are extensive. For businesses, utilising the real estate on the side of the vehicle to increase visibility is a 'no-brainer'. With UK drivers spending around 115 hours in traffic last year, jams can provide a captive audience for your business while you're out on the road.
Additionally, vehicle wrapping can help protect the original paintwork and resale value for at least three years, meaning that business van and premium car owners can refresh the vehicle exterior and offset more expensive respraying work.
These advantages demonstrate vehicle wrapping as an appealing investment, but how much does a vehicle wrap cost?
In this blog we'll dive into the pricing of van and car wraps and the factors that influence costs.
Vehicle wrap starting prices
Full van wraps

A full van wrap will generally start from £1,600 for a car based van like a Citroen Berlingo, but if you are wrapping a fleet of vehicles at the same time, the cost per vehicle will often be less.

Smaller wrapping projects

For smaller vehicle branding work such as signwriting and graphics the costs are often much less, starting at £500. However, if you have designs in mind, large format printing businesses can produce the printed vinyls for you to apply, saving on installation costs.

Personal car wraps

Personal projects on the other hand, such as a block colour change of a Porsche or Maserati, could cost between £1,800 and £2,300.
Pricing guidance: What influences total cost?
The prices above provide a benchmark for what to expect when assessing how much vehicle wrapping costs and the level of investment required. However, depending on the type of project you have in mind, there are a few other factors to consider that may have an impact on cost – and the overall quality of your wrap.
Check out our blog: "Top examples of best vehicle wraps" for inspiration.
The overall cost of a personal vehicle wrap will depend on how adventurous you'd like to be with special effects and finishes.
Compared to a standard colour change (i.e. from white to blue), vinyls with the additional properties outlined below are likely to increase the cost of a car wrapping project:
Metallic finishes
Matte finishes
Two-tone colours
Textures – including velvet
Chrome finishes
It is also important to do your research on the materials that suppliers are using, particularly if their pricing seem lower than you were expecting. Look for established brands such as Oracal, 3M and Avery Dennison, which provide high quality vinyls that are proven to last and come with their own warranties.
To keep your new car wrap in pristine condition for as long as possible, take a look at our blog: "Top tips for vehicle wrap aftercare" for some helpful guidance.
A note on low-cost vehicle wraps
While comparing vehicle wrapping suppliers might seem similar to comparing apples with apples, beware of selecting your car wrap provider based on cost alone.
The cheapest quote may be appealing, however the costs are generally saved by using low quality wrapping materials. These materials can actually cost you more in the long run because they are more susceptible to bubbling and lifting, which reduces the integrity of the wrap.
So if you pay less overall for a wrap, you may need to get it rewrapped more frequently than paying more for higher quality materials.
2. Complexity of the wrap
Usually, wrapping a vehicle will cover the main panels of the car or van. However, for a seamless colour change across the vehicle, it is possible to have additional areas such as the interior door frames, grilles and bumpers wrapped. As this is a delicate process, the whole car wrap may cost more as it will take longer for specialists to complete – but the continuous colour effect will look faultless.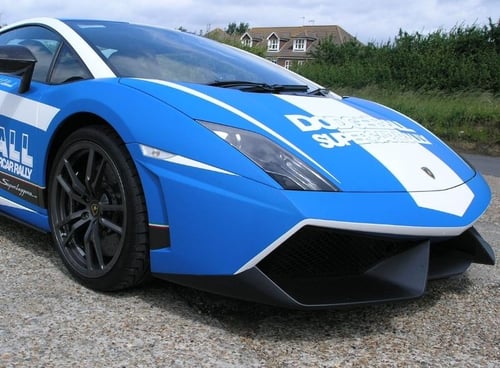 3. Design support required
For businesses and more complex personal projects, such as installing racing liveries, design is key to ensure that your branding and decals are set in the correct place and that the artwork sits nicely across all panels of the vehicle.
A good vehicle wrapping supplier will provide vehicle templates for you to start creating designs and advise on the artwork before it goes into print.
However, if you need more support with imagery and creating artwork that is consistent with your product and service, design support will be an additional cost to consider.
Some suppliers will offer design packages depending on how developed your brand is, so if you need advice and inspiration, make sure you factor this into your budget.
Read our article for guidance on how to design your own vehicle wrap.
4. Size of the vehicle
The size of the vehicle will also have a bearing on costs, mainly because of the additional materials and manpower required to wrap a much larger van. Vehicles will generally fall into these categories:
Small: Car
Medium: Car-based van, such as a Citroën Berlingo
Large: Ford Transit, Mercedes Sprinter etc
XL: Extra long wheelbase van
The true cost of a vehicle wrap
So while the wrapping starting costs are easy to identify, there are a few elements you need to consider before putting together a design and brief for a vehicle wrapping company. However, the advantages of planning your vehicle wrap design ahead of time can help set expectations about the investment required for certain materials and finishes.
Don't forget, if the cost of a vehicle wrap seems too good to be true it could cost you more in the long term, so always ask your vehicle wrapping supplier if they use high quality, established materials.
For more information about how vehicle wraps can help boost your brand awareness and lead generation, check out our Ultimate Guide to Vehicle Wrapping.