Looking to get your vehicle wrapped but don't know what material to choose? There are a range of different options to choose from including gloss, metallic, matte, matte metallic, textured and even chrome.
Each has different visual, even tactile differences that make your vehicle stand out. While some materials are more expensive than others you should always source materials from reputable brands such as Arlon, Oracal, 3M, Metamark and Avery Dennison. Established brands produce products that are proven to last and come with their own warranties.
So which should you choose then? Let's compare the pros and cons of vehicle wrap materials to find a best fit for you
What are wraps made of?
Almost all vehicle wraps are created using vinyl. Vinyl is a popular synthetic plastic with many applications including cladding, flooring and of course vehicle wraps. Vinyl is the dominant material choice in the wrapping industry for a variety of reasons.
It's key advantages are strength, durability and relative cheapness. It is recyclable as well as resistant to moisture and humidity, a real all-rounder. All the wrap types listed below are vinyl products.
Gloss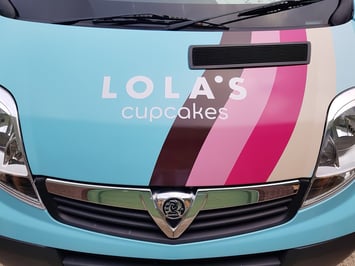 What does 'gloss' mean and what are its properties? The word gloss refers to sheen level or 'shininess'. The higher the sheen level, the more reflective the surface will be. A gloss finish reflects the most light, so is the most 'shiny'.
This is often the simplest and most versatile choice used for colour change wraps and commercial vehicle graphics as there are an almost infinite range of colours and designs possible.
Gloss wraps tend to cost about £20-£40 per metre.
Metallic
Metallic is used to describe a surface or colour that has the appearance of metal. In wrapping this is achieved through highly specific colours designed to mimic the metallic sheen of a paint job.
The texture is achieved by adding some element of metal, either in the form of finely flaked metal or an extremely thin coating of metal, although not necessarily the metal that the finish is meant to represent.
You can get different ranges within metallic, including two tone wraps that take advantage of a colour shift effect, and even glitter metallic finishes that sparkle in the sunlight.
Metallic wraps tend to cost about £20-£40 per metre and are probably the most popular choice for individuals looking for a
Matte
Matte offers flat colours with no reflections,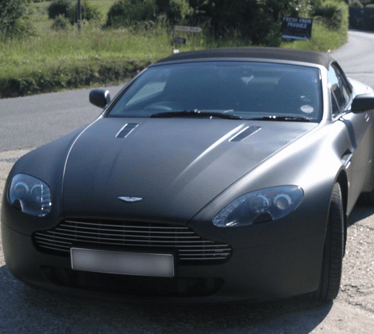 providing a counterpoint to the shinier styles.
Matte vinyls have become very popular over the years for those wanting to stand out, evolving to incorporate a huge range of colours, including matte grey, matte blue and matte red.
Just like with our matte vehicle wrap vinyls almost any colour is available. And we can also provide a custom colour matching service for large orders and print bespoke colours for small orders.
Matte wraps tend to cost about £20-£40 per metre.
Matte metallic
The metallic matte vehicle wrap vinyl is an offshoot of matte vehicle wrap vinyls for those looking for a subtler look. They sit in-between matte and satin vehicle wrap finishes, combining mattes minimal reflections with a metallic sheen.
This is achieved by mixing metallic flakes into the base colours of the vinyl adding an extra dimension to the finish.
Again the metallic matte vehicle wrap vinyls are available in a massive selection of colours with the most popular tending to be metallic matte grey colours.
Matte metallic wraps tend to cost about £20-£40 per metre.
Brushed metal
Brushed or dull polished metal is metal with a unidirectional satin finish. It is replicates the effect achieved by polishing metal with a 120–180 grit belt or wheel then softening with an 80–120 grit greaseless compound or a medium non-woven abrasive belt or pad.
Commonly brushed metals include stainless steel, an aesthetic brushed metal mimics. This is a textured vinyl so it will not only look but feel just like the real thing.
Brushed metal costs about £20-£40 per metre.
Satin
Satin car wraps developed due to the popularity of the flat matte vehicle wrap vinyl. The satin car wrapping films offer a semi matte finish that reduced reflections on the cars bodywork but still gives the bold block coloured finish that the matte wraps offer.
Satin vehicle wrapping vinyls offer a matte finish for cars, that gives a much more factory finish look than regular matte.
Satin wraps tend to cost about £20-£40 per metre.
Carbon fibre
Whilst this is an expensive choice costing around £60 per metre, it is far less pricy than the real thing. It is often used for small details, such as wing mirrors or spoilers and comes with two colour options: black and white.
High quality carbon fibre wraps incorporate not just the look but even the feel of the material they emulate.
The 3D textured carbon fibre vehicle wrapping films are the most popular offering incorporating a semi-gloss finish and a carbon fibre style pattern to give a carbon fibre effect to any panel they are applied to.
Mirror Chrome
Available in several colours, this is one of the most eye catching and expensive wraps, often exceeding £100 a metre. Replicating true chrome, the wrap features a glossy, reflective surface with a strong mirror look.
A professional team can make this look as good as the real thing, but is worth noting this wrap may scratch more easily than a matte or metallic wrap. For this reason chrome is mostly used for display only, and usually isn't the best choice for day to day travel.
In our experience only two manufacturers could provide a chrome finish suitable for wrapping, 3M and Avery Dennison. Don't be lulled into using any other manufacturer without thorough testing.
Can I get a specific price?
Sure! Just hit the button below to get a custom quote sent straight to your inbox. We are happy to price up any project for you, no matter how outrageous!
What about the colour?
So now you might have a material picked out, but what about the colour? There are often hundreds of colour schemes available for top wrap brand products, so you need to look at a colour chart in order to understand what colours are available and to pick one that suits you.
Check out our colour chart guide for links to major wrap brand colour charts as well as more information about colours and colour charts.