A car wrap colour chart is a visual reference tool you can use to find the perfect wrap colour and finish for you. A colour chart contains every option produced by a manufacturer such as Avery Dennison or 3M.
You can think of it as a sample of the real thing, but scaling up a small sample to a finished car can be hard to imagine. You don't know what a colour or finish might actually look like on your car so it's always a good idea to get a professional opinion.
Where can I find a car wrap colour chart?
You can find car wrap colour charts on manufacturer websites and you can also order physical colour swatches, which are physical samples in a small book that splays out in a fan shape.

Looking for car wrap colours in the UK?
Here are some links to colour charts produced by some of the most popular high quality brands:
How do I know if my car wrap colour will look good?
The easiest way to test your design before you commit to a purchase is to work with a design service.
It's important to commit to working with a designer because not only can they provide you with a template for your car, but they will also have the experience to advise you on what might look better for your particular car.
This kind of advice is invaluable, it prevents you wasting time and your money on something you might end up hating. Working with a designer you can go through several different draft templates if necessary, until you find the colour and finish that suits you.
However working with a designer also costs money and the more design revisions you need the more you might end up paying them in fees.
To get around this problem we send out vehicle templates for free, meaning you can have a go yourself at producing a design or theme. This allows you to better present your ideas to a designer and therefore save money.
If you want a template for your vehicles specific make and model, just hit the button below.
Will wrapping have as many colour options as respraying my car?
Car wraps have many times more colour options than a respray. Resprays are usually limited to the factory colours designated by the manufacturer, meaning you might only have a handful of choices.
Most wrapping film manufacturers will have many times this amount. Oracal 970 linked above for example, has 96 colours available – for just one product!
Across the spectrum of different companies and products available you will easily have hundreds of options available, helping you achieve that personal look and feel.
Check out wrapping vs respray for more on the pros and cons of each option.
Will wrapping have as many finish options as respraying my car?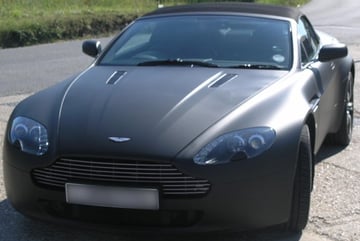 Wrapping will have far more finish options than a respray. Finishes might include gloss, matte, metallic or perhaps some of the higher end options such as carbon fibre or chrome.
For a full list of the types of material available and the differences between them, check out our materials guide.
How much do car wrap colours cost?
Individual colours normally won't affect the price on a standard colour change, but your choice of finish will. Final price will also vary based on the size of your car and the make and model, as some cars are much easier to wrap than others.
Older cars with fused panels are harder to wrap for example. The average cost of a colour change is between £1500 - £2500, though this will vary company to company. For a more detailed breakdown on pricing factors, check out our costing guide.
Where can I get a good colour change wrap?
If you are looking for a premium quality car wrap with a design consultant to advise and guide you, a vehicle wrap specialist such as Raccoon might be a great option.
If you are finding it hard to narrow down a decent company, try these 10 questions. You can use them to screen any car wrap company for quality and professionalism.
Where can I get a colour change wrap printed?
If you are looking to wrap a vehicle, you can either print the wrap yourself or use another service such as the Raccoon Store to do so.
It's a good idea to weigh up the pros and cons of buying a printer yourself as well as understanding the cost of outsourcing your printing needs before you make a firm decision either way.