If you're finding it tough to choose between wrapping or respraying your vehicle, we get it. You don't want to invest your time and money on an aesthetic or branding solution you might end up hating. At first, it can seem like a hard choice to make; wraps and paint jobs both look good after all but what are the real differences?
At Raccoon we get asked this almost every day, and after 30 years in business have answered this question an incalculable number of times. So, if you are looking for a comprehensive answer on the differences between wrapping or respraying a vehicle, you're in the right place!
In this comparison article we will break down the advantages and disadvantages of wrapping versus respraying a car or van. Whilst Raccoon is a vehicle wrapping company our aim is not to upsell you on the benefits of a wrap, but to present only the facts, enabling you to make the decision that best suits you.
Contents:
How much does it cost to wrap or respray a vehicle?
The cost of vehicle wrapping in the UK depends on a variety of factors including vehicle size, materials used, and complexity.
The average cost to wrap a car is between £1,500-£2,500, whilst the average cost to wrap a van ranges from £1,500-£3,000. If you are wrapping a fleet of vehicles, the cost per vehicle will often be less, closer to £1,000 per vehicle for example.
The cost of respraying a vehicle is also not a fixed figure, varying according to size, age, make, model, and damage to the vehicle. The average price of a full vehicle respray ranges from £1,000 - £15,000.
The exact figure will depend on the make and model of your vehicle, and the condition that it is in. Generally, the larger and more luxurious your vehicle, the more expensive it will be to respray.
Does a paint job look better than a wrap?

Again we must state our bias here, we think wrapping looks way better! But here is a different way of looking at it, which has the potential to look better, wrapping or respray?
A respray is a permanent aesthetic choice, if you want to change the colour, you will need to have the car stripped of paint and re-primed. A vehicle wrap is temporary, meaning it can easily be removed or changed if you don't like it, allowing you to refine your perfect end design.
In terms of respray design potential, colour and finish choice is often limited by manufacturers, who will only allow certain brands of paint to be used at an official service provider. Vehicle wrapping has no such constraints, meaning you can have pretty much any design you fancy, an advantage creative wrappers have embraced.
For businesses in particular, this freedom allows for the creation of complex high-end branded graphics, something that is not possible through a respray. If you are looking for inspiration, browse our vehicle gallery, we promise you won't be disappointed!
Wrapping does have some caveats though, particularly if you want to wrap internally or restore a classic car. Normally wrapping projects focus on the external appearance of the vehicle, producing an end result that looks flawless parked on the kerb. But if you open the doors you will still be able to see the original paint.
Internal wrapping is of course possible, but it is far more complicated, often requiring doors or other vehicle parts be removed for the wrapping process to work. This and other restrictions (which vary from vehicle to vehicle) can cause a drop in quality.
Age is another important factor. Classic cars tend to have a greater number of fused or welded panels, which makes it more difficult to wrap and can result in visible overlaps or joins. If you are planning on restoring a classic car we would recommend a respray over wrapping, especially if you want to display the internals.
Vehicle size is the final limitation. The average vehicle wrap is about 1.5m wide so taller vehicles will have more seams and joins. A skilled wrapping company will have a dozen tricks up their sleeve to minimise or hide any joins, but they will be there.
Which is faster, painting or wrapping a car?
This will depend on the complexity of the project, but in general, a car or van wrap takes up to 2 days to complete from drop-off to pick-up.
This timeframe allows for the vinyl to adhere fully to the vehicle. This time frame can double if you want to wrap interior panels. For further details check out our guide on how long vehicle wraps take.
Resprays can take anywhere from a few days to several weeks with the average being 4-7 days. Factors affecting this include complexity, prep work for the project, and repairs to any damaged bodywork.
Should I wrap or respray my vehicle if it is rusted or damaged?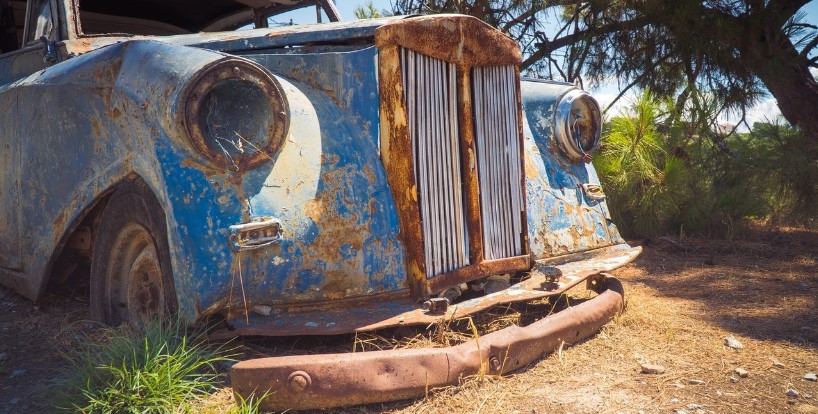 This depends on the level of damage, but anything more than very minor damage will make it difficult to wrap. Vinyl has a hard time adhering to rust and can make scratches more noticeable because it contours so tightly to the bodywork.
It is best to get any damage taken care of for optimal results. If you would like to know more check out our vehicle wrapping scratches and scuffs guide.
Part of a full respray involves fixing such imperfections, with repairs tacked onto the final bill. Fixing imperfections such as scratches costs between £20 and £50 per panel on average. Dents can be taken care of for around £50-£100. Rust treatment price depends on how extensive the problem is, it could be as little as £20 for a small rust spot or several thousand pounds for a large panel or bumper.
Which lasts longer, wrapping or respray?
This will depend on how well looked after the vehicle is, but on average 3-7 years for a vehicle wrap, and 10-15 years for a good paint job.
Vehicle wraps often have a shorter life expectancy due to poor maintenance practices, so check out our guide to vehicle wrap aftercare if you plan on getting the best out of your investment.
Whether the difference in lifespan makes a difference to you will depend on what you want from the end product.
Painting will be a better option if:
You just want to restore your old paint job
You aren't looking to change designs
You are restoring a vintage vehicle
Wrapping will be a better choice if:
You own a fleet of vans and are likely to update and refresh your brand
You represent a company looking to run a promotional campaign
You love customisation and think you will likely be modifying or removing a design in the next 5 years
Which protects my vehicle better, wrapping or respray?
Wrapping will protect your vehicle better than a respray because the wrap acts as a "second skin", meaning it will take the brunt of any nicks or scratches, helping to protect the paintwork underneath.
Will wrapping or painting my car affect resell value?
Customisation in general devalues vehicles and makes them harder to sell. For heavily personalised paint jobs this can be doubly costly as it will cost a lot just to return the car to a factory colour.
Vehicle wraps don't suffer from this issue and actually preserve resell value, because not only will the wrap protect the paintwork, but it can be easily removed without damage too. This is a real win-win when it comes time to sell or hand the vehicle back to your dealer.
Which is better for business vehicles, wrapping or respray?
Wrapping is a far better option than respray for business vehicles. The problem with trying to brand a vehicle with paint is that you will struggle to recreate the sort of precision and high-quality designs achievable through printing designs on vinyl.
A paint job that complex (if it's even possible) is also likely to cost far more than a regular paint job and will take a much longer time. As a business owner, you are also likely to update your branding every 3-5 years, which would make investing in an expensive paint job cost-prohibitive.
There is a reason why almost every business vehicle sporting complex graphics opted for wrapping:
It's cheaper
Higher quality
Easier to update as your brand grows
Preserves resell value
Minimises end-of-lease charges
Keeps your dealership happy
Want to learn more about wrapping for business purposes? Hit the button below to read our Ultimate Guide to Fleet Wapping.
You will learn the benefits of branding your fleet, how fleet wrapping works, how much it costs, how to maximise the effectiveness of your branding, different types of fleet wraps, how other companies use vehicle wrapping and other frequently asked questions.
Is Paint Protection Film (PPF) better than a respray?
If you are happy with your car colour but want better protection against scuffs and scratches, then investing in a clear thin layer of wrapping (known as Paint Protection Film) might be a good idea.
Many people finance their vehicles on PCP, with plans to swap out vehicles every 2-4 years. These agreements often come with wear and tear clauses that carry penalties for damage incurred beyond the clause stipulations.
Investing in PPF allows you to avoid these charges as the wrap will protect your vehicle for the entire duration of your PCP agreement. For many car owners the price you pay for excessive wear and tear may be far less than the price of a wrap, but for high-end or luxury cars investing in PPF is almost always worth it, and many cars come with PPF as standard.
This is because more expensive cars often come with a more expensive paint job. For luxury car owners who consider their vehicles assets as well as transport, preserving resell value is essential. A high-end paint job will last far longer with PPF and you will only be paying for the cost of replacing a wrap every 7 years if you maintain it properly.
Given a paint job can cost as much as £15,000 for top-end luxury cars, whilst a clear vinyl wrap is likely to cost on the very low end of the wrapping spectrum (because no ink is used) at around £1,500 or less, you actually save a lot of money by utilising PPF. To put that in perspective a high-quality paint job might last 15 years, but if you were to put that same £15,000 into PPF you would have enough funds to wrap your vehicle for 70 years!
So which is better, wrapping or respraying?
If you've read this far, then you now know it's not a case of one being better than the other, but more a case of which option is the best for you.
Wrapping will suit you if:
You want to brand a vehicle or fleet of vehicles for business purposes
You want to change your vehicle to a colour not supported by your manufacturer
You have an awesome custom design in mind
You like to change your vehicle's colour every couple of months or years
Respray will suit you if:
You are looking for a more permanent solution
You just want to refresh your existing colour scheme
You are restoring a classic vehicle,
NOTE: if you are looking to futureproof your respray against scuffs and scratches, then investing in a clear thin layer of wrapping (known as Paint Protection Film) might be a good idea.
Wrapping or Respray, which will you choose?
At Raccoon we're passionate about educating our readers and potential customers: we want to help you find the best option for you!
That's why we are giving you a free design template to help you make your decision!
This will empower you to try out different designs and decide for yourself if you would be happy with a permanent respray or a more complex design or branding. All without spending any money!
And that's not all, if you need some design tips check out these articles:
Hit the button below and we'll send a template custom to your vehicle's make and model straight to your inbox!