Transforming a personal or business vehicle with a vinyl wrap is a big decision and one that you don't want to regret. Whether you're having a colour change wrap or a graphical wrap for your business, careful preparation of your vehicle is key to ensuring the wrap looks pristine once it is applied. It is important to ensure you clean thoroughly and really take your time over it.
This guide will cover:
Cleaning and degreasing – the right and wrong way to clean your car for wrapping
Clothing - don't let tatty clothing scupper your vehicle wrap
Damaged paintwork – what to do about loose paint, scratches or rust spots
The finishing touches – making sure your car is squeaky clean and dry, ready for its wrap
"How do I clean my car before wrapping?" is a concern frequently expressed by customers getting their vehicles wrapped for the first time. Knowing how to prepare for a vinyl car wrap can make the difference between a successful, secure application and a disappointing failure, where the wrap starts to peel off soon after it is applied.
Here are 7 common questions we're asked at Raccoon all about how to prepare a car surface for vinyl wrap...
1. What should I wash my car with before wrapping?
Warm soapy water is the best thing to use to remove the dirt from your vehicle. Make sure you clean the windows, inside of doors, door seals, under the bonnet and wheel arches. Although the wrap will not be in contact with these areas, you don't want to risk any dirt potentially ruining your wrap. For stubborn grease, use a mild detergent like Fairy washing up liquid and apply with a microfibre cloth to remove the grease safely. If you are using anything stronger, do a test first on a small inconspicuous area of the vehicle. Professional wrappers will be able to remove stubborn dirt and grease for you – they have the right tools and products.
2. Should I clean the hubcaps?
Yes, as you don't want dirt from the hubcaps spraying up onto the car after it has been washed.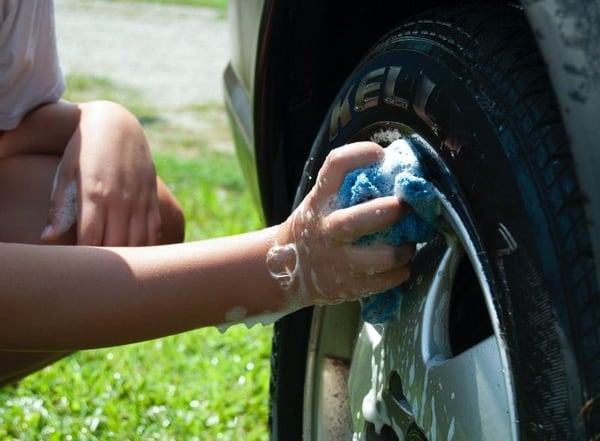 3. Should I remove the hardware from my car?
No, a professional wrapping company would ensure that wherever possible they remove wing mirrors, door handles etc. or if that is not possible, they will wrap discreetly around the hardware.
4. Is it best to wear old clothes when I clean my car before wrapping?
It's entirely up to you, but if you are installing the wrap itself, make sure there are no loose buttons and threads or rough seams that could damage or get under the film. It's also best to avoid wearing watches, jewellery and loose jackets when installing a wrap.
5. What if there is damage to the paintwork?
To get the best results, a vehicle's bodywork needs to be as perfect as possible. Vehicle wraps do not work well on cars that have dents and, scratches, rust or paint bubbles as the vinyl wrap will mould to every contour of the car, including bumps and scratches, and not last as long.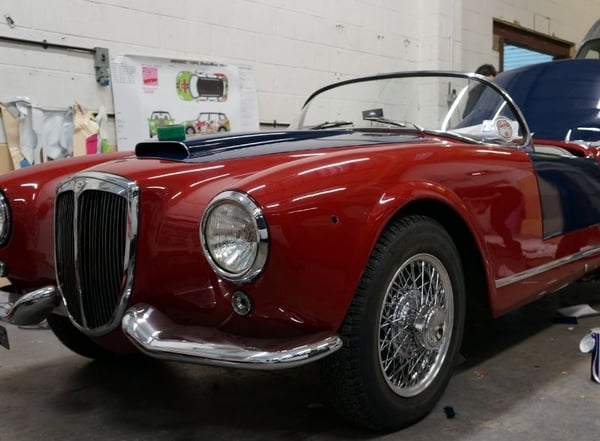 Rust and loose paint, which often affects vintage vehicles, needs to be carefully rubbed down so the surface is smooth, ready for the application of the wrap. There is no need to re-spray the vehicle before wrapping. If you are unsure, talk to the vehicle wrap supplier who will be able to answer your questions. To get the best results, a vehicle's bodywork needs to be as perfect as possible.
6. Should I wax my car before wrapping?
No. Protectants and waxes and any other product that forms a barrier can interfere with the wrap's ability to adhere properly to the vehicle.
7. Should I dry my car after washing it?
Yes, dry it thoroughly with a microfibre cloth. By washing your car 24 hours before it is wrapped, any areas you may have missed should also be nice and dry in time for wrapping. If the bodywork squeaks when you run your finger along it, it is ready but if it feels greasy, you will need to wash it again. It is worth taking the time and trouble to do a thorough job to ensure your new wrap looks fantastic.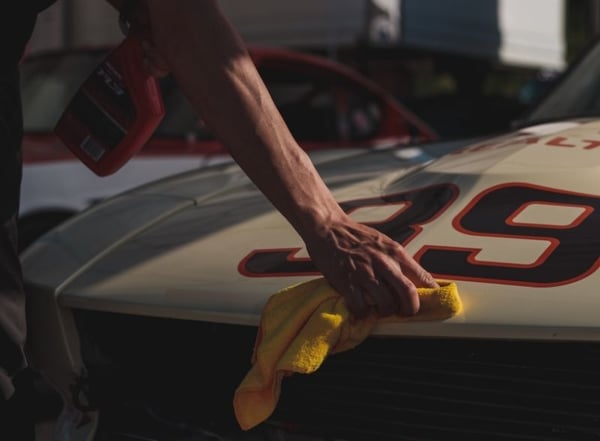 Preparation is key for a seamless wrap application
Following these steps for how to prepare a car for a vinyl wrap will ensure the application is top notch, with visual results you can be proud of. Now you've cleaned your vehicle, it's important that your wrap specialist takes as much care. When choosing a vehicle wrapping company, ensure that they have a clean dust-free workspace, as wrapping outside in the open air can undo all your hard work! For more advice on van and car wrapping mistakes to avoid, check out these tips.
Providing the right care for your wrap will prolong its lifetime and keep it looking like new so be sure to read our top tips for vehicle wrap aftercare. If you're looking for more information about the vehicle wrapping process and how to design a captivating graphical wrap, check out our ultimate guide to vehicle wrapping.