Did you know there are a staggering 4 million white vans on Britain's roads today? The increase has largely been driven by the explosion in online delivery services.
What most people don't realise is that their van or fleet (it doesn't matter which colour by the way) could be a billboard on wheels, advertising their business and attracting as many as 16 million views each year.
Zipping along the road, parked on the street, queuing at the petrol station or stuck in a traffic, it really doesn't matter. Well-wrapped vehicles drive brand awareness, sales and business growth—wherever they are.
Real Estate on Wheels
So why aren't more people and businesses putting the prime real estate they already own to good use as an offline marketing tool? There are two reasons. One is that they don't think about it (they only regard their vehicle as a mode of transport, not an out-of-home advertising opportunity). The other is that there has been an obsession with building an online presence at the expense of other effective forms of marketing.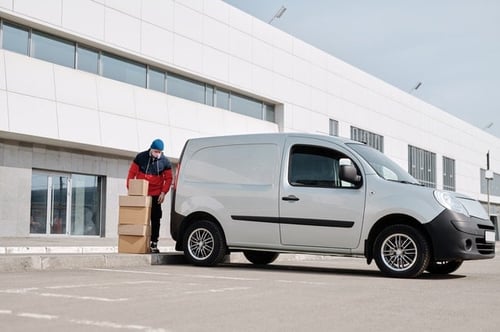 From Offline Marketing...to Online
Ten years ago, online marketing was a novelty—as shiny and new as a Kent Spitfire rolling off the production line in 1944—and many marketers considered online and offline marketing methods mutually exclusive. The result? The lion's share of CMO budgets got channelled online.
Since then, the savviest marketers and business owners have woken up. They realise that experiences don't just happen in the digital domain—they happen everywhere. Moreover, they recognise the benefits of low cost, round the clock, out-of-home advertising opportunities.
Above all, with costs estimated at just £0.04 per 100 van-wrap views—30 times cheaper than radio advertising and almost 50 times cheaper than direct-mail—they're starting to appreciate the high return on investment they can achieve by moving from online to offline marketing.using car wrapping.
According to research from signage solution company, 3M, branded vehicles in built up areas get seen as many as 3,000 times an hour. What's more, 96 percent of surveyed respondents said they thought fleet graphics had more impact than a billboard.
So how can business owners capitalise on this effective marketing strategy?
Spitfiring on all cylinders
Recognising that he was missing out on a prime marketing opportunity, Founder of Westerham Brewery, Robert Wicks, decided—after eight years of toying with the idea—that it was time to let his offline marketing fly. He did this by turning his delivery vans into Spitfires (without the need to reconfigure any of the mechanics!).
This achieved the various goals of paying homage to the soldiers who had fought the Nazis in WWII while raising the profile of the centuries-old brewing legacy of Kent's Westerham area, and Westerham Brewery's own online and wholesale beer and whiskey business. The process required expert design, van-wrapping skills with millimetre accuracy plus a tale or two of derring-do...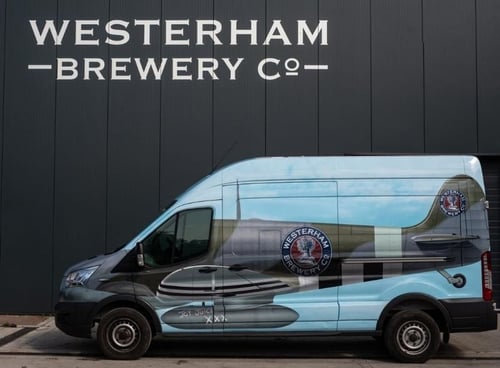 Behind every great vehicle wrap lies a great story
As the industry saying goes, 'there's no story on a plain vanilla van. The story is what you put on it'. In the case of Westerham Brewery, for Rob, his team and those with a local connection, the Spitfire van wrap carries a deeper meaning…
Humping gear and food and preparing for the D-Day battle on the beaches of northern France was thirsty work for the soldiers requiring innovative solutions. Cunningly disguised in auxiliary fuel tanks, labelled Modification XXX Depth Charges to pass muster, Westerham ales were sent aboard Spitfires from England, across the channel and into the safe zones to be drunk! (And woe-betide the hapless pilot who so much as spilt a single drop—he would be sent to Coventry for a week).
Inspiration for High Fliers
Wicks says:

"We used a Haynes Manuals illustrator to design the graphics. Haynes produced the original Spitfire manual so the design you see on the vans is accurate right down to the rivet. Since we started driving the vans around for deliveries, the response from customers has been fantastic. People make a point of coming outside for a look. They take photos, share images on social media and make comments such as 'Look what just landed outside my place!' The vans have become a point of fascination, nostalgia, and discussion. They bring people together and put a smile on their faces."
2020? Meet O2O
Wicks' comments highlight the growing importance of the interplay between the offline marketing and online (O2O) worlds, and how cleverly conceived and executed out-of-home marketing can inspire conversation on digital platforms.
Janine Blackburn, director of JB Sales, an independent supplier of safety and survey equipment in the construction sector, also realised that making a statement in the physical world with eye-catching van wraps could be a good way to complement her existing digital marketing initiatives.
From Generic to Bespoke - The Power of a 4ft moving graphic
Janine says:
"I've spent a long time taking care of all aspects of marketing. Things like Google AdWords and SEO. But that sort of thing only works if people are searching online for you in the first place
You could spend 24 hours a day working on optimisation and digital marketing. But it's difficult when the search terms that apply to your business are so generic. We needed to put something tangible out there, something people could see in the real world that would create further interest. We needed to make a statement."
The first thing Janine did was to do away with the branded magnets that had lived on the sides of the main JB Sales van for more than six months and upgrade to high-quality four-foot vehicle wraps and precision decals. She also invested in a new van and had it wrapped in reverse colours.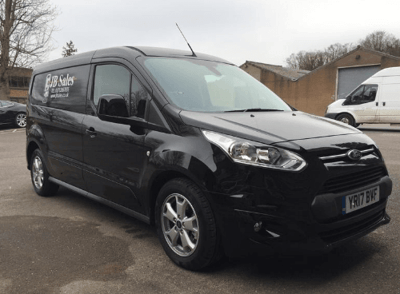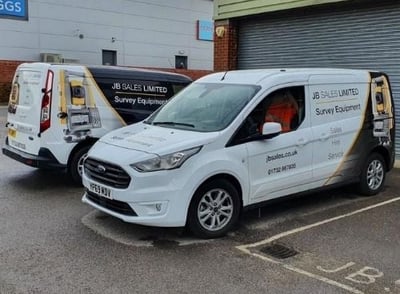 Before and After: The JB Sales vans before and after their new branded vehicle wrap
Business Expansion
"Getting the vans wrapped has been a real boost to the business," Janine says. "And when you consider the amount of money you can spend on pay-per-click or even print-based advertising and flyer distribution, the cost has been comparatively small. What's also interesting is that the business is going through a period of growth at a time when many other businesses are reducing headcount and shrinking."
This latter point she attributes to the striking new visuals on the company vehicles.
"The only difference, is the vans on the road. Since sending them out, the number of phone calls has increased, more people now directly approach the drivers to get information about us, and we've had to recruit two new staff members to cope with the extra work. All of this in the middle of a pandemic-led recession!"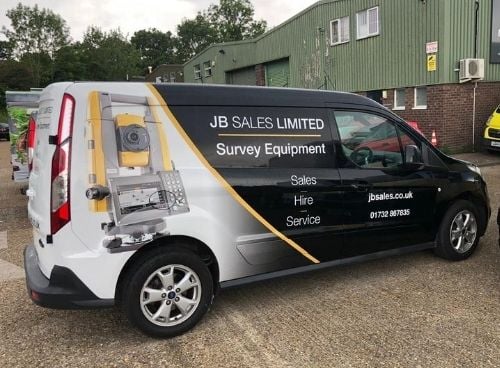 Encouraged by the uptick, Janine is keen to connect her online and offline marketing with a simple strategy she hopes will add further momentum.
The Value of a QR Code
"I'm going to get some QR codes made up. Just a little sticker on each door so people can capture the code with their smartphone and be navigated straight to our website or downloadable catalogue. It's the quickest way to take people from looking at the vans to finding out who we are and what we do. It's also an action we can track."
Janine adds:
"Being online has given JB Sales nationwide reach that we couldn't have got any other way. But we get a lot more local and regional interest by having a strong physical presence on the road and at construction sites. The van wraps Raccoon did for us are big, bold and bright. They have that 'wow' factor that you'll simply never get on a small screen. They get people talking, they elevate us above the competition, and they bring in quality leads."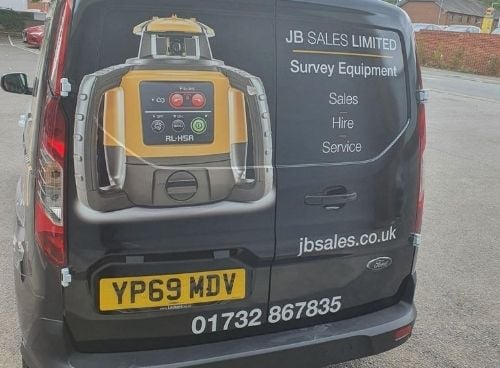 How to get started with online to offline marketing:
Consider your offline assets
Does your business have offline marketing assets that can be leveraged? They don't have to be white vans. From the mundane to the quirky, vehicles of just about any shape and size can be wrapped: cars and vans, motorbikes, horseboxes, tuk-tuks, buses, coaches and coffee trucks. New or old, your vehicle in the right hands can enjoy a new lease of life that will turn heads and drive leads into your business.
Remember: If looked after, your quality vehicle wrap should last four years. For busy vehicles doing plenty of miles on the road, that's a staggering 64 million potential views! And even if it's not on the move, parked in the right place, people will see it. Visit our Top Tips for Vehicle Wrap Aftercare to keep your vehicle looking pristine.
Does your brand have a story to tell?
Deciding on your messaging before you take the leap is business critical. Consider the history and origin story of your brand – how can it be translated to an eye-catching vehicle wrap that gets people talking?
If in doubt, consult a reputable vehicle-wrapping firm with at least 10 years' experience and they'll walk you through the process and provide some vehicle wrap ideas and design tips..
The magic of metrics – how can you track your performance?
If you are diverting your marketing budget into a new channel, such as a vehicle wrap, you'll want to see the return on your investment. Here are a handful of ways you can keep an eye on those stats to find out if your design is working as a lead magnet:
Track the number of calls coming in from your vehicles by issuing each with a specific phone number. By numerically tagging your vans according to geographic location (to give one example) you can see which ones are generating the most leads.
If you have an online store where people can order your products or services, why not add a discount or free shipping code to your vehicle design to drive more traffic to your site and give your sales an extra boost?
They're everywhere these days, and most people have code reading apps on their smartphones. By putting page-specific QR codes on your vehicles, passers-by need only scan them and—hey presto—they're right where you want them to be. Just remember to ensure your website is set up to capture that all-important lead data with downloadable offers or a Contact Us form!
Social media
As well as links to your website, phone numbers and QR codes, consider incorporating your Instagram or Twitter handles into your wrap design to boost your following. Remember to include a simple call to action alongside your social media handles to encourage people to engage and connect.
If you're ready to move forward with wrapping your vehicle or fleet of vehicles, check out our blog: "How much does a vehicle wrap cost?" for more helpful guidance. You can download vehicle wrap design templates from the Vehicle Wrapping Services page of our website.
Want to learn more about vehicle wrapping and how it can help your business grow? Download your free copy of The Ultimate Guide to Vehicle Wrapping here.