Do you need signage for outside your business premises or portable graphics for taking to outdoors events, such as a community consultation or summer show? Or do you simply want to run some outdoor advertising while you're on the road? There are lots of ways to ensure your brand makes an impact in the outside world, no matter your business or activity.
In this blog we'll take you through the following five tried and tested outdoor branding ideas to try for size:
1. Branded Vehicles
Why not transform your business vehicle with a stunning, branded wrap? Delivery vehicles can fly the flag for a product or service as they zip from A to B. Alternatively, if you have a food truck, why not create a branded wrap with images of your dishes to tempt people in?
If you're planning a larger outdoor promotion, like a consultation or festival stand, a promotional vehicle with an eye-catching wrap will certainly make you stand out from the crowd. The only limit to what appears on your wrap is your imagination! A beautiful, unusual or quirky wrap can provide a unique Instagrammable backdrop that customers can share on social media, extending the reach of your outdoor advertising even further.
In addition to your business name and branding, the wrap can also publicise your contact details and website address, including a QR code.
Check out our blog: "Top examples of best vehicle wraps" for inspiration.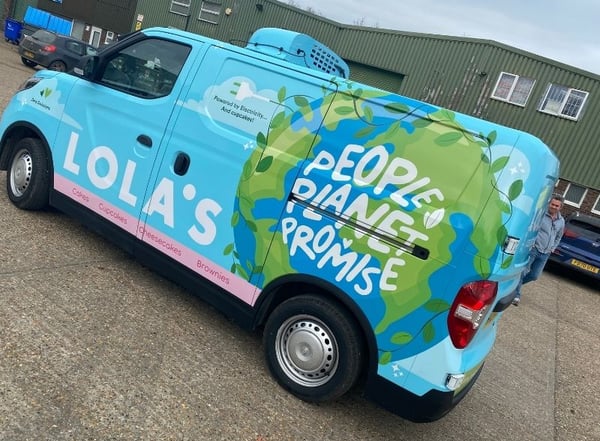 Looking for more information on how to enhance your vehicle with a wrap? Take a look at our comprehensive wrap services here.
2. Gazebos
Want to maximise your branding whilst providing protection from the sun or rain at the same time? Gazebos are the ideal solution. Whether you're running a sampling event or conducting a survey, a gazebo providing shelter from the elements will likely garner much more interest from passers-by if the heavens open – not to mention keeping your stock protected!.
Gazebos come in a range of sizes and the whole kit is easy to transport and assemble quickly when you arrive at your event. Click here for more information about how to feature your business branding on a gazebo pop-up tent.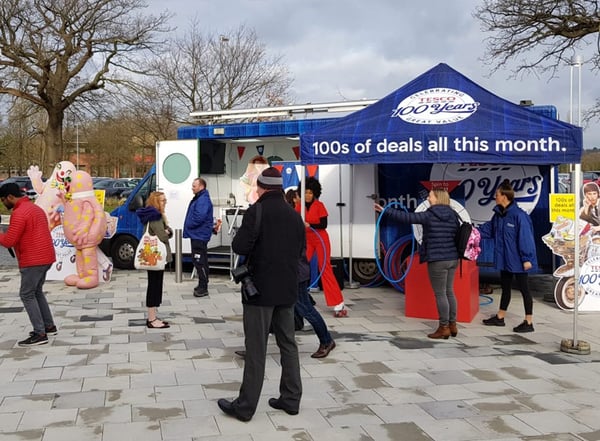 3. Parasols
Parasols are definitely worth considering if you want to draw attention to your promotion or the exterior of your café or restaurant with an attractive outdoor display. A parasol in the sunshine coupled with tables and chairs looks inviting, encouraging people to relax and take their time while enjoying your food, drinks or conversations about consultations or health topics. A branded parasol will complement your signage, promotional vehicle or stall beautifully and create a positive impression.
TOP TIP:
If your outdoor display will be located by a beach, at the top of a hill or in a wind corridor in the city, make sure it can sustain sudden gusts of wind. Your supplier should be able to advise you on this or point you in the direction of the accessories you need or the best promotional product for what you're trying to achieve.
4. Flags
Outdoor banner flags are another form of outdoor advertising that gets noticed. Their versatility means they can be used in a multitude of ways, such as at festivals, exhibitions, outside stores, on business forecourts and of course, on a beach! There are several different shapes and sizes available offering plenty of choice, so simply choose a style, design the graphic to go onto the flag, then pop it into position. Their portability and slimline designs make them one of the easiest branding accessories to work with and the visual element of their fluttering in the breeze draws attention.
Make sure you've thought about the weather conditions and any additional accessories you, so check you have ordered the correct spike and base for the size flag you will be using.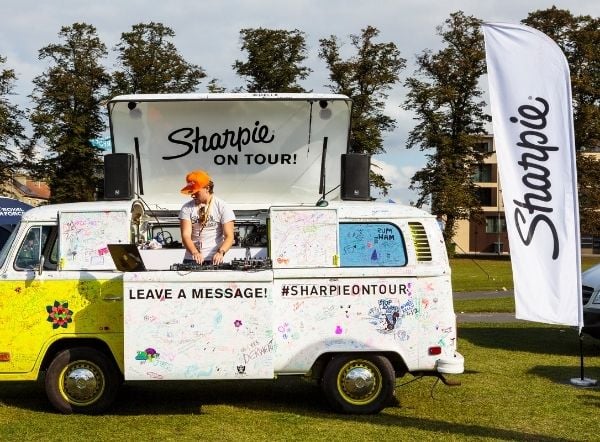 5. Signage
Often under-utilised, outdoor signage is another fantastic way to engage passers-by. Pavement signage and banners are portable, flexible and re-useable – so you can make the most out of your marketing budget.
The wide range of signage available means there will be the perfect media on which to display your message, combining your brand fonts and colours. From classic chalk A-boards to swing signs or handy poster A-frames, most forms of signage can be easily updated with new menus, offers or promotional messaging.
Before you go shopping, our blog: "Custom large format printing: how to choose the best supplier" offers lots of guidance that can save you making a costly mistake.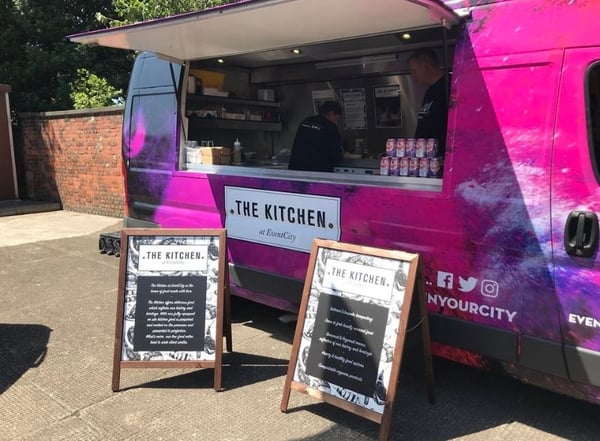 How will you take your branding outdoors?
With so many branded accessories available to choose from, taking your business, promotion or event outdoors has never been easier. These outdoor branding ideas offer both the opportunity to go small scale or invest budget in larger impressive designs, like banners or vehicle wraps.
So, what's next? If you'd like to take your outdoor promotions to the next level, Raccoon's print store has an entire range of outdoor promotional items for inspiration – complete with online design tools and an instant pricing calculator. Shop now to get started with your next outdoor campaign!