If you've ever seen a van wrap that made your eyes pop, as in stop dead in your tracks and stare, you know you've seen a killer wrap. A killer wrap isn't just a talking point, it's a showstopper, a jaw-dropper—something that takes your breath away.
A killer wrap makes people take out their phones, snap a pic and post it on social. Then, if it captures the imagination, chances are it will go viral.
Check out the hyper-realistic wrap above, promoting Copenhagen zoo. A 40ft python appears to have wrapped itself around a coach and started to crush it. This work of art boosted ticket sales at the zoo gates and won the agency behind the concept a coveted industry award.
Impressed? Here are a few more wraps that are also crushing it...
The power of an optical illusion
There's nothing like a trompe l'oeil - a trick of the eye- to put the brain into overdrive. The mind needs to make sense of what it sees and seals any information gaps like a decorator plugging up holes with filler. It's the reason we so often see three dimensions when there are only two. Top tier vehicle wrap designers take advantage of this peculiarity of the human psyche, putting optical illusions to good use to grab people's attention and hold it for longer than a mere few seconds.
Take a look at this illusory vehicle wraps that's really effective. The X-ray effect of the mini lining up exactly with the driver creates impact – and makes you look twice!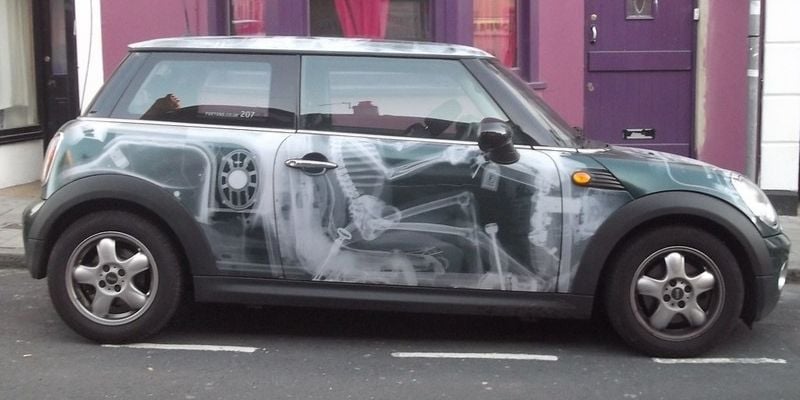 Incorporating design & function
Here's a wrap that's so much fun. The great thing about the Doctor Best bus wrap is how the articulated bellows are incorporated within the graphics. It's this level of inventiveness, of mapping over what's lies beneath so that it becomes part of the design, that really makes it stick in your mind. Deceptively simple, incredibly effective.
Oh, and check out that word count. Just six. Says enough. Says it all.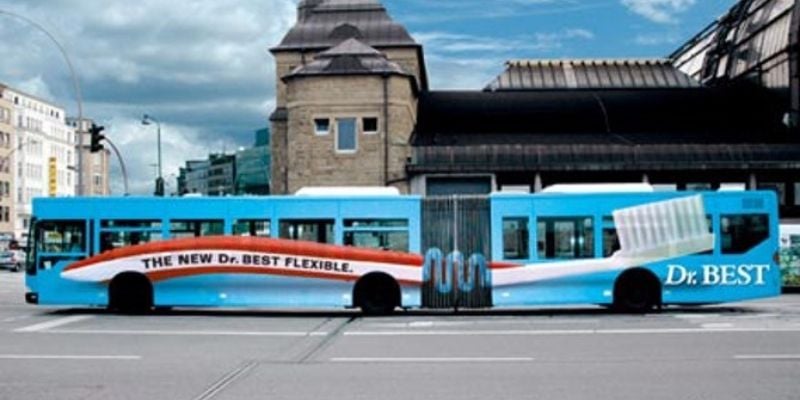 Keeping it simple
This Sky Sports wrap by UK firm, Vehicle Graphics, is a great example of design played straight. It's not trying to be ingenious. It's not even trying to be clever or wow anybody with high-stakes creativity. Simply a couple of crisp, high-resolution images scaled up and replicated on both sides of the vehicle. What better way to transform a plain, vanilla camper van into something that makes you want to dash home to watch your favourite sport—most probably on Sky.
Feeling inspired? Here are your next steps…
If you've been considering getting a wrap for your vehicle, are looking at these masterpieces and find yourself thinking, 'I could never do anything as good as that,' don't worry. These examples are meant to inspire, not intimidate. They show you what's possible with a vehicle wrap. In reality, you don't need to be overly clever to make a powerful impact and a great first impression.
Top Tips for getting started with vehicle wrap design:
1. Try leading with content first and seeing where the design can fit in around it.
Think long and hard about your business and its value proposition.

If you don't have a strapline, dream up a dozen or more, write them down then ask your friends, colleagues and family which one they think is best. The one with the most votes wins.
2. Go online and search for images that best reflect what your business is about.
Put your favourite images into a file or onto a mood board and use them for inspiration.

Take your ideas to a good graphic designer and talk them through. By a process of elimination, refine and define what the essence of your business is.
3. Ask a vehicle wrapping supplier for a vehicle template
Start sketching out some of your ideas before talking them through with your designer. A good vehicle wrapping supplier may even offer free design consultations.
For some helpful guidance, check out our blog: "How to design your own vehicle wrap"
Balancing design with function
When it comes to vehicle wraps, companies large and small have different needs. If you're just starting with 1-5 vans on the road, you'll want to have your brand name visible, but it's no good only having your brand name. If your vehicle wrap is your only marketing investment, it's better to use that prime real estate wisely.
It's about combining design with the key touchpoints that your audience needs to get in touch with you: Think websites, QR codes and social media handles. Some smaller independent companies might even need to add a couple of lines about their services.
For more well-known brands, less is often more – some could even get away with just a logo! But more often than not, strong imagery is combined with a logo.
Communicating with clarity
Remember, the best creative communication avoids complication. If you strip away the design elements of the 'killer' wraps shown in this blog, you'll find they have one thing in common—they are all incredibly simple. Yours should be, too.
To try out a design for yourself, hit the button below and we'll match you with one of our design team. During your consultation, a member of our design team will take your ideas and produce a concept design for you, all for free!