What is the difference between a full and partial wrap? A full wrap covers the vast majority of a vehicles exterior, usually panels, bumpers, even windows. A partial wrap covers smaller target areas of a vehicle. Which is best for you? This depends on your budget and what you want the wrap to achieve.
In this article we will break down full and partial wrap pros and cons, covering cost, design, impact, and return on investment (ROI).
Cost
In the price department partial wraps definitely beat full wraps. Cost will vary depending on design and how many panels are being wrapped, but partials average between £500 and £1000. A full wrap averages between £1500 and £3000. Specific signage and decals are charged per square meter. A 5cm x 5cm printed decal costs about £18.
You can use our price calculator for exact vehicle graphic costing. Just click your chosen material and adjust the dimensions as necessary. For a full breakdown of the price of vehicle wrapping check out our pricing guide.
Cost is obviously important. We all want to get our moneys worth after all. But consider those last words for a moment: "your money's worth". What does that really mean? Is it getting the cheapest wrap you can? Or is it getting the best value for money?
When you get to thinking about your ideal design, prioritise your return on investment, rather than your bottom line. The more you put into your wrap, the more you will get out of it.
Design
From a design standpoint, you definitely have more to work with a full vehicle wrap than a partial. Many partial wraps create eye-catching subtle designs that play into the original colour scheme of the vehicle, but when it comes to getting noticed, subtlety isn't an advantage.
This is where the sheer surface area of a full wrap shines, allowing you to print complex high resolution large scale graphics for maximum impact. Want an example? Nothing says look at me like a full wrapped double decker!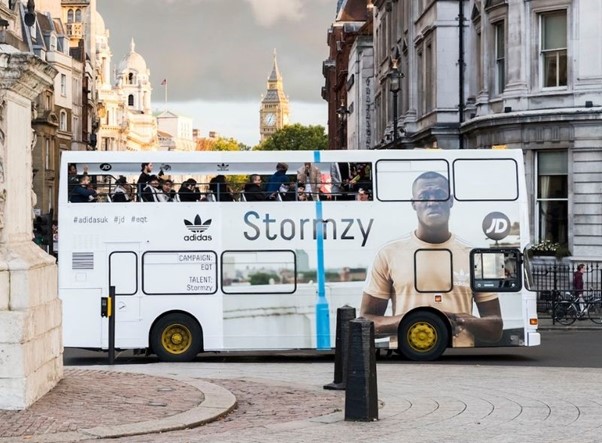 However that doesn't mean that partial wraps don't attract attention. If your base paint colour matches your ideal design choice, then a partial wrap with additional signage could well work for you. Just look at the difference it made for client JB Sales Limited.

A partial wrap created a real standout contrasted design, maintaining the original aesthetic whilst allowing them to showcase high quality product images.
Vehicle type may also factor into your design choices. Vehicles with large flat surfaces are better for showcasing larger designs. Smaller or angular vehicles, cars in particular make design implementation more complex, so in many cases a partial wrap may be a better fit.
If you are looking to buy or lease a vehicle for wrapping, advertiser friendly space is always something to consider.
Why not try out a design for yourself? Just hit the button below to get a free vehicle template that matches your vehicles make and model.
Impact
A full wrap will always trump partial in terms of impact. Simply put, there is more square footage available for you to display your branding in a full vs partial wrap. Therefore, if you are concerned about maximizing your impressions, (the amount of people who will see your ad) then a full wrap is a necessity.
A fully wrapped vehicle, driving intercity, can attract up to 16 million views a year, with some studies suggesting up to 70,000 impressions daily. What will that look like for a partial wrap? It's hard to say as studies have not been conducted – if you were to reduce that figure by the percentage of the vehicle wrapped (a crude measurement) you could say that a 50% wrap will garner 8 million views, but again this is crude.
Whilst there may not be hard data on this, at a common sense level we can all probably accept that larger advertisements are more effective than smaller ones; there is a reason London buses are used as mobile billboards after all.
Return on investment
When it come to return on investment any signage is better than nothing, but more is certainly better than less.
This is something to consider at the design stage too, don't base your design solely on cost, let the design process play out, so you can achieve the highest quality advertisement for your business. You may end up paying slightly more in the short term, but in the long term the extra business you stand to gain will more than make up for the initial cost
Expanding on our earlier figure: A fully wrapped vehicle, driving intercity, can attract up to 16 million views a year with a vehicle wrap costing 10% of the overall price of leasing and running a van – a mere 87 pence per day.
This figure was calculated by dividing the average price of a wrap (£1,600) by the number of days a good quality vehicle wrap should last (1,825 days or five years). For reference that's about 100 times cheaper than the up front cost of a google ad.
If you go by Google ad spend recommendations you would be spending £14,600 a year for just 7.3m impressions! And that's their recommendation for beginners! If you wanted to come close to matching the impressions per year of a vehicle wrap ad it would cost around £30,000, and that's before you hire the marketing team/agency to manage it as an extended campaign.
For that money you could wrap a fleet of at least 15 vans delivering 225m impressions per year! Plus there are no extended ad management costs and difficulties, the vehicle is ready to work for you from day one, it's as simple as that. For the full breakdown, including comparisons with other forms of advertising such as social media, tv and radio, head to our vehicle wrap ROI comparison guide.
Resale value
Another aspect of ROI when it comes to vehicle wrapping is your resale value. A high quality vehicle wrap acts as a second skin, protecting your paintwork from nicks and scratches. Your vehicle is sealed in a time capsule of sorts, preserving its value when it comes time to sell or hand back to a dealership.
In terms of protection, a full wrap will offer more than partial, but if a partial wrap covers the more exposed areas of a vehicle's paintwork, it can still help mitigate any potential damage.
What's my next step?
If you've reached this point in the article then you should have a better understanding of which type of wrap is better for you.
For more information, check out our ultimate guide to vehicle wrapping.
You will learn the benefits of branding your fleet, how fleet wrapping works, how much it costs, how to maximise the effectiveness of your branding, different types of fleet wraps, how other companies use vehicle wrapping and frequently asked questions.