Street food has recently seen a huge rise in popularity, especially with dishes that appeal to foodies, keen to experience exciting new dishes at food festivals and farmers' markets. The Covid pandemic has inadvertently given mobile food trucks a boost, with the shift towards outdoor eating and brick and mortar restaurants being forced to close for long periods.
Street food first gained popularity in Roman times, with foods such as olives and oysters. By the mid 20th Century, burger and hot dog food trucks had come over from America along with delicately spiced foods from India, China and Japan. But the last ten years has seen an exponential rise in the types of street food on offer from all over the world. Entrepreneurs have been inspired by their travels abroad and people settling in the UK from abroad have made a successful living by introducing many types of street food from their native countries. Another factor is the ease of sourcing ingredients for international dishes from food wholesalers today, compared with just a couple of decades ago.
If you have decided to start a mobile street food truck you could be on the way to a very profitable business. But what are the best foods to sell in a food truck?
In this blog we take you through the key things to consider when planning a food truck menu:
What are the most popular food truck items?
With such a vast array of menus to choose from, we've grouped the favourites into three categories:
Traditional Street Food
Street foods that have stood the test of time and remain amongst the most popular:
Burgers and hot dogs - guaranteed to be popular anywhere, except vegan/vegetarian events (although vegan options are now appearing on menus). These work well as "stand alone" food stalls at places like shopping centre car parks and lay-bys, as well as alongside other stalls at public events.
Fish and chips - mainly found at public gatherings alongside other food stalls.
Ice cream – popular anywhere and everywhere, but more seasonal than other street food options.
Sandwich bars - these work well at railway stations and in town centres, to cater for office workers.
Jacket potatoes – very versatile and experiencing a resurgence in popularity.
Doughnuts and crepes - sticky favourites, what more can we say!
Coffee and cakes
Thinking about designing a food truck? Check out our food truck kitchen design tips here.




International Street Food
As the UK has become more culturally-diverse over the years, the range and availability of dishes from across the globe has increased enormously, and the average food festival will feature street food from numerous different countries. Some street food, such as American burgers, Turkish kebabs and Chinese noodles, have been on the scene for some time, but there have been lots of new additions in recent years, as the demand for a wider choice of exciting foods has grown. Here are just some of the most popular street food menus that have arrived on the street food scene more recently:
Sushi bars – a popular, fresh and healthy Japanese food option Shiro – a stew from Ethiopia made from chickpeas or broad beans.
Falafels – a Middle Eastern favourite consisting of crispy balls made from chickpeas served in a wrap.
Pho – a healthy Vietnamese noodle broth.
Banh Mi sandwich – a Vietnamese baguette filled with a meat patty.

Burrito – a Mexican classic that is low maintenance to make, consisting of tortilla wraps filed with shredded meats, rice, beans, avocado and salad.
Tacos – another Mexican favourite featuring small tortillas filled with meats and veg with guacamole, cheese and sour cream.
Pad thai – a popular noodle dish from Thailand.
Dhal – a thick soup from India made from pulses served with naan bread.
Spinach and chickpea curry – another Indian dish that is also popular with vegans.
Kebabs – The Turkish shish or doner kebab are becoming more gourmet.
Bao buns – A Chinese/Korean dish consisting of flattened bread stuffed with slices of stewed meat, pickle and ground peanuts.
Jerk chicken BBQ food – a popular Caribbean dish.

Stone baked pizza – a classic Italian favourite that is very versatile.
Mac n' cheese – an international favourite that's having a renaissance as chefs add their own flavourful twists on the classic!
Momos – Nepalese dumplings filled with ground meats or can be filled with vegetables for a veggie option.
Crepes – this French favourite can be sweet or savoury. They are easy to make with low-cost ingredients.
Mango sticky rice – this tasty Thai dessert is made from mango, sticky rice and coconut milk and is starting to feature more prominently on the food festival scene.
All of the above make great street food dishes because they are relatively quick to prepare and made from ingredients that are readily available from mainstream or specialist shops in the UK.
Vegetarian Street Food
As vegetarian and vegan diets become more mainstream, the market is growing. The costs of producing the dishes are generally lower, without having to pay for expensive meat and fish. Food festivals, especially vegetarian/vegan food festivals, are the best places to do a brisk trade. Many meat or fish dishes can be adapted to vegetarian and vegan versions.
Some of the most popular choices include:
Falafels – a dish from the Middle East consisting of crispy balls made from chickpeas that are deep fried and served in a wrap.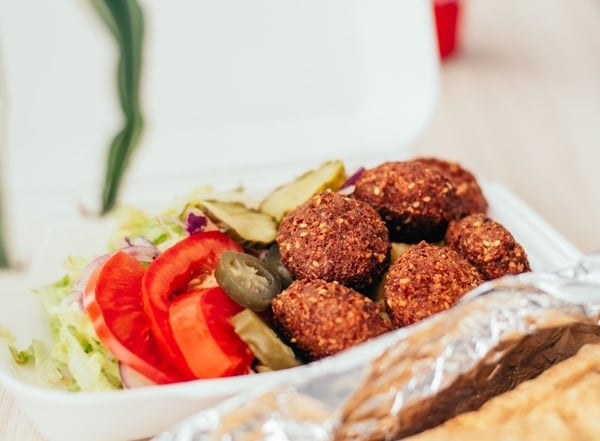 Curries – Indian cuisine is a particularly good choice as many of their dishes, such as Chana Masala (chickpea curry) and Dhal (a thick soup made with pulses) are already meat free.
Pad thai – a noodle dish from Vietnam that can easily be served as a meat-free dish
Jacket potatoes – a traditional favourite that can be served with a variety of vegetarian/vegan fillings, such as baked beans, BBQ jackfruit and dairy or vegan cheese.
Pizzas – the introduction of vegan Mozzarella cheese to British supermarkets means it is much easier to produce vegan versions of tasty cheesy pizzas.
Momos – a vegetarian option of this popular Nepalese dish can be created using vegetables to fill the dumplings.
Which are the most profitable food truck items?
The most profitable food trucks will be those that serve the most portions, using the cheapest ingredients, if the price mark-up is right. There will be no benefit to serving food with cheap ingredients if the retail price is too low or the portions are too large, so research how your successful competitors operate first.
To get you started – here are a few suggestions of ingredients that are versatile and help increase your profit margin. You could add a unique twist to one of them to make it your own, memorable dish:
Chips – on their own they are simple to prepare, popular and very cheap to produce. If your signature item is a less lucrative dish, additional sales of side portions of chips will help to boost the overall profitability of your stall.
Crepes – easy to make with low-cost ingredients and can be either sweet or savoury.
Jacket Potatoes – another potato-based dish but this will also be your main item, so it's a good choice, provided you can keep the fillings cheap and simple.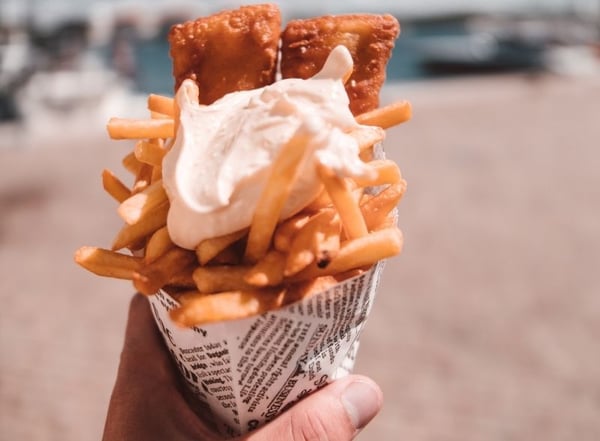 Pizzas – a lucrative choice because they are easy to make and very popular.
Popcorn – easy to prepare and very cheap to get supplies.
Rice, pasta or lentil-based dishes - a relatively inexpensive street food to produce.
If you're ready to move things forward with your street food business but worried about the start-up costs, our blog: "How to finance a food truck - guide for entrepreneurs" offers plenty of advice.


How can I keep my food truck busy?
To be successful, you clearly need lots of customers, so here are some tips to ensuring queue-filled events!
Firstly, find your customers

Where will they be hanging out? Many street foods have broad appeal and will be popular in most locations where you will find lots of people, but bear in mind, there will be lots of competition. If your stall is more unique, appealing to a niche market, there is less chance of competition treading on your toes, but fewer locations to find your customers. For example, a vegan mobile food truck is a good example – there are less of them but they do very well at vegan food festivals, if you can get onto the circuit, and, as mentioned previously, they are growing in popularity at mainstream food festivals and markets.

Attend private and corporate functions

If you are willing to boost your customer base by running your food truck outside its normal trading hours, you could try and get bookings to attend corporate events, like conferences and seminars, or private functions, like weddings and birthdays. The advantage is that you could be the only mobile food truck attending the event, where there will be a guaranteed number of customers.




All day tummy fillers
Selling satisfying foods that work well for breakfast, lunch and supper should keep a steady stream of footfall to your food truck day to night:
Sweet and savoury crepes and waffles
Grilled cheese sandwiches
Sweet and savoury pastries, such as croissants, pain au chocolat, sausage rolls and Cornish pasties
How can I make my food truck menu unique?
With so many food trucks vying for trade, anything you can do to make your menu unique will help you stand out from the competition. Here are a few suggestions:
Put an original twist on a traditional favourite. Just as "loading" fries made plates of chips more exciting, can you think of a new spin for a popular dish?

Food fusion – two types of street food blended together, for example tacos and curry or noodles and falafels. Experiment to find a delicious new foodie combination to introduce to customers.

Add another, unusual dish from the same country or region to expand your menu and excite curiosity. You could try handing out a free sample to customers purchasing your signature dish to get a buzz going about it.

Stand out visually. Make sure your food truck not only smells great, but looks really special as well. A stunning vehicle wrap, some sumptuous photos of your street food and a clear, eye-catching menu can all be crowd magnets to draw attention to your food truck.

Check out "The complete guide to buying a food truck - where to start" for lots of helpful tips.
Conclusion
Whatever menu you decide to offer your customers, check that you will be able to trade in the area you have in mind. Beware of a potential "turf war" with competitors, or prohibitive local authority trading restrictions.
With the right menu, in the right locations, you will be on the road to success. Visit our Ultimate Guide to Street Food Trucks for further guidance to help you get started.