If it's your dream to start a street food business but you don't have the cash you need to finance a food truck, then all is not lost – there are ways to achieve the financing you require if you know where to start.
We'll explore all the different options in this article and go through exactly what you will need finance for – because when you're starting a food truck business the up-front cost doesn't start and end at the vehicle!
The following are the questions we are frequently asked by entrepreneurs thinking about starting their own food truck business:
How do I finance a food truck?
Launching a food truck business will incur considerable start-up costs, plus your running costs. Unless you have savings or the cash to see your business through its start-up period until it generates a profit, you'll need to secure a source of finance, and there are a few different options you can explore:
The most convenient way to finance a food truck will be via a food truck business loan from a lender, so applying for a small business loan from your bank will most likely be your first port of call. The following tips will help to increase the chances of your loan application being approved by the bank:
The first thing you must do if you are applying for a small business loan for a food truck is write a business plan. This will show the lender that you have done your calculations and thought things out carefully, but is also a very good practice in any case to focus your mind and create a solid plan.

It helps to have a good credit rating. You can visit Experian to check your credit rating and find tips about how to improve your score to put yourself in the best position before you apply.

The bank may not be willing to lend you the whole sum, which means you may still need a down payment or collateral, for example, if you are a home-owner, you could use your home as security, or your car. However, weigh up the risks carefully because you could potentially lose your home or car in order to repay the loan if you default on it.
Alternatively, if you have a friend or family member who owns a valuable asset, you could ask them to be your guarantor. In this case, they will be the ones at risk of losing out financially if you cannot repay the loan.
The vehicle you wish to purchase will need to be in good shape in order to succeed in getting a food truck start-up loan. Lenders won't be willing to provide finance for a vehicle they believe could be unsuitable for use as a food truck, due to its age or condition.

Government Loan

If you have a viable business plan but lack sufficient assests and collateral a bank would hold as security, then you may be better off securing an Enterprise Finance Guarantee or EFG. The EFG scheme allows you to secure funding even if you have a poor credit or repayment performance history.


Instead, the government will guarantee a portion of the loan to provide the bank with sufficient security. To see if you are eligible for an EFG based loan, call or enquire with your local bank.

Revenue based financing


The problem with bank loans is that many aren't flexible. A bank wants to lock you into a fixed payment schedule, because it makes their life easier. However, it's a short sighted approach to doing business that doesn't line up with the typical peaks and valleys experienced in many real world industries.

Streetfood can be quite unpredictable, with revenue spiking and dipping around key events and seasons. This can make it difficult to keep up with payments in the the leaner months, and hard to commit to new opportunities that would enable you to grow.

Revenue based financing offers a more flexible solution. A revenue based loan expands and shrinks to match your available cash flow. In the leaner times you pay less, whilst in the good times you pay more.

Usually what you pay will be a fixed percentage of your revenue, allowing you to manage cash flow more effectively without the worry of upcoming payments.

If this is something that interests you try services such as Iwoca or Outfund.

Angel investors
As showcased in the popular TV show "Dragon's Den", an angel investor is someone, usually a successful business person, who has the financial means to provide a loan in exchange for equity that can be paid back over an agreed period of time.
A prospective angel, just like a bank, will want you to produce a business plan with profit and loss figures for not only your start-up year, but also for your next couple of years of trading. In addition, you will need to clearly demonstrate how you arrived at your figures to satisfy the lender.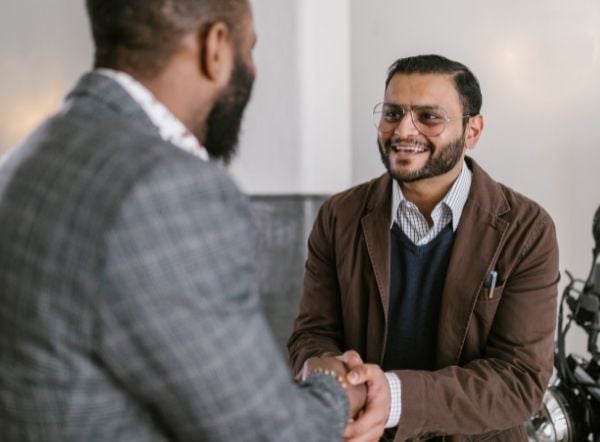 Peer-to-peer lending (such as Zopa or Funding Circle) matches people who want to borrow money with people who have money to lend as an investment in your business. As this cuts out the banking middle-man, borrowers can often receive slightly lower rates, but it's worth double-checking for hidden charges.
The majority of peer-to-peer lending sites allow you to repay your loan early without paying penalty fees, so they provide an alternative form of funding if you have difficulty getting a loan from a bank.
If your food truck idea is so popular that there are numerous foodies willing to help your business get off the ground, then you could consider launching a crowdfunding campaign. Crowdfunding works by promoting your cause on the internet and asking for people to make a small investment or donation to help you finance a food truck. You could have a tiered system of rewards for them, such as one free meal for a donation of £10, a free meal every month for a year for a donation of £100 and so on.
Some of the most well known platforms include Gofundme and Kickstarter, go check them out if the crowdfunding appeals to you. Both platforms have numerous food truck projects that are accruing funding.
You don't have to use an online platform though. Perhaps think more locally, could you drum up support from family and friends? Could you build a network of supporters who would invest in you?
It might sound hard, but the benefits of doing this are twofold: not only do you find people who are interested in your business, you are also finding people who are most likely going to be your future customers too.
You can hold small events at home or go to local events with a small stall and start offering up tasty incentives for people to invest in. Allowing people to taste your food, will enable them to buy into your vison, and ultimately consider funding you.
As mentioned previously, you could approach a friend or family member to ask them to be a guarantor for a bank loan but alternatively you could ask them to lend you the money themselves, if you think they would be willing and able to.
Only you know if this is something you would be happy to consider, and you could formalise any food truck loan agreement with a signed contract that sets out the terms and repayments.
It would be sensible to seek legal advice if you're considering this option. Drawing up a contract should greatly reduce the risk of any disagreements cropping up about the terms of the loan at a future date.
Aside from the food truck cost which would need a substantial loan, business credit cards are a very good option when you need small to moderate financing for supplies and equipment. They generally carry more lenient lending criteria and faster funding compared to other types of financing. Some business credit cards even offer useful incentives for food truck businesses, such as cashback or discounts on fuel.
What will I need food truck finance for?
Setting up a food truck business isn't just about buying the vehicle. As you can see below, there are numerous expenses you need to be prepared for when you write your business plan:
Cost of truck or trailer - this is your main purchase and the cost will vary enormously depending on the age and type of vehicle, and whether or not it is already converted, ready for use. For example, a large food truck designed to cook and serve hot food, that already as a top-of-the-range extractor fan installed, will cost far more than a small food truck that is simply kitted out for serving ready-made cakes and sandwiches. Discover the many types of vehicles that can be converted into food trucks here.
If you are purchasing a vehicle that has yet to be converted, it is worthwhile paying for this to be done by food truck conversion experts. Also, check out the advice in our article "How to design a food truck kitchen in just three steps".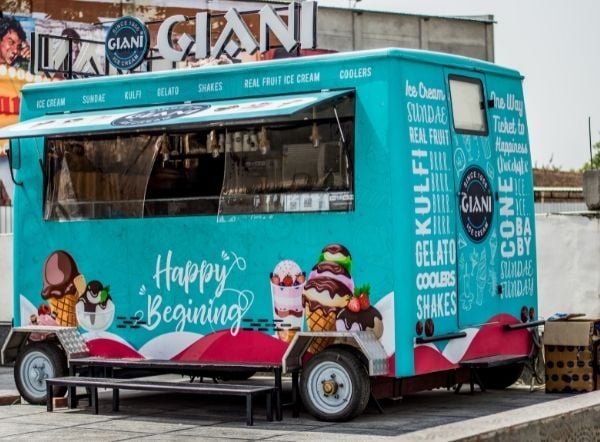 Equipment and supplies - Even if your food truck comes fully kitted out with cooker, extractor fan, storage facilities etc. there are bound to be extra bits of kit you need to buy, like a microwave or coffee machine, for example. And you will also need to be able to afford all the ingredients, condiments, serving plates and napkins you need to get started. NISBETS is a great place to source equipment.

Health and safety equipment - Safety signage, first aid kits, fire blankets etc. all need to be budgeted for.

Permits and pitch fees - Again, these vary enormously from event to event, so it's worth doing your research!

Insurance and marketing – Vehicle insurance, public liability insurance, and insurance for your towing vehicle if you are buying a food trailer, all need to be included in your costs.
You can keep marketing costs down if you are clever with social media, but you may still want to pay for a professional website for your business, and paid-for media advertisements. Click here to discover more marketing ideas for your food truck business.
Vehicle wrap - Once you have your business name and your branding, you can design a fabulous wrap for your food truck to make it stand out from the crowd. It will be the finishing touch that literally puts the seal on your business launch, and will announce to the world that you have arrived! How much wrapping will cost you depends on the extent of your design, but there are different kinds of wraps and signage for every budget. For more information about designing a vehicle wrap for your food truck, check out our ultimate guide to vehicle wrapping.
How can I keep my costs down?
Shop around for vehicle insurance, don't just automatically go with your current provider.

Mention any other vehicles you drive on a regular basis as this can reduce the premium.

Where you store your food truck when you are not trading is another factor that will affect the premium so it pays to keep it in as secure a location as possible, ideally a lock-up garage.

Paying the whole premium up front will save paying interest on monthly instalments.
Build up good relationships with local suppliers, e.g. butchers and green grocers/farm shops for your ingredients, to get the best deals for bulk orders.

If you'll be using a wholesaler, compare prices before applying for membership.

Calculate how much food you will need in order to minimise waste. Do a practice run at home to see how many servings you can produce per hour when working at full capacity.
From food trucks to generators and bain-maries, you can buy everything second-hand to keep your costs down. Sites like Second hand Catering Equipment are worth checking out for bargains, as well as eBay and Facebook.
Food truck kitchen design and conversion
Unless you have experience of designing and building a food truck kitchen, it is a false economy to try and do it yourself. It is best to engage a specialist in food truck conversion to avoid making very costly mistakes. An expert will be able to ensure your build complies with health and safety regulations and uses the space as efficiently as possible - for more advice on how to design a food truck, click here.
If you are not already social media-savvy, do a crash course in using Facebook, Twitter and Instagram to promote your new venture. You can target a huge audience of foodies via social media, and attract hundreds of followers, all for free. There are excellent, reasonably priced online courses available at Udemy.
Launching a food truck business is an ambitious and expensive project but one that can be financially rewarding if it's carefully thought through and budgeted for. Whichever route to finance you choose, we hope your new street food business proves to be a great success.
If you're looking for more information about starting your own street food business, take a look at our food truck resources for detail on a range of topics. A good place to start for inspiration is our article: "The Ultimate Guide To Street Food Trucks".