Thanks to a growing "foodie" culture, starting a street food business has the potential to be a successful venture, but there can be pitfalls along the way. Before you spend any money on your dream, check that your idea is viable by writing a food truck business plan. You'd be surprised at how many people build their business around a core idea without creating a business plan and come unstuck later when it comes to getting finance or a loan.
Looking to start your food truck journey? Read our guide first for everything you need to know to run a successful street food business.
Any potential lender will need you to justify why you want the money, with evidence to show that you have calculated your costs and forecasts. You don't want to be like the would-be entrepreneurs on Dragon's Den who have done their calculations for the current financial year, but cannot answer questions regarding their cash flow forecast for next year! A bank (or dragon!) will need to have confidence in you in order to agree to a loan or investment in your business.
To help you, this blog explains how to write a business plan and we've created a Food Truck Business Plan Spreadsheet Template for you to complete with your start-up and running costs, to help you with your calculations. It includes a profit and loss template, customised for food truck business use. Writing the business plan will take time, but going through the process will help you to structure your thoughts and make sure you don't leave anything out when calculating your start up and running costs over the first couple of years. It will show you where you may be leaking money in the first year, and how soon you will run out of money without a loan.
What should go into a food truck business plan?
Executive summary

- A brief summary of your business plan, explaining what each section is about, to engage the attention of the reader.
Company description

- An overview of your entire business, explaining to readers in detail, who you are and what your business is.
Products and services

- Where you prove that your street food business fills a market and will be a viable concern.
Marketing plan

- Defines who your target audience is and how you will deliver your services to them.
Operational plan

-

Outlines the ongoing operations of your business, such as your staffing, suppliers

and payment terms.

Management

t

eam

- An illustration of how your business is organised and the roles performed by its key players.
Financial plan

- An overview of your finances, including cash flow projections and your sales plan.
The front cover of your business plan
Your header page should feature the following information:
[Your business name]
Business Plan
Prepared [Date]
Your name
Your e-mail address
Company website
Phone number
Business address
1. Executive Summary
The objective of the Executive Summary is to capture attention. It should include a brief description of each of the following sections of the business plan as a list, so that the reader has a basic understanding of your food truck business and be interested enough to read your plans in more detail.
2. Company Description
This is where you include all the nitty gritty information about your business, such as when it was founded and the type of business entity it is (e.g. sole trader, limited company). First give a summary of your business's background so that readers get a good understanding of what your venture is all about.
You should write a mission statement for your business to include in this section, that showcases your company's reason for existence, in just one or two sentences, for the benefit of those who know nothing about what you do. For example, your objective may be to introduce people to an exciting new food you discovered abroad, or introduce more people to a sugar-free diet. You can also include a vision statement stating what the ultimate goal of your business is. Maybe it is to eventually franchise your operational food truck business, so that one day your food trucks pop up in cities across the country!
3. Products and Services
This is the section that should explain the gap in the market that your food truck business fills, and how you will be providing your service. What sort of food will you be selling? What is your Unique Selling Point? Include a breakdown of your pricing and how it compares with the countless food truck businesses you will be competing with.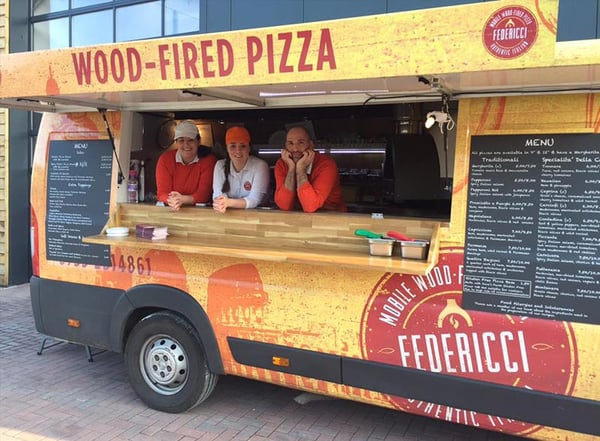 Check out our blog: "A definitive guide to the best street food truck menu ideas" if you need inspiration!
4. Marketing Plan
Show that you have done some market research in this section, so readers know you have done your homework and gauged that there is a market for your service. Describe your target customer profile(s) in detail so readers can visualise the sort of people that will be buying your product.
The customer profile(s) should include their:
Age

Gender

Location

Income

Occupation

Education level

Interests

Shopping and buying habits.
Explain any potential barriers to you starting your business, and how you propose to overcome them, such as high start-up costs, too much competition and lack of access to the location you want to trade from.

Set out all the methods you will be using to promote your street food business. Will you be using any of the following?

Website/social media marketing (if so, which sites?)

Print marketing materials e.g. posters, brochures and flyers

Networking

Word of mouth

Radio and TV

Define your company brand – your colours, logos, fonts etc. And how you will incorporate it into your marketing strategy.
Develop a preliminary budget that demonstrates how much you plan to spend on marketing.
5. Operational Plan
This section of your food truck business plan should explain the ongoing operations of your business, including:
Staffing

How many staff will you have, if any, and how much will you be paying them?

Production

Explain how you will be producing your street food and the equipment you will need, e.g. your food truck, kitchen equipment, menu ingredients etc.
Quality control

How will ensure your menu is safe and consistent and how will you be measuring the quality?

Location

Explain where your food truck will be located. Will it be on a static site? If so, what is the cost of rent and utilities? If you are traveling to different locations, how much will it cost to reserve pitches, and how much will the insurance be?

Legal environment

Set out all the legal requirements your street food business will have to adhere to, for example:

Suppliers and vendors

Where will you be buying your menu ingredients from? Who will be supplying your food truck, kitchen equipment and everything else you will need to run your business?

Payment terms

How will you accept payment from your customers? Will you be able to take cash and card payments?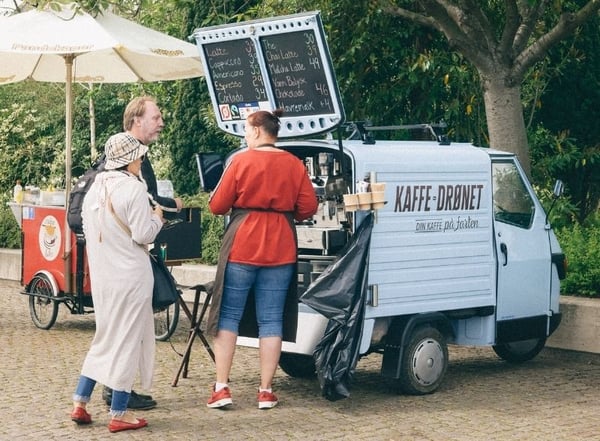 6. Management Team
Your food truck business plan should include the details of everyone on your management team, with a summary of their experience and role within the business. This is particularly important to define if you are embarking on your food business venture with friends or family so that everyone is agreed on their responsibilities. If there are any gaps in the team, for example, no-one to manage your finances, explain how you plan to fill the gap, i.e. with an outsourced accountant. You can also include details of any advisors who are supporting you.
7. Budgets and Expenses
Initial expenses and capital
Your start-up expenses could include:
Market research

Insurance and licensing

Food truck kitchen build, vehicle conversion costs and equipment

Food truck wrap/branding

Initial menu ingredients

Employees' salaries

Staff training

Technology e.g. card payment machine, laptop

Legal fees

Marketing

Budget

Once you have an idea of your start-up costs, develop a budget. Bearing in mind that new businesses often require more capital than originally expected, add a contingency plan in case you need additional funds.

Plan for capital

If you are applying for a business loan, give details of any investor(s) and how much you are receiving in finance from them.

Personal financial statement

If your goal is to apply for financing, include a personal financial statement for each owner of the business, including details of their assets, liabilities and net worth.
8. Financial Plan
This section should feature a detailed overview of your finances, including any historical data, if relevant. Here are some examples of what to include:
Cash flow projections or statements

How much cash is coming in and going out of your business. If you do not yet have any cash flow statements to show, you will need to provide a cash flow projection that sets out your upcoming expenses and predicted sales.

Profit and loss statement

This compares the total revenue against your business's debt and expenses. The following are the three parts to be included in a profit and loss statement:
Calculate the income from your food truck sales.
Subtract the cost of goods sold from your income – this is your gross profit.
Deduct the business's operating expenses from the gross profit, such as your admin costs, insurance, fuel, pitch fees etc. This leaves your net profit – the actual profit of your business.
If you are creating a profit & loss projection, you need to explain to a food truck lender how you determined your figures. To get started on your profit and loss statement, download our free templates.
Projected balance sheet

This is a list of your assets and liabilities and should include the following:

What your business owns, or expects to own, e.g. your food truck, kitchen equipment etc.

The income you expect to take in (accounts receivable)

The expenses you expect to pay out (accounts payable)

Sales plan

Lastly, you need to create a sales forecast that details your business's projected total sales and where it will come from.
This section needs to be accurate, so it may be a good idea to seek advice from an accountant. If you are seeking finance, explain the reasons why, where the money will go and when the investors can expect a return on their investment.
Appendices
Attach any supporting documents that are relevant to each section of your food truck business plan, for example:
Agreements

Intellectual property (trademarks, licenses etc.)

CVs of owners and key employees

Insurance policies

Advertising/marketing materials

Designs/plans for your food truck

List of equipment

Market research studies

Supporting financial documents

List of assets that can be used as collateral




How profitable is a food truck?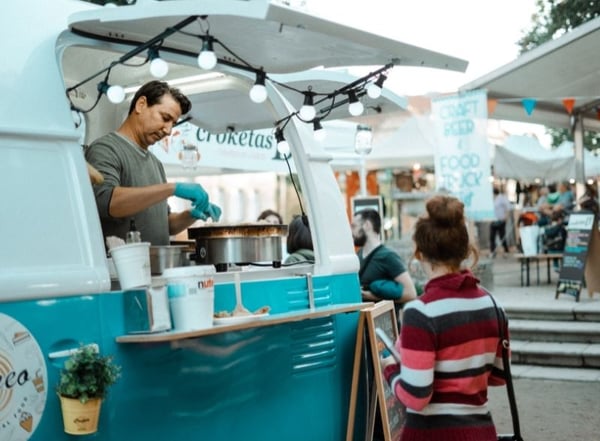 Food trucks can be very profitable but it will take time and hard work. Don't expect to hit profitability in the first couple of years, but once you get established and have some regular, busy pitches, you can start to make a profit. This will also depend on the initial investment, food truck loan repayments, pitch fees and competition, and will vary on seasonality.
Our blog: "Is a food truck a good investment" delves more deeply into the potential profitability of a food truck business.
Why do food trucks fail?
The most common reason why mobile food truck businesses fail is through lack of planning. Writing a comprehensive food truck business plan is your first step to running a profitable street food business. Check out our article "Why do food trucks fail?" for more helpful information.
Conclusion
These guidelines will help you create a detailed business plan that will give you far more clarity about the viability of your street food business, and whether or not you can attract investment, if needed. Once you have completed your business plan, and received finance for your food truck, we can help you plan the next stage of your street food business venture: your truck conversion and fit out!
Check out our article "Buying a food truck" for more helpful advice about starting your own food truck business.
For a complete overview of all the things your need to bear in mind when beginning your food truck journey, read our guide.