Starting a food truck business is an exciting and potentially, very profitable venture in an industry that has seen a huge growth in popularity in recent years.
If you have researched how to start a food truck thoroughly and understand all the potential pitfalls, it can be very rewarding and financially secure, but if you get it wrong, mistakes can be costly.
One of the key features of success is finding the right vehicle, but this is the most expensive and time-consuming part of starting your food truck business.
If you are thinking of buying a food truck, then check out our blog for some helpful advice about running a successful street food business.
To help you avoid the most common pitfalls when buying a food truck, you will need to consider the following questions:
1. What do I need to know before buying a food truck?
How profitable is a food truck?
This is one of the most common questions asked by budding entrepreneurs thinking of starting a street food business. Food trucks can be very profitable if they are carefully planned and you're willing to persevere. Don't expect to hit profitability in the first couple of years, but providing that you're established and have got some regular pitches in a bustling city as well as private events you can make a profit. Of course, this is based on a number of factors, including initial investment, pitch fees and competition, and will vary on seasonality.
There are a number of factors that will influence the cost of your food truck, such as the type of food you will be serving. For example, you will need a bigger, more expensive vehicle for serving hot street food in order to accommodate additional equipment like an extraction unit. The age and condition of the vehicle is also going to affect the cost. Normally a brand new vehicle will be more costly than a second-hand vehicle. However, a rare vintage vehicle that has been lovingly cared for could cost a lot more than a new vehicle that has just rolled off the production line.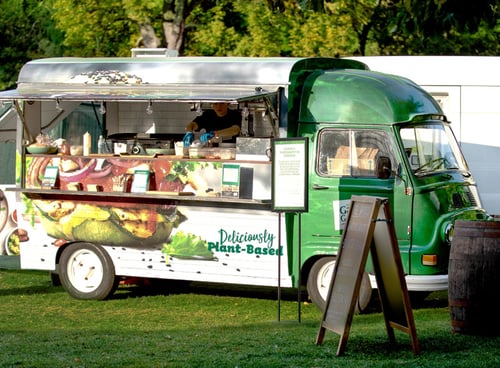 A vehicle that has already been converted into a food truck is also going to cost more than a similar model that has yet to be converted, but it will save you going to the time and expense of doing the work yourself.
If you lease your food truck, the monthly payments will be lower than repaying finance on a purchased vehicle because you are only paying for the depreciation of the vehicle throughout the lease period. Leasing also requires a smaller deposit than purchasing a vehicle outright. However, you won't own the vehicle and won't be able to customise the interior as your own. So, if you lease a food truck, you will need to check it is already fitted out with everything you need and see if you are able to wrap it with your branding. Lease agreements also impose annual mileage limits of, say 10,000 miles - another factor that needs to be taken into consideration.
On the other hand, if you acquire finance and set up regular repayments to purchase a vehicle, you will be able to fit it out and wrap it entirely to your own specifications.
Is this your first vehicle wrapping project? Read our blog to find out how much a vehicle wrap costs.
Whether you choose to lease a vehicle or purchase one using finance, think of the arrangement as an investment. Spreading the cost will mean you can use any capital you have saved for other start-up costs or as funds to support your business until it begins to make a profit.
Your food truck will form the centrepiece of your business and has to be a reliable vehicle, serving you and your customers day after day, in all weathers.
Here are some of the advantages and disadvantages of buying a new food truck:
Advantages
The truck will be a blank canvas that can be custom-tailored to your needs

There will be no existing wear and tear

A new truck should incur less costly repairs

The vehicle should have a warranty

Immaculate

'

new

'

appearance
Disadvantages
Large financial investment

You will need to allow for the time it will take to customise the vehicle

The high initial expense makes it hard to make future changes if you quickly outgrow the truck's capacity

And to balance the argument, here are some pros and cons of buying a second-hand food truck...
Advantages
Initially cheaper than new trucks

Equipment is already installed

Existing

interior kitchen layout will enable you to understand if it works for you

Cuts the decision-making process down
Disadvantages
There will be a higher risk of costly repairs and maintenance

You will not know the vehicle's true history

The vehicle will have a lower life expectancy

If you are hesitant about the amount of investment a new food truck requires, buying second-hand is a good alternative.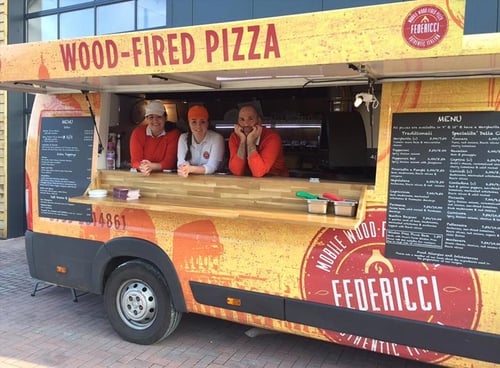 2. Why do food trucks fail?
There are lots of reasons why food truck businesses fail, so to try and help you steer clear of failure, we have listed some of the most common reasons below:
Wrong location. Location is one of the main keys to success as it will determine the amount of footfall and customer demographic you will get. Do your research carefully.
Wrong menu. Menu choice is closely linked to location. If you secure a location with plenty of footfall, but no-one wants to buy your food, making a profit is unlikely.
Think of what's traditional, e.g. doughnuts, fish and chips and ice creams sell especially well at the seaside, and international cuisine, such as noodle bars, curries etc. are popular at food festivals and city centres.
Too much competition. Check out the competition first. Try and see where there is a gap in the market. If it is difficult to find a good location with no competitors already established there, maybe think of a different type of street food to sell where there will be less competition but still a demand for your cuisine.
Wrong/unreliable vehicle. When you are buying a food truck, making sure you purchase a reliable vehicle is essential as your food truck is your livelihood. And if it does not suit your needs, you will struggle to do a brisk trade. Make sure your vehicle has the space for all the equipment you need to prepare and serve your food. For example, if you have to forsake storage space to install a fridge, you will be running out of stock and having to shut up shop early as a result.
These are just a few examples to give you an idea of where things can go wrong, but. For more detail, learn the top 7 reasons why food trucks fail.
3. What types of vehicles make profitable food trucks?
Almost any vehicle can be converted into a food truck, depending on what food you will be selling. A quirky or unusual vehicle, if you can find one, will probably attract more customers. Check out some of our hire vehicles at sister company, Promohire, for inspiration!
Here are some of the most popular vehicles that can be converted into a fabulous food truck:
Airstream trailer – at 27 feet long, the Airstream trailers are one of the most spacious options, ideal if you need plenty of space for cooking and serving food, but one of the more expensive options.

VW camper vans – a iconic camper van is retro and eye-catching, great for serving drinks or food that can be served cold or reheated on board, as it has less space than some of the other, larger options.
Citroen H vans and Renault Estafettes - small, unusual rustic-looking vehicles that can be fitted with a coffee machine, microwave or gas griddle for simple hot food preparation.

Citroen Relay and low-loader vans – more modern, spacious options that have extra space for cooking and refrigeration facilities.

Horse box trailer bars – another quirky option with a spacious interior. Some models have an open-out ramp that extends the space for signage and accessories.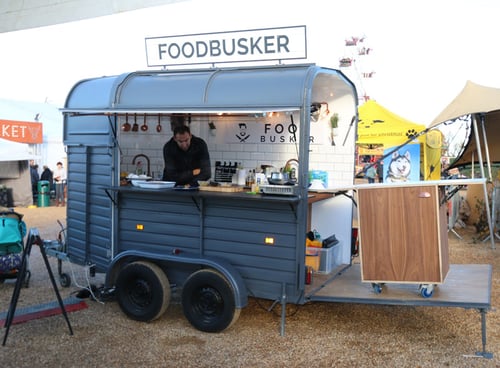 There are numerous vintage conversion options available. Sketch out a floor plan that includes all the equipment you are going to need, including your cooker, fridge, extractor unit, storage, washing up facilities, serving hatch etc. so you will have an idea of the size of vehicle you will need to run your business successfully.
Where to look when buying a food truck:
4. What to look for when

buying a food truck
Work out the essential criteria you need from your food truck, then when you find a potential vehicle, you can see if it ticks all your boxes. Your tick list should include:
Is it already fitted out for use as a food truck and if not, will all the equipment I have included in my floor plan fit into it?

Is it reliable? Has it got a full service history?

Is it manoeuvrable? This is important if you are going to be attending different outdoors events where you may have to manoeuvre your vehicle onto a specified pitch.

Can I afford it?

Does it already look great, or if not, does it have the potential to look fabulous if it is fixed up and covered with a wrap?

Does it come a warranty?
If you can tick all of the above boxes then the vehicle should be a good find, but think if there are other tick boxes of your own you want to add first.
So, is buying a food truck a good investment?
In all probability yes, providing you have given extensive thought to the type of vehicle you need and established your overall business plan.
If you're in a position to go ahead with your food truck project, our team of specialists at Raccoon can help.