Entering the food truck industry is a leap of faith but it doesn't have to mean you're jumping into the unknown. For many food truck owners, their street food businesses have generated a good profit and led to an improved quality of life as well as financial security in their old age, usually after a lot of hard work and commitment.
But this requires careful research and shrewd planning to ensure you put your best foot forward and avoid your dreams ending in failure. Creating a detailed business plan will give you a good insight into whether or not your street food idea is worth taking forward. Here we explore the profitability, or otherwise, of starting your own food truck business.
If you are thinking of investing in a food truck, this article takes you through the following:
Why invest in a food truck business?
"Sometimes when you turn a hobby into a job, it becomes work" (Jeff Bennett). In other words, if you love cooking for family and friends, you may find that the shine comes off your passion for cooking when you are under pressure to produce your signature dish for a queue of impatient customers every day! But if you understand that from the start, and are still willing to launch your cooking skills into the competitive world of street food, you could have found the perfect way to earn a good living from skills you already have.
For example, if you're a professional chef, you will be used to the pressure of catering for lots of people, so you'll be better prepared for running a food truck.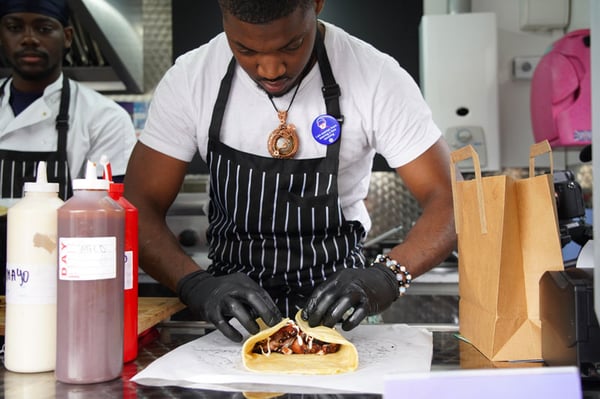 Do you have a limited budget?
Investing in a food truck business is a good choice of start-up if you have a limited budget, as you can begin very modestly, with a stall at a market. If you keep your overheads as low as possible, you can trade with very low start-up costs, and build up a customer base while you plan your next move – to invest in a food truck. With a good business plan and a profitable food stall already up and running that you can show a potential investor, you can start applying for finance to take the next step and invest in your own food truck. How blog: "How to finance a food truck" will help you get started.
Do you want the freedom to move around?
If you are fed up with being stuck in one place every day and want to be able to travel around the country to different festivals, or visit different food markets every week, then investing in a food truck certainly offers mobility. There are a multitude of different ways to trade with a food truck, from having a regular pitch in your local neighbourhood, to catering for weddings and other special occasions. The versatility of food trucks means that you can try different things to see what works best for your business.
Do you want to keep staff to a minimum?
A food truck is a great option if you want to run a business that doesn't have a hefty wage bill eating into your profits. Restricted space on board the food truck will make it impossible to accommodate more than two or three people safely, depending on the size of your truck. You may even be able to run the business single-handed, if you keep to a limited menu and don't try to cater for the masses at huge festivals! Food trucks in lay-bys, popular with tradespeople grabbing a bite for lunch, are a good option if you want to go it alone. Business will still be brisk if you have found a good location, but there won't be the same volume of customers queuing to be served that you would get at a crowded event.
Are food trucks a good investment?
First things first: Write a business plan
To find out whether or not investing in a food truck will be worthwhile for your street food idea, you must write a business plan. It is not failsafe, but a business plan will give you a reality check. Putting pen to paper focuses your thoughts and helps calculate how much finance you will need to cover your start-up and running costs. It will also help you to forecast how long it will take for the business to generate enough revenue to cover its running costs and start making a profit.
Writing a business plan and establishing your goals will help to give you the confidence you need to progress with your plans and start parting with money. You will also need a business plan to apply for finance for your start-up costs. Check out our blog, "How to write a food truck business plan that gets investment" which includes a business plan spreadsheet template and profit and loss template to assist you.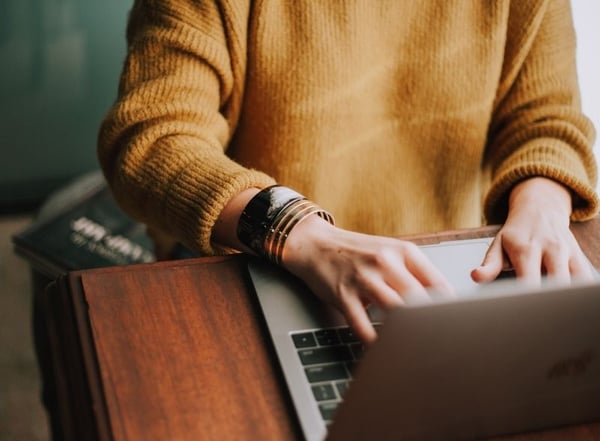 Don't expect a food truck to be a "get rich quick" scheme. With proper planning and hard work, your business will become more profitable with time, as it builds up a great reputation and a regular customer base.
Be objective about the business and don't let your passion for food carry you away with costs and expectations. You may think that your idea is great and everyone will love the dishes you want to cook, but do some market research first to gauge its popularity with the general public. You could run a stall at a local event to see how well your food sells before committing to a food truck. It will also be a good opportunity to get feedback and see if there are any tweaks you could make to your menu to meet demand.
Marketing is another factor that will influence the success and profitability of your food truck. Build up a following on social media before you even launch your food truck, by putting "teasers" out there so that people get excited about your launch. Be active on sites such as Facebook and Instagram to reach a wider audience. This not only creates more awareness of your food truck, it's also a great way of letting your followers know where you will be, if you trade from different locations, such as food festivals. Remember that you will be competing with other street food traders, so make sure you shout it from the rooftops that yours is the best!
How much do you need to invest in a food truck?
Food trucks themselves vary enormously in price, from cheap, second-hand camper vans that can be found on the internet, to expensive new, state-of-the-art Airstream trailers, kitted out with shiny new catering equipment. When you are trawling the internet looking for a food truck for sale you may come across a fabulous vintage vehicle that's a bargain, but you will then have to fund the cost of stripping it out and converting it into a food truck.
To give you a couple of examples, a new boxy van (like a Luton low-loader) would cost in the region of £40-£50k. A vintage option that is more complex would require investment of around £60k for the purchase/conversion.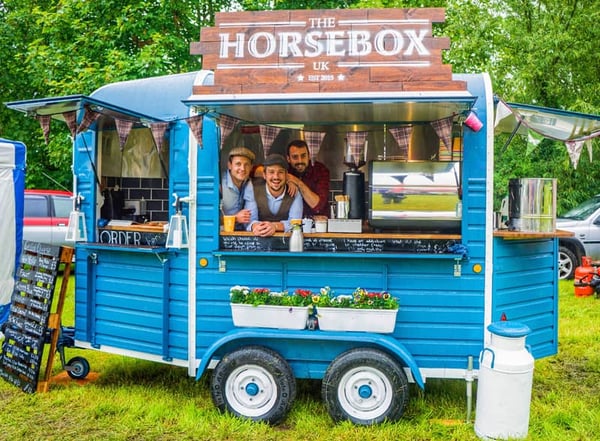 Ideally, you will find a second-hand food truck in good condition that is already fully equipped with everything you need to run your business that you can trade from straight away. You may just need to invest in a new wrap to display your branding. It may not be the cheapest option to start with, but could save you a lot of money in the long run, especially if it means you can start operating from it more quickly.
In addition to the cost of purchasing and converting your vehicle there will be other costs to budget for, such as staffing, pitch fees, insurance etc. Our business plan spreadsheet template lists all the costs associated with starting a food truck business so you don't leave anything out of your calculations.
Our blog, "How to design a food truck kitchen in just three steps" explains everything that's involved with transforming your vehicle into a gleaming new food truck.
So, are food trucks profitable?
Provided you start with realistic expectations, a good business plan and a popular menu, investing in a food truck has every chance of being profitable over time. How soon that will be and how much profit you make depends on many factors, but with a food truck you can try out new ways of running your business if you want to, such as a new location or revised menu.
There are pitfalls to avoid along the way, but forewarned is forearmed, so check out our helpful blog to find out the top seven reasons why food trucks fail. And don't underestimate the importance of marketing your food truck. These days it is not enough to just pitch up and wait for passing trade. Being active on social media by showcasing your dishes and teasing your truck will soon get you new customers, eager to see what everyone's talking about!
If starting a street food business is for you and you're excited about the prospect of creating your own food truck, we've created loads of useful resources to help you - a great place to start is our Ultimate Guide To Street Food Trucks, with plenty of advice and inspiration.