If you haven't run a street food business before then it's difficult to know where to start when it comes to designing a mobile kitchen. There are lots of ways you can fit equipment into the space, but which configuration works best for you to cook and serve effectively? How will the kitchen be powered? Where can all the food truck supplies be stored safely?
There are so many factors to consider - but putting thought into the design is a 'must' before purchasing a vehicle. Creating a floorplan that incorporates everything you need for the day-to-day running of your business will give you an idea of the size vehicle you should be looking for.
In this blog we'll explain how your menu will influence the design of your food truck kitchen, right through to finalising the floorplans to give to a professional designer once you have purchased your vehicle. A designer with experience of food truck kitchens can then make sure your design ideas will work in your vehicle and make any adjustments that are necessary.
So where do you start when figuring out how to design a food truck kitchen?
1. What type of menu will you be preparing?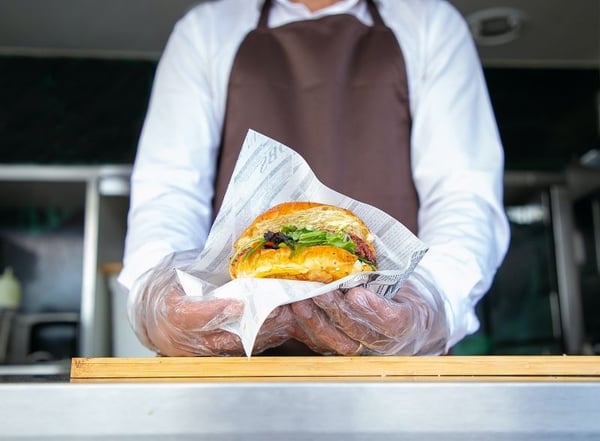 The type of food you cook will largely determine what equipment you will need:
The decision to serve freshly cooked, reheated or cold food will impact the cost and design of your food truck kitchen. The main difference is that an extraction unit and ventilation will need to be installed if you are cooking food from raw ingredients, especially fried or grilled food. Your mobile kitchen design would then also require a fuel supply, for example gas cylinders, that must be situated away from electrical equipment.
The preparation of cold food requires much less space. Cakes and pastries can be baked in advance, off-site. Depending on your menu, you may need to include space to install a microwave or bain-marie if you are planning to heat food through before serving but simply reheating food does not require an extraction unit to be installed
If you are planning to serve something mainstream like burgers and chips, then it may be worth looking for a second-hand burger van to save you the trouble and expense of designing and building a bespoke food truck kitchen yourself.
However, if you're catering for a niche market and want to bring an extra "wow" factor to your business with a vintage van, then sourcing the vehicle and designing the kitchen from scratch may take more time and money, but will hopefully be well worth it.
Onsite vs offsite food preparation.
Similar to choosing to sell hot or cold food, selling food that has been freshly cooked by you, in your food truck kitchen instead of selling ready-prepared food from a commercial caterer like Bookers, will make a significant difference to the design of your kitchen. Both options will still require an extraction unit to deal with the cooking fumes, but pre-prepared food needs less preparation space.

How much does it cost to design a food truck kitchen?
It is difficult to put a figure on the cost but it will save you making expensive mistakes if you engage the services of a professional designer.
A food truck conversion specialist will work with you to create a kitchen that meets all health and safety and venue regulations and may even be able to source a suitable vehicle for you as well.
As you're planning, you may wish to use 3D design software. This is a great tool for helping you to visualise your completed food truck design layout and try out different configurations.
If you're seeking food truck menu ideas, check out our blog: "A definitive guide to the best street food truck menu ideas".
2. Create a floor plan
You will need to consider all of the following points when you sketch a floor plan for your food truck kitchen layout:
First of all, list all the food truck cooking equipment you will need, including:

Refrigeration

Cooking

Preparation

Sink

Warming and serving

Storage for food truck supplies

Cash register

Ventilation




How will your food truck kitchen be fuelled?

Electricity generator – this will take up a significant amount of space inside your kitchen and requires proper ventilation.

Solar panels – this environmentally friendly option can work well as a secondary source of energy. For example, for a truck that cooks using a wood-fired pizza oven, panels can be placed on the roof of your vehicle to top up usage. If solar panels are the main source of energy, then it is advisable to store a back-up source of fuel, such as a generator, inside the kitchen.

Fuel-powered generator - although reliable, fuel-powered generators produce emissions and are costly to run, but they can be connected to your on-board fuel tank to save space.
Food truck kitchen regulations.
If your food is to be cooked with gas then you will need certification from the NCASS (Nationwide Caterers Association) who will check that your kitchen complies with gas safety regulations, with proper fan and extraction equipment installed. There is also a legal requirement to install two sinks – one for hand washing and the other for washing pots and pans. Visit the NCASS website for more information about how to comply with food truck regulations and permits. For more details about food truck regulations, check out our blog "How to get a handle on food truck regulations" for lots of helpful guidance.
How many staff will be working on the food truck?
Their ease-of movement and safety are both major influences on kitchen design. Remember that they will be moving about with hot pans so think of the ergonomics for maximum efficiency. Plan where each member of staff's area of responsibility will be and ensure the space will accommodate them.
Deciding the layout and configuration
What shape kitchen do most food trucks have? Food truck kitchens are generally rectangular in shape, but some, such as an Airstream trailer, have a curved outline and may require specialists to fit modular furniture and appliances and to insert a serving hatch. Food truck layout templates will give you an idea of configurations that can work with different vehicle models.
Think about efficiency, bearing in mind the limited space available. Food hygiene is also an important consideration, for example, raw meat must not be prepared alongside cooked food in case of cross-contamination. The most efficient kitchen layout is the Work Triangle which incorporates the three most essential areas – the sink, stove and fridge. A line is drawn from the centre of the sink to the centre of the stove top, continuing to the centre of the fridge, so that all three major work stations are easy for the cook to access.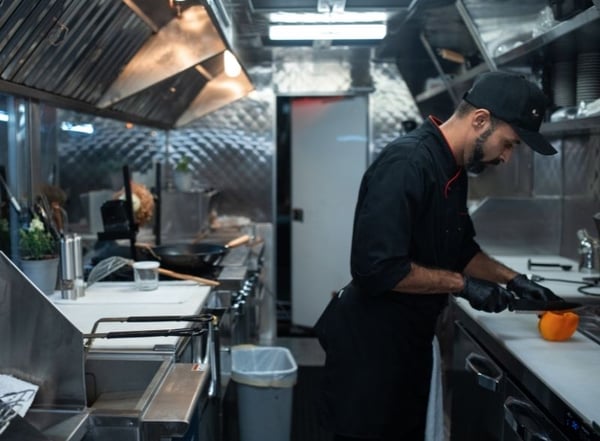 The entrance, exit and serving hatch should be factored into the layout first, then everything else will be positioned in between the spaces.
Large items - Next come items such as the extraction unit, cooker, hob, fridge, sink and plate warmers etc., depending on your kitchen's requirements.

Small items - Finally, decide where to position the smaller items, for example the microwave, coffee machine, griddle etc. so that they are easy to access when you are busy.
Check out this website for free 3D design software.
3. Choose the best vehicle for your food truck business
Once you have decided your menu and sketched a floor plan of the kitchen design incorporating all the equipment you will need to serve your menu, you will have an idea of the size food truck you will need to run your kitchen efficiently. But there are also other factors to consider when buying a food truck or mobile kitchen trailer:
Location – will you be on the road, travelling hundreds of miles to different food festivals, or will you have a static pitch?

Style – do you want a certain "feel" to your vehicle, to complement your branding, for example - sophisticated, or fun?

Budget – the size of your budget will determine factors such as purchasing new or second-hand and whether or not the vehicle is already converted into a food truck.
Our complete guide to starting a food truck business offers more detailed guidance to help you find the perfect vehicle.
The Finishing Touches
The finishing touches to your design can wait until you have purchased your vehicle and know exactly what style will best complement it, for example retro for a vintage vehicle or contemporary for a sleek Airstream.
Branding. Your branding gives your food truck its identity, for example its name, logo, corporate colours and fonts. If this is not your area of expertise, there are plenty of

creative professionals

available who can work with you to create the perfect brand for your new business.

Fixtures and fittings. These include items like towel rails, lighting, flooring, cupboard doors and handles etc.

Interior design. Your choice of vehicle and brand can help you choose the style of your food truck kitchen's décor. It can also be incorporated into your disposable items such as your menus and napkins.
Conclusion
Now you understand the three main fundamentals regarding how to design a food truck kitchen, it is important to remember to allow enough time for your truck to be transformed. It takes a professional between one-three months to design and convert a food truck, so it is not something that can be conjured up in a few days.
It's a good idea to seek inspiration from other food trucks and pick the brains of the owners to find out what works best and least well for them. They will have overcome any challenges and obstacles they encountered along the way and may even share valuable hints and tips with you!
At Raccoon, we provide specialist food truck conversion services for small businesses and food brands. Visit our service page for further help with street food vehicle design and conversion.
If you are thinking of getting a food truck, read our guide for everything you need to know about running a successful street food business.