Starting a street food business is an exciting venture but there are lots of decisions to make, especially when it comes to deciding how to accommodate your business.
If you are going to have a static pitch to prepare and sell your food from, then mobility is not such an important issue, but if you will be attending food festivals or concerts all over the country, then you want to be able to zip from venue to venue as smoothly and easily as possible.
So which is better, a food truck or food service trailer? Will one of them be more suited to your street food business than the other?
Here we reveal the pros and cons of buying a food truck vs a food trailer to give you greater clarity in deciding which option will work best for as you start planning your street food business.
So, what is the difference between a food truck and a food trailer?
The main difference between a food truck and a food trailer is their size and unit type, which in turn affects their appearance, storage space and cost.
What are the pros of owning a food truck?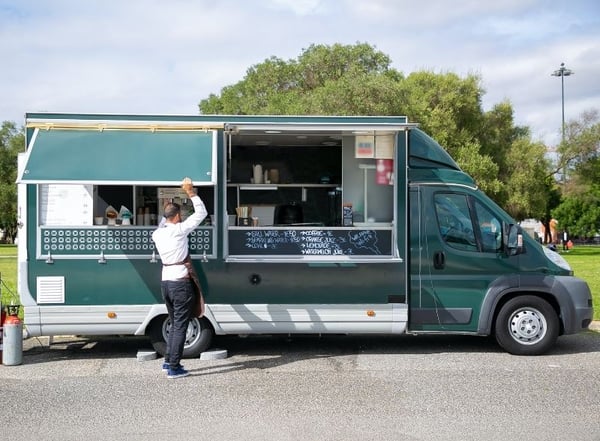 No need for towing.

A food truck can get to its destination under its own steam, with no separate towing vehicle to accommodate at your destination. Simply park up and open the hatch! A food truck is much easier to manoeuvre on to a pitch than a vehicle towing a trailer and takes up less space.

Less cleaning.

As a food truck is usually smaller than a trailer, this means there will be less kitchen equipment, flooring and work surfaces to clean at the end of the day, saving you precious time.

More aesthetically pleasing.

A food truck tends to look more professional than a trailer, especially if it has a stunning full graphical wrap.

Less paperwork.

There's less red tape to owning a food truck, as you'll have just the one vehicle to register for events, compared to a trailer and its tow vehicle.

Lower insurance costs.

You will only have the food truck to insure, rather than both a trailer and its towing vehicle.
The cons of owning a food truck
More costly to purchase.

As a self-contained vehicle, that can be driven to events rather than towed, a food truck tends to be more expensive to purchase, but doesn't require a separate towing vehicle. The extra cost will be worth it if you will be moving your food truck to different locations, but not if you're planning on having a permanent, static pitch.
If you're planning your food truck finances click here for free finance templates.
Depreciates in value more.

If it is driven a lot of miles, a food truck will depreciate in value more. However, any expensive, commercial kitchen equipment inside the truck will retain its value for longer and can be transferred into a new vehicle at the end of the truck's life. If you decide to sell the truck with all its equipment, the fittings should reduce the truck's depreciation, due to its internal build specifications.
More expensive to maintain.

The vehicle servicing and repairs required by a food truck will incur extra costs, and any business interruption while it is off the road will also cost you money.

Less space.

Food trucks tend to be smaller than most trailers, which means there is less space for kitchen equipment, storage and work surfaces and for staff to move around.

More limited menu.

Having

less space for cooking ingredients and staff to prepare the food will limit your options regarding menu choices. However, keeping the menu simple with a street food business also has its advantages. For example, you can serve your customers more quickly if they have less choice, and it will be easier to keep stocked up with all the ingredients you need.
Take a look at our article: "The complete guide to buying a food truck - where to start" for great food truck advice.
The pros of owning a food trailer
Cheaper to purchase.

This is definitely a "pro" if your street food will be sold from a static location, but if you'll be taking your street food out on the road, you will also need to invest in a towing vehicle if you don't already have something suitable.

More flexible design.

A mobile kitchen food trailer offers more flexibility in terms of size and design, as it doesn't have to incorporate a driver's cabin. They even have the potential to be turned into mini restaurants, with outdoor seating and self-serve food and drink stations.




Easier to maintain.

Any mechanical problems will be less complicated and can probably be fixed on site. As long as the kitchen is still functioning you will still be able to stay open for business.

More space.

Their larger size means there will be more space for kitchen equipment and food storage. This will enable you to accommodate more staff and sell a wider range of foods if you want to offer your customers more choice.
Check out our helpful guide "How to design a food truck kitchen in just three steps".
The cons of owning a food trailer
Requires towing vehicle.

Unless you already own a vehicle sturdy enough to tow a large food truck, you will need to purchase and store a separate towing vehicle for your food trailer.

Less manoeuvrability.

As a food trailer needs a towing vehicle, this means it will be more difficult to manoeuvre into position when you arrive at your pitches. You will also need enough space to park the towing vehicle at your destinations and it will be trickier to navigate around small country lanes etc.

More paperwork.

There will be extra forms to fill in when you're planning to take your food trailer to an event, as you will have two vehicles to park up, not just one.

Higher cost of insurance.

As you will also have the cost of the towing vehicle to insure for business use on top of the food trailer, the cost of insurance will be higher than insuring a single food truck.
Which is better, a food truck or trailer?
As our article explains, when it comes to the food truck industry, both food trucks and food trailers have advantages and disadvantages, but the type of street food business you are planning to launch will help determine which option will be better for you.
If you're going to stay on one permanent pitch and don't need to move around, then a trailer will work best, with its extra space and no vehicle servicing or maintenance to worry about. If you're not using a towing vehicle to move your trailer around, then you will only need to insure the trailer. However, if you will be travelling around the country, visiting food festivals etc., then a food truck is self-contained and quicker to set-up.
If it's your dream is to roll out your street food business across the country with staff at semi-permanent locations, then trailers are more scaleable. All you need to do is install them at your pitches, then let your staff take over! Whatever you decide, be sure to write a business plan before applying for any finance you may need to purchase your food truck or trailer and for other start-up costs.
Follow this link to discover How to write a food truck business plan that gets investment.
For a complete overview of setting up your street food business, read our ultimate guide to food trucks.