If you have been struggling to find accurate pricing regarding vehicle livery costs, you're probably feeling a little frustrated.
Pricing pages and quotes vary from company to company leaving you wondering: how much should a vehicle livery cost? What is a fair price?
As a vehicle livery design, print and install company we've been getting asked this question practically every day for almost 30 years. So, if you're looking for a comprehensive breakdown of vehicle livery costs, you are in the right place!
In this article, I'll break down all the factors that affect vehicle livery costs, empowering you with the knowledge to finally understand what you're really looking at when you next see a vehicle livery pricing page or quote. I will also provide the average price ranges we see for livery projects at Raccoon.
Contents:
Does vehicle livery type affect the cost?
Vehicle livery type is probably the biggest determinant of your total cost. Vehicle liveries are categorized in terms of design complexity and overall extent or size.
Vehicle livery types:
Decals or stickers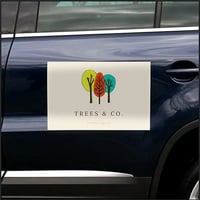 These are the smallest kind of vehicle livery, typically only costing about £50-£70.
You can often buy these as a print-on-demand product, meaning you simply submit your design on the livery printers' website, they print it onto your decal and send it to you in the post, and you apply it to your vehicle.
Simple lettering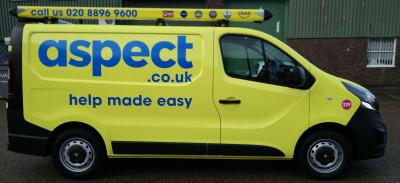 A step up from decals, lettering will cover a specific area of your vehicle.
How much it covers will depend on how the company has priced the service.
The smaller and less extensive the lettering, the lower the price is likely to be and vice versa. For a small van, it might cost you £450.
Partial livery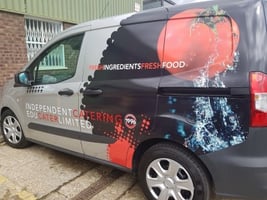 A partial livery is a big step up from lettering, allowing you to prominently display your service, company name, contact info etc against a brilliant branded vinyl backdrop.
Partial liveries might cover a third, half or even 75% of a vehicle, it depends on what you want.
If we stick with the small van example, say a VW Caddy, the average partial livery might cost you £850.
Full Graphical livery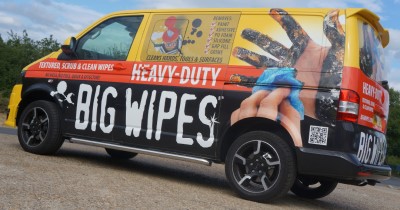 A full graphical livery is the maximum impact option, you get 360 degrees of brand visibility and the maximum chance to disrupt passers-by and raise brand awareness.
As these projects are usually the most complex and use the most vinyl (the substance liveries are printed on), it usually costs the most.
To wrap that same VW caddy in full graphical livery, you are looking at about £1,900.
NOTE: 'Wrap' is a literal meaning, in this case referring to wrapping the livery around your vehicle.
Does a bulk vehicle livery order affect the cost?

The number of vehicles you plan to wrap in livery will affect your total costs. The more vehicles you plan to wrap, the cheaper it is.
Wrapping multiple vehicles in livery is called fleet wrapping. Let's say you wanted to wrap 50-100 VW Caddies, you might only pay £1,500 per vehicle for a full graphical wrap, a significant saving.
Does vehicle size affect the cost of your livery?
The size of your vehicle will affect the amount of vinyl required to wrap it and thus the cost of your vehicle livery.
Check out the table below, for a rough idea of what you might pay. Please note that these prices are only based on the vehicle in each example, the cost of a livery for your vehicle could well be different.
| | | | |
| --- | --- | --- | --- |
| Vehicle | Simple Lettering | Partial Livery | Full Graphical Livery |
| Small car (Ford Fiesta) | £300 | £650 | £1,350 |
| Medium car (Vauxhall Mokka) | £400 | £725 | £1,600 |
| Large car (BMW X5) | £425 | £850 | £2,000 |
| Small van (VW Caddy) | £450 | £850 | £1,900 |
| Medium van (VW Transporter) | £600 | £1,300 | £2,300 |
| Large van (Mercedes Sprinter) | £700 | £1,700 | £2,800 |
Do vehicle livery materials affect the cost?
Vehicle livery material type will affect the cost. Liveries are made up of a layer of flexible vinyl, backed with an adhesive that is wrapped around your vehicle. This is known as vehicle wrapping. The wrap will also be coated in a layer of protective overlaminate to protect it from damage and extend its working life.
The quality of the vinyl used will affect the price, but it also affects the lifespan of your livery. Cheap livery doesn't last, often peeling, fading or bubbling in a matter of weeks! Buyers beware!
The best way to ensure quality is to ensure you work with a livery company that uses quality vinyl brands. The best brands include 3M, Arlon and Avery Dennison.
These well-established brands are proven to last and come with their own product warranties, protecting your livery installer and ultimately you, against product failure.
Livery companies that use these brands will be more expensive, but you will get far more bang for your buck. You can expect 5 years or more rather than just a couple of weeks!
Does vehicle livery experience raise the cost?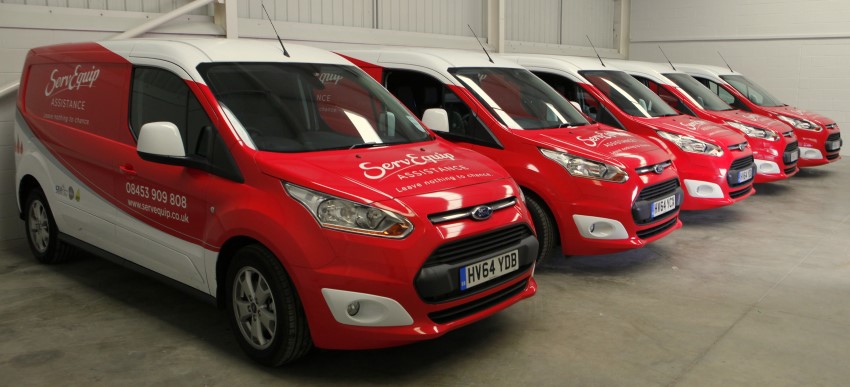 Yes, vehicle livery companies with more experience are more expensive. This is because they are able to provide a higher quality service than a company with less experience.
This results in a better end product: a professional-looking vehicle or fleet of vehicles, that proudly display your livery.
Going with a less experienced company might lower the cost, but it also increases the risk of poor service, a poor product and ultimately: wasted money.
Does vehicle livery design support raise the cost?
If you need help with designing your vehicle livery then you will spend more money. However, you can save on costs by finding a livery service that operates an in-house design team.
This is cheaper because the design aid is tacked onto your existing livery order, rather than a separate service from an outside company or designer.
You also get the benefit of working with a designer who specialises in livery design, so you are likely to come away with a much more effective design too.
What kind of vehicle livery service costs the most?
The most expensive vehicle livery services are normally the ones that offer more than one service. This means that in addition to installing your wrap, they are able to help you translate your branding into an effective design, they can print the livery themselves, and they can install it.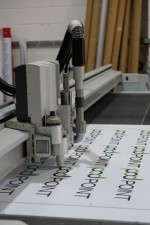 Although this is the most expensive service, it is usually cheaper than hiring three separate companies to do the same thing.
The main advantage of this all-in-one service is quality.
Three services working under one roof allow for much tighter lines of communication, leading to a much faster turnaround on projects, which is particularly important where fleet livery is concerned.
Any errors in print production or wrapping can quickly be resolved, even if a reprint is required, at no extra cost to you.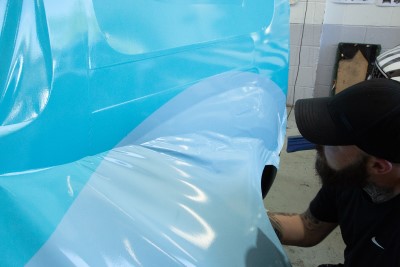 To put that in perspective, if you used three companies to get your livery done; one to design it, one to print it and one to install it, then good luck getting them to admit who is at fault!
Unfortunately, it's quite hard to find designers or printers that are used to working with livery templates as the final product is 3D, not 2D as they are used to.
How do I know if a livery company is worth the cost?
After reading the above, you now understand that there are a variety of factors that swing the cost of a vehicle livery up or down. But now you have a new question to answer: I understand cost factors, but who should I give my money to? What company should I pick to wrap my vehicles in livery?
At Raccoon, we are passionate about educating our readers and potential customers: we want to provide you with as much vehicle livery information as possible in order to help you find a service that best suits you.
Read this list of 10 questions to ask a vehicle wrapping company. You can use these questions to screen vehicle livery companies for quality and professionalism. The guide will quickly help you see who is worth their salt and who is pulling your leg.