If you're looking into wrapping a vehicle or fleet of vehicles you've no doubt asked yourself: "How much does it cost?"
If you've reached out to some companies for quotes, then you also have no doubt asked: "How much should I pay?"
And you'll have asked this because oh boy do those quotes vary! It can be a bit overwhelming, and you may find yourself struggling to make a decision, because after all who should you trust? How do you know if the price is worth it?
In this article, you'll learn why vehicle wrap cost can be so variable and what influences the price of a quote.
Materials
The number 1 thing you need to watch out for when analysing vehicle wrapping costs is the materials used. Whether you're wrapping your car, van or an HGV it all comes down to materials.
Wrap companies quoting you cheap prices are more likely to use cheap wrapping materials, and cheap wrapping materials don't last longer than a couple of weeks.
If you are only wrapping for a car show, short-term promotion, or any other temporary event then this may not bother you, but most people wrapping a vehicle are thinking longer term and want to get their money's worth.
If that's you, then read on.
If you've come across a quote that seems too good to be true, then it definitely pays to ask what materials your vehicle(s) are being wrapped in.
Established brands such as 3M, Arlon, Avery Dennison, Oracal or Mactac are the gold standard when it comes to wrapping. Vinyl produced by these companies will last 3-7 years and come with extensive warranty programs that help cover you and your wrap installer in case anything goes wrong.
Wrap companies that use these materials will charge you more than a company using cheaper vinyls, but you get a lot more value for your money and you actually pay less over the long term because the materials will last so much longer.
Experience
Experience will make or break your wrap, regardless of what materials are used. It's quite common for first time buyers to get lured in by cheap prices, only to come away with a wrap that either looks terrible or starts peeling a couple of days or weeks after application.
It always pays to be cautious. Check a company's website – how much experience do they really have? The gold standard is about 20-30 years.
Check what else they do too – do they have a history of working with brands from multiple industries, or do they just slap on wraps and send customers on their way?
This is important because a company with branding experience across a plethora of industries will be able to give you very well rounded insight into branding practices that will transform your fleet into an extremely effective wrapped advertisement.
Companies with this level of experience are more expensive but they won't pull the wool over your eyes either. This is especially true at the fleet level, you don't want a large project spanning dozens or even hundreds of vehicles in the hands of a rookie, however cheap or eager they may be.
Efficient fleet wrapping takes organisation, manpower and a whole lot of experience to coordinate successfully.
Company size
The size of a company can increase or decrease the cost of projects. A smaller company might charge you less because they have less expenses (employees, rent, materials etc).
Conversely, a larger company might also charge you less despite the higher cost of running their business, because they will likely have invested a lot of resources into maximising operational efficiency. This means they can quickly wrap your vehicles at scale, without passing the cost on to you.
It's actually the medium sized companies that are most likely to charge you higher sums, because they are unlikely to have accrued the capital to fully invest into the facilities required to wrap at scale, but will still have significant overhead to balance out, meaning you end up with a larger bill.
Extent of services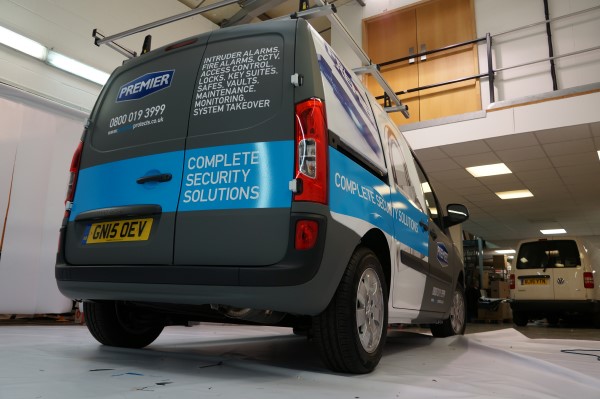 The extent of services a company offers will affect how much you pay. A smaller company is likely to run a smaller operation. Quite often it might just be one person wrapping cars in their garage or small business unit.
Such businesses are usually wrap only, meaning you will need to hire a graphic designer yourself and find a company to print the wrap for you, so that your wrapper can install it.
Larger companies tend to be able to handle all of these processes themselves in-house, meaning they can design print and install your wrap all under one roof.
Why does this matter? Quality control. If you hire 3 companies to the job of 1, you now have at least 3 lines of communication to manage.
Many designers and printers aren't familiar with the industry nuances of translating a 2D wrap template to a 3D vehicle, which can result in all sorts of costly mistakes.
This is the benefit of using a company that can design, print and install your wrap in-house, it's essentially a 3-in-1 service, and whilst it might cost more than a wrap only service, it costs a whole lot less than hiring 3 different companies!
So how much should a vehicle wrap cost?
Vehicle wrap cost will vary company to company based on the factors discussed above in this article.
What you need to find out is whether the services you have reached out to are providing a service equal in value to what they are asking you to pay.
In general, the average is about £1,500-£2,500 to wrap a car or £1,500-£3,000 to wrap a van. If you are wrapping at the fleet level this cost will decrease based on the number of vehicles you want to wrap, with orders filling hundreds of vehicles earning substantial discounts.
To find out what Raccoon charges, just hit the button below. We'll send a custom quote based on the make and model of your vehicle straight to your inbox. Don't forget to have a look around the site too, to make sure our services are the right fit for you.
--
For more information on vehicle wrapping check out our Ultimate Guide. You will learn the benefits of branding your fleet, how fleet wrapping works, how much it costs, how to maximise the effectiveness of your branding, different types of fleet wraps, how other companies use vehicle wrapping and frequently asked questions.