Fleet wrapping is the act of wrapping multiple vehicles in a removable layer of branded vinyl in order to advertise your business. Also known as fleet branding or commercial livery, high quality vehicle graphics raise brand awareness and can rapidly increase the pace of enquiries you are used to.
In this detailed guide you will learn the benefits of branding your fleet, how fleet wrapping works, how much it costs, how to maximise the effectiveness of your branding, different types of fleet wraps, how other companies use vehicle wrapping and frequently asked questions.
Contents:
What are the benefits of fleet wrapping?
The main benefits of fleet wrapping are a boost in brand awareness, customer insight, reputation, cost effectiveness and resale value.
Brand awareness
High quality vehicle branding attracts attention. Just one branded vehicle travelling an intercity route averages 50,000 impressions per day according to an ARD Ventures Study.
Engagement with this branding will generate a lot of new enquiries for your business, it's the kind of investment that rapidly pays for itself and contributes to long-term growth.
To find out the kind of impact you could generate, scale the above figure to the size of your fleet. If you have just 10 vehicles, that's 500,000 impressions per day. We estimate client Foxtons fleet of over 350 vehicles averages around 17.5 million impressions per day.
Customer Insight
Tracking the enquiries you get from your branded fleet can give you fresh insight into your customer base if you use unique contact information on your vehicle wrap.
You can analyse this data to find out how many fresh leads you generate each week and how many become customers. You can also use this data to find out which areas are the most profitable, allowing you to finetune your business strategy.
Reputation
Customers look at you differently when you show up with a branded van. High quality vehicle graphics make the introductions for you, putting an end to questions about your credentials or experience.
A fleet of wrapped vans is often a great morale boost for employees too. No longer are they random people in blank vans. Now they look and feel like a representative of your business, getting the respect they rightly deserve from customers and interested enquirers.
Cost effectiveness
Vehicle branding has the highest return on investment of any marketing strategy at a cost per impression level.
Vehicle wrap advertising costs just 2 pence per 1000 impressions!
A single wrapped vehicle, driving intercity, can attract up to 18 million views a year with a vehicle wrap costing 10% of the overall price of leasing and running a van – a mere 87 pence per day.
Vehicle wrap ads are more than 100 times cheaper than Google ads, and a 1000 times cheaper than television ads.
If you are fleet wrapping you might pay around £1000 per vehicle, with each vehicle capable of generating literally millions of impressions per year. It's not hard to see why such an investment quickly pays for itself.
Read vehicle wrapping ROI vs traditional advertising for the full data breakdown and comparisons.
Resale value
Branding your fleet is a great way to preserve resale value. A vehicle wrap actually protects your vans in the long term as it acts like a second skin, shielding your paint from nicks and scratches.
If you lease your vehicles you stand to minimise end of lease charges incurred through wear and tear. Dealers actually prefer clients who wrap, as they get a better quality vehicle returned to them. This can lead to better terms on your lease and a more favourable relationship with your dealership.
How does fleet wrapping work?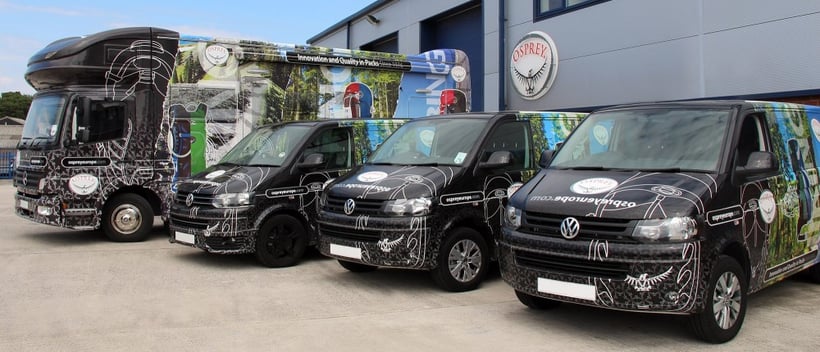 Fleet wrapping is split into a design, quality control and installation phase when carried out by a professional service able to accommodate the whole process in-house.
Design Phase
In an ideal world you download a vehicle template and work with a professional service to come up with a design to apply to it. A good service will have a graphic design team who can work with you to create an on brand wrap that will maximise the impact of your fleet out on the road.
A good designer or team will understand brand production and have practical experience translating 2D wrap templates to a 3D vehicle. They will be able to work within your brand guidelines and even provide renders for you to check what your final result might look like if necessary.
Quality Control
Long before you drop off your vehicles, your fleet wrapping service should ask you some qualifying questions about the state of your vehicle. Wrapping can cover up unsightly paintwork and small nicks and scratches, but any significant rust patches will need to be taken care of prior to wrapping. This is because vinyl cannot adhere to rust making installation impractical.
You may also want to take care of any large paint bubbles, scratches or dents in your vehicles as the vinyl will mould to these, meaning they are still visible. Significant imperfections can also cause the wrap to bubble or peel.
It's advisable to have your vehicle washed prior to wrapping with warm soapy water but don't wax it, this can interfere with wraps ability to adhere to your car or van. For more information check out how to prepare a vehicle for vinyl wrapping.
After you drop off your vehicles, your wrapping service will prepare them for wrapping. They will give your fleet a final clean and perform a final sweep for any imperfections or issues that might interfere with wrap quality.
Installation
A layer of high quality premium branded vinyl will be applied to your cars, vans, buses or trucks by a team of highly skilled and experienced fleet wrapping professionals.
The wrapping process will take 1-2 days from drop off to pickup. This will allow time for the vinyl to fully adhere to your vehicles.
Read how long car and van wraps take for more information.
How much does fleet wrapping cost?

The price of branding will vary depending on the size, make and model of your vehicle, the complexity of your graphics, the materials used to wrap it and how many vehicles you are branding.
The average cost to wrap a car is between £1500-£2500, whilst the average cost to wrap a van ranges from £1500-£3000.
Wrapping at the fleet level is significantly cheaper averaging around £1000 per vehicle for graphics covering the entire chassis.
Simple signage or lettering for a car varies from £300-£425 and £450-£700 for a van. Partial wraps range from £650-£850 for a car and £850-£1700 for a van.
Check out our pricing guide for more on the factors that swing cost up or down.
How to maximise your fleet wrap branding

If you prioritise impact, imagery, brand relevancy, contact information and finding a professional fleet wrapping service, you stand the best chance of maximising the effectiveness of your fleet wrap branding.
Impact
The more impact your branding has out on the road, the more enquiries you will generate and the higher your return on investment will be. Impact means large font, bright colours, high contrast and bold statements.
Imagery
A picture tells a thousand words. High quality imagery helps you demonstrate your products or services quickly as you drive past potential leads.
Resolution
Use a high resolution (300dpi is ideal) for your imagery. That way they'll look as clear and crisp on your van as they do on your computer screen.
Colours
Less is more! Just two or three strong colours are enough for a great design, and many successful wraps use just one!
Fonts
Use no more than two fonts. As with colour, too many fonts cause confusion. Keeping things clean and simple is the best way to impress.
Captions
Keep it short and sweet! Say as much about what you do in as few words as possible.
Brand Relevancy
Effective fleet wrap graphics reflect your brand image; the image you present to customers. If you have a solid set of brand guidelines in place, pass this on to your designer so you can keep your messaging consistent.
Contact Information
Clearly readable contact information helps leads make enquiries more easily. Contact information could include, your business telephone number, email address, website or social media.
Space Efficiency
Think 360! Use every panel of your vehicle to showcase your design (including the back), so that potential customers can see your business proposition from all angles.
Service
A professional fleet wrap service will assist and advise you with the design process, until you have not only branding that looks incredible on a template, but branding that looks incredible on your vehicles.
Different types of fleet wrapping
There are many different kinds of fleet wrap graphics available including car stickers, decals, magnetic car signs, partial vehicle wraps and full vehicle wraps. Vehicle wrap graphics are suitable for all vehicles, from cars, vans and pick-ups, to buses, trucks and lorries. We've even done aircraft!
Stickers and Decals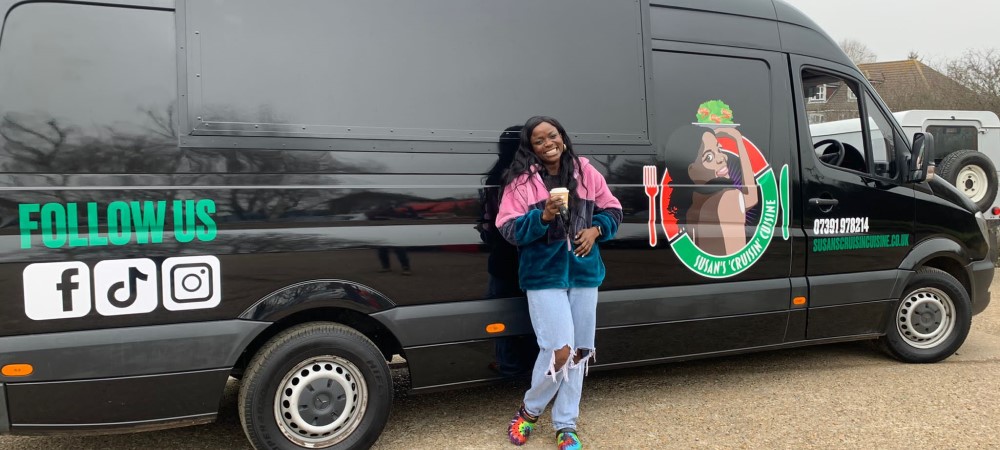 Branded stickers and decals are a great way of promoting your business and a cheaper option for branding a fleet of vehicles.
You can design and order custom printed vehicle decals, magnetic decals, and window stickers, straight from the Raccoon Store, we print on demand.
Partial Wraps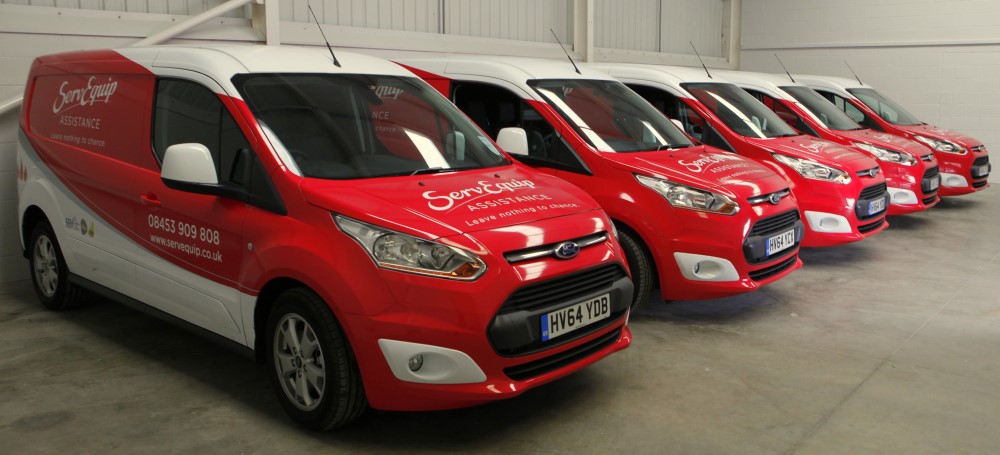 This is a vehicle wrap covering only part of your vehicle. Partial wraps are more expensive than stickers and decals but cheaper than full wraps and can be very effective when the design plays into or off of the original colour scheme of your vehicle.
Full wraps

The most effective and protective option, a full wrap encases your entire vehicle in a high quality layer of vinyl. Your vehicle is branded from every angle, in a seamless high quality design, geared for maximum impact. This is also the best option if you are looking to maximise your fleet's resale value, as it protects the greatest area of paintwork.
Promotional wrapping

A promotional wrap is designed to be used for a marketing event or campaign, such as a product launch or sampling event. If you also want a unique branded vehicle for your event we have fully customisable quirky and vintage vehicles for hire through our sister company Promohire.
Fleet wrapping case studies
Below is a selection of some of our favourite client projects. We scale with you, from smaller businesses to corporations. Whether you have just one vehicle or a thousand, Raccoon can get the job done.
Foxtons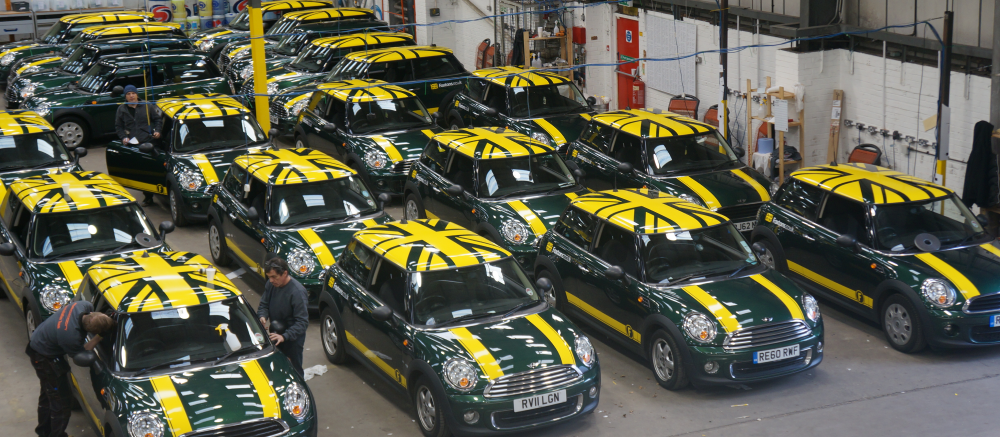 One of our proudest moments as an experienced fleet wrap company, was wrapping 349 minis in just 13 days for long-time client Foxtons.
Westerham Brewery

A particularly creative project, Westerham Brewery commissioned us for a fleet wrap commemorating the 75th anniversary of the D-Day Landings.
JB Sales

Client JB Sales came in with only plain signage and left with world class high impact graphics. The partial wrap design used contrasted colours that really made the vans stand out and included high quality product photos that really caught the eye.
Cash & Rocket

Raccoon wrapped 40 luxury cars for annual US touring event Cash & Rocket. Travelling internationally from our Kent, UK location presented logistical challenges, but the team found the experience immensely rewarding.
Big Wipes
As you can see in the video above, Nigel Dibbo of Big Wipes is a man who truly understand sand appreciates the impact of high quality branding. We worked with Nigel to translate Big Wipes eccentric branding style to their fleet of cars and vans.
The vehicles have proved a real asset to the company, from trade shows to just driving out on the road, the fleet is driving brand engagement. Check out the full case study for more information
Frequently asked fleet wrap questions
Here are answers to some of the fleet wrap questions we get the most. Got a different question? Pop it in the comments below and we'll get back to you.
How long do fleet wraps last?
This will depend on the quality of materials used to wrap your vehicle and the skill of your wrap installer. A professionally installed high quality wrap made from premium branded materials will last at least 5 years.
A cheap wrap installed shoddily might last only a few days or weeks before bubbling or peeling. For more advice check out our vehicle wrap aftercare guide.
Can I just wrap one part of my vehicles?
How much you wrap is up to you. The more you wrap the greater your impact will be, but if your budget is limited a partial wrap or simple decals can be a good alternative to a full wrap. We offer customisable stickers, decals and magnetic stickers via the Raccoon Store if all you want is some simple signwriting for your car or van fleet.
Check out our partial vs full wrap article for more information on the pros and cons of each option.
Does wrapping your vehicle damage the paint work?
If installed professionally a high quality wrap will not damage your paintwork.
Will a car or van wrap cover scratches and scuffs?
It depends how deep the scratch or scuff is, as vinyl binds very tightly to surfaces, scratches and scuffs may still be visible. Check out our scratches and scuffs article for more.
Is fleet branding easy to remove or change?
Yes, fleet wrapping can be removed or changed as little or as often as you like, ideal if you update your branding regularly. This takes a bit of heat, experience and a lot of patience, so it's a task best undertaken by a professional team.
How do I know if a fleet wrap company is worth my time?
If you are struggling to find a reputable fleet wrapping company, try these 10 questions. You can use the questions as a guide to screen for quality and professionalism. You may also be interested in reading how to avoid the biggest vehicle wrapping mistakes.
Who are Raccoon?
Raccoon is a large format printing company and vehicle wrapping service in the UK, dedicated to helping businesses to increase brand visibility and awareness.
We've grown a very talented and experienced team over the last 25 years, who have worked with clients to brand vehicles for countless services and industries.
If you want a taste of what it's like to work with an experienced professional service, and you're looking to grow, then contact us, we'd love to work with you.