Trying to find accurate pricing to put graphics on your vehicle? I bet you're feeling frustrated! Unfortunately, pricing varies from company to company, so it's hard to answer the question directly with absolute pricing guarantees.
However, as a vehicle graphics company, we've been getting asked this question every day for about 30 years, so if you're looking for an answer you will be satisfied with, you are in the right place!
In this article, I will break down the factors that go into vehicle graphics costs, helping you to understand why prices vary, how much you should pay, and how to find a company that is worth the money.
Contents:
How much does vehicle graphic type affect cost?
The type of vehicle graphic you are after will affect the cost, because some use more vinyl than others. Vinyl is a form of flexible plastic that your graphic is printed on. Wrapping this graphic around your vehicle is known as vehicle wrapping.
Here are the four main types of vehicle graphic and how much they typically cost:
Decal Graphic
Typically the smallest and cheapest form of vehicle graphic, decals can be bought and applied yourself through a print-on-demand store for about £50-£70.
Graphic Lettering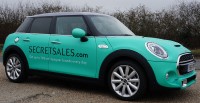 Lettering is exactly what it sounds like, graphics in the form of lettering that cover part of your vehicle. The cost of lettering will depend on how extensive you want the graphic to be, but as vinyl is only used for the lettering itself, this is one of the cheaper options.
Partial Graphics
Partial Graphics cover a design-specific portion of your vehicle, but not the entire thing. This makes the cost harder to predict as it is dependent on the graphic extent, but it will be cheaper than a full vehicle graphic and more expensive than lettering.
Complete Vehicle Graphics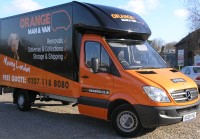 A complete vehicle graphic has you covered from every side, making you visible wherever you go. Naturally, this is the most costly form of vehicle graphic, but it also generates the most impact, making it the most useful form of graphic from a long-term ROI perspective.
Vehicle graphics type and size cost comparison table
The table below demonstrates the average cost of various vehicle graphics applied to different sizes of cars and vans.
Note that in general, the larger your vehicle, the greater the cost of your vehicle graphic, because more vinyl will be required to wrap it. These figures are only estimates not guarantees.
Vehicle

Graphic Lettering

Partial Graphics

Complete Graphics

Small car
(Ford Fiesta/Vauxhall Corsa/Mini Cooper/BMW 1 series/Audi A1/Mercedes A-class Hatchback)

£300

£650

£1,350

Medium car
(Vauxhall Mokka/Ford Mondeo/ BMW M3/ Audi S4/Jaguar XF/ Mercedes E-Class)

£400

£725

£1,600

Large car
(BMW X5/Land Rover Discovery/Range Rover/Mercedes GLE, GL, G-Wagon/Audi Q7/Volvo XC90)

£425

£850

£2,000

Small van
(VW Caddy/Citroen Berlingo/ Ford Transit Connect/Peugeot Partner/Renault Kangoo/Vauxhall Combo/ Mercedes Citan)

£450

£850

£1,900

Medium van
(VW Transporter/Ford Transit Custom/Renault Trafic/Mercedes Vito/Vauxhall Vivaro/Peugeot Expert/Citroen Dispatch)

£600

£1,300

£2,300

Large van
(Mercedes Sprinter/VW Crafter/Ford Transit/ Peugeot Boxer/Renault Master/Vauxhall Movano/Citroen Relay)

£700

£1,700

£2,800
How much do fleet graphics cost?

If you are interested in wrapping a fleet of vehicles with your brand graphics, then you stand to save a substantial amount of money. The more vehicles that require graphics, the cheaper it will be to wrap your vehicles.
I can't make blanket statements on how much of a discount you might receive from a fleet scale graphics order, but 10% is a safe bet for anything over 20 vehicles.
Are vehicle graphics worth the cost?
Vehicle graphics are one of the cheapest forms of advertising for businesses, providing up to 50,000 impressions (views) per day, according to an ARD Ventures study. When you divide the cost of the average graphic (£1,600) by its average lifespan (1825 days), you get 0.87, meaning you pay just 87p per day for those views!
Now times 50,000 by 1,825. You should have 91.25 million – that's a lot of brand awareness -18.25 million impressions per year!
If even the smallest fraction of a percent of those impressions become enquiries, your graphics will quickly pay for themselves. Does that sound worth it to you?
Check out our vehicle wrap ROI comparison for more information. You will learn the differences in relative ROI between graphics, Google Ads, social media, TV, Radio and more.
How do I find a vehicle graphics company worth the cost?
So, now you understand the factors that influence vehicle graphics cost, it's time to learn how much you should pay and how to find a company that's worth the cost.
At Raccoon, we are passionate about educating our readers and potential customers: we want to provide you with as much information as possible in order to help you find a vehicle graphics service that best suits you.
That's why I've prepared these tips to help you find a vehicle graphics company that is worth the cost. Make sure you:
Don't underpay - it's easy to get lured in by a cheap price, but if it looks too good to be true, it probably is. Too often inexperienced wrap or graphics companies will give you a lowball quote because they need the business, not because they can do a better job than a company quoting you closer to the industry average.

Avoid poor quality materials

- 3M, Arlon

,

and Avery Dennison are some of the most respected vinyl brands out there. They last for years and come with product warranties that protect you in case the graphic fails. Cheap materials on the other hand can fade, bubble or peel in a matter of weeks! Don't get caught out!

Read this list

- 10 questions to ask a vehicle wrapping company

. You can use these questions to screen vehicle graphics companies for quality and professionalism. The guide will quickly help you see who is worth the cost and who isn't.