Vehicle wraps are a popular way to customise the appearance of a car, truck, or other vehicle. They can be used to promote a business, create a unique look, or preserve the underlying paintjob.
3M and Avery Dennison are some of the most popular vehicle wrap vinyls on the market, and for good reason. Both have a long history of producing market leading vinyls, but which is best?
Well the answer is that it depends, as different wraps may be more appropriate for different goals. Instead you should weigh up the differences and decide which product is best for you.
In this article, I will breakdown the key differences between 3M and Avery including materials, adhesive, colour options, warranties, installation and price.
Contents:
Materials
The first thing to consider when comparing 3M and Avery Dennison vehicle wraps are the materials they use.
There are two main types of vinyl used by most wrap manufacturers, calendared vinyl and cast vinyl.
Cast vinyl is made by pouring liquid vinyl into a mould and allowing it to cure, resulting in a film that is thinner and more flexible than other vinyl films. This makes it easier to apply and conform to the curves and contours of a vehicle.
Calendared film production passes the vinyl through a series of rollers to compress and stretch it into the desired thickness and shape. This process can result in a film that is less flexible and may not conform as well to the curves of a vehicle.
3M and Avery use both kinds in their product ranges, so there isn't a major difference in product quality, it just depends which product you use. At the high end of the range both Avery and 3M will use cast vinyl films as they are more durable and longer lasting than other types of vinyl.
Cast vinyl films can easily last 5-7 years for example whilst calendared films may only last 3-5.
Adhesive
Whilst 3M and Avery Dennison use slightly different adhesives in their product ranges, both accomplish the same goal: optimising the installation process.
3M uses a pressure-sensitive adhesive known as Controltac , which means that a specific level of force must be applied to initiate a strong bond between vinyl and surface. The wrap will still have some tack (adhesive strength) if applied weakly, but only just enough to hold it in place.
This allows the installer to carefully reposition the wrap during installation before committing to a final position, ensuring that it is applied smoothly and evenly. It also means that the wrap can be removed without leaving behind any adhesive residue.
Avery Dennison has it's own version of this called Easy Apply. Easy Apply also uses pressure sensitive technology to allow easy repositionability and limit the risks of wrinkling or air bubbles.

Both 3M and Avery have air release channels in their products, ensuring that if any air bubbles do become trapped, they are easily dealt with.
Colour Options
In many respects 3M and Avery products are quite similar, but where they do diverge is in their colour options.
3M has a larger selection of specialty colours and finishes with more nuance between them, such as matte metallic, brushed metal and carbon fibre. This added diversity is great for personal projects such as colour change wraps.
3M is also better for contrasted wraps as they use block out adhesives that prevent the original colour of a vehicle showing underneath the wrap.
Avery have a broader range of standard gloss colours, which tend to work better for corporate or commercial wraps and fleet wraps.
However, they do offer a range of specialty finishes, such as matte, gloss, and metallic. One thing Avery do have that 3M doesn't, is mirror gold and silver finishes.
Both companies offer a range of custom graphics and designs, which can be printed onto the vinyl film using a digital printing process.
To try out different colours for yourself, hit the button below and we'll match you with one of our design team. During your consultation, a member of our design team will take your ideas and produce a concept design for you, all for free!
Warranty
Both 3M and Avery Dennison offer warranties for their vehicle wraps, but the length and terms of the warranties can vary. It's important to remember that these are product related warranties and will not cover accidental damage caused by other external factors or normal wear and tear.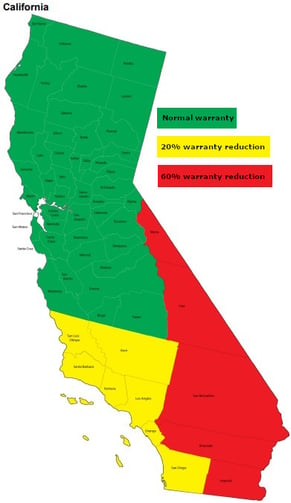 The extent of the warranty offered by 3M and Avery is also dependant on your geographic location, the colour and even the angle of your wrap relative to vertical.
Locations are split into different zones, each containing multiple countries, states, or even specific areas of certain states.
This means the wrap you buy could range from just a few months to more than a decade of limited warranty, depending on the factors above, something to factor into purchase decisions.
For example, if you use Black & White Avery Dennison Supreme Wrapping Film in the UK (a zone 1 country), the vertical facing part of your wrap gets 12 years of warranty, whilst the horizontal or non-vertical parts get just 6 years. This same product in a zone 3 area such as Arizona gets 8 and 4 years respectively.
3M even specifies altitude in their product warranties, with warranties voiding above 1500m. So if you live in Colorado, pick Avery. They don't specify an altitude limit, so you will get some warranty, though as with California above, it is split into zones, with the highest altitude regions receiving the least protection.
Warranty levels
3M offers 3 levels of warranty. Basic warranty covers defects in the material workmanship, as well as fading, cracking, or peeling of the vinyl film for about 3-5 years.
Enhanced warranty goes beyond basic to offer protection against additional damage factors and for a much longer period of time. Enhanced warranty might cover damage caused by road salt for example, and can extend up to 10 years in some cases.
Matched Component System Warranty or MCS is 3M's most comprehensive offering, providing protection against all manner of potential issues as long as your finished wrap was created and printed using only 3M products and components.
3M also offers a performance guarantee that their vinyl wrap products will remain adhered to your vehicle for at least 3 years.
Avery Dennison also offers its own range of similar warranties. Avery's standard warranties last for the shelf life of the product (which is contained within the product's data sheet).
Like 3M, Avery has a component system based warranty known as the Integrated Component System Warranty Programme. This is split into two levels: ICS Performance Guarantee and ICS Platinum Warranty.

The ICS Performance Guarantee covers all Avery films that have been used in conjunction with other components according to the products technical bulletin. This means, for example, that you are covered under more extensive warranty if you are using printers and inks specified by Avery.
ICS Platinum Warranty offers personalised packages where the specifics are agreed on by both parties. This level of warranty is a real step up from other options and even offsets the cost of materials, manufacturing and labour required to replace the faulty graphic.
3M has a Gold Partnership option that is extremely similar, so you are in good hands with either company.
For more on warranty refer to our Warranty Guide or our warranty comparison of 3M, Avery, Arlon, Orafol, Mactac and Metamark.
Installation
Installation of 3M and Avery wrapping films is relatively straightforward, although it could be argued that 3M, a company that prioritises colour change wraps for personal projects, has a slight edge over Avery.
3M tends to chase a more user friendly experience for first time wrappers or customers wrapping their own vehicle as a personal project. Avery tends to be used by more experienced professional wrappers, with the tools, kit and knowhow to get the job done.
One example of this is 3M's protective film, a layer that sits over the vinyl during the installation process to protect from accidental nicks and scratches. Once the wrap has been applied the layer can then be peeled off, revealing the unblemished vinyl beneath.
Whilst Avery makes fantastic quality vinyls, the company doesn't have anything that can compete with that.
Price
The price of a vehicle wrap can vary depending on a number of factors, including the size of the vehicle, the complexity of the design, and the type of vinyl film used.
3M has a reputation for pushing the boundaries of wrap technology, and as a result they are the most expensive brand on the market.
Whilst 3M products tend to be slightly more expensive than Avery's, the gap is steadily closing.
For information of finding a reputable supplier, check out our article on how much it costs to outsource vinyl graphics printing.
If you want to know how much it costs to wrap a vehicle in 3M or Avery for a specific vehicle, just hit the button below. We'll send you a free quote straight to your inbox!
Verdict

The main difference between 3M and Avery, is the colours and finishes they offer you as customers. Ultimately 3M may be better suited to colour change wraps and personal projects, whilst Avery may be a more appropriate choice for business vehicles and fleet wraps.
On average 3M is slightly more expensive, but the price gap has been steadily closing over the last couple of years, and will likely continue to. 3M wraps may be slightly easier to apply than Avery, but for skilled professional installers this will make little difference.
Both 3M and Avery use cast and calendared films in their extensive range of products, and both use a form of pressure sensitive adhesive, to allow installers to easily reposition a wrap during the application process.
Warranty options for both companies are extensive and tiered depending on your level of buy in with the brand. At the low end you are covered for material faults throughout the expected life of the wrap, at the high end, the costs of labour, remanufacture, materials and reapplication.
What are my next steps?
Check out our other comparison articles such as 3M vs Arlon, or Avery vs Arlon to help you refine the perfect brand for your next project.
If you are still wondering which company is right for you, focus on their colour options. For links to Avery and 3M product colour ranges, head to our colour chart guide.