Vehicle wraps are one of the most common and popular choices to modify the appearance of a vehicle.
They can be used to brand vehicles for business, customise the colour scheme of your car for a personal project or just to preserve your paint to enhance resale value.
Avery and 3M are some of the most popular vehicle wrap producers on the market and both have extensive graphical pedigree. But which company should you choose as your supplier or for your next project?
In this article I will breakdown the key differences between Avery and Arlon including materials, adhesive, colour options, warranties, installation and price.
Contents:
Materials
Most vinyl companies use a variety of cast and calendared films across their product ranges, and Avery and Arlon are no different.
Cast vinyls are thinner and more flexible than regular films enabling them to conform better to the contours of a vehicle. This also makes them easier to apply, benefitting first time users and seasoned installers alike. Cast vinyls are more expensive than calendared and as a result tent to be found in premium products.
Calendared vinyls are thicker, less malleable and do not contour as well to the surface of vehicles. They are cheaper to manufacture and harder to install, so usually end up in cheaper products. Calendared vinyls tend to last about 3-5 years whilst cast vinyls last 5-7.
Adhesive
Avery and Arlon both use pressure-sensitive adhesives that are optimised for easy installation, allowing repositionability and air release.
Pressure sensitive adhesive hold the majority of the adhesive behind a perforated layer. Force must be applied to squeeze the adhesive though the layer. If a low amount of force is used, just to keep the wrap in position whilst the installer is adjusting, then only a small amount of adhesive is applied.
Once ready to seal down, the installer can then apply more force to push all the remaining adhesive into contact with the vehicle, initiating a permanent bond.
Avery uses a pressure-sensitive adhesive called Easy Apply, whilst Arlon uses a similar system called FLITE technology. Both systems make it much easier and simpler to apply your vinyl, speeding up installation and allowing you to take on more projects.
Colour Options
Avery and Arlon do differ on their colour options, although both are a good option for fleet wrapping or business branding.
Avery is better than Arlon in terms of personal colour change, with an extensive range of standard gloss colours and specialty finishes, including matte, metallic and rarer finishes such as mirror gold and silver.
Arlon only has about 20 colours and finishes for colour change, whilst Avery Dennison has more than 100 in its Supreme Wrapping range alone.
Both companies offer a range of products that allow custom designs and business branding, so you can't go wrong with either for fleet wrapping.
To try out different colours for yourself, hit the button below and we'll match you with one of our design team. During your consultation, a member of our design team will take your ideas and produce a concept design for you, all for free!
Warranties
Avery and Arlon offer extensive warranty options ranging from standard limited warranty up to component and partnership level policies.
Standard limited warranty lasts for the expected performance life of your product. This is typically measured in months or years and will vary product to product. Standard limited warranty covers the cost of replacing a defective product.
Performance life is also affected by environmental including the angle of your wrap relative to the sun, the altitude you keep your product at, the typical daily duration and intensity of sun exposure, humidity, climate and pollutants.
Check out our durability guide for a deep dive into how your geographic location will play into the life of your wrap.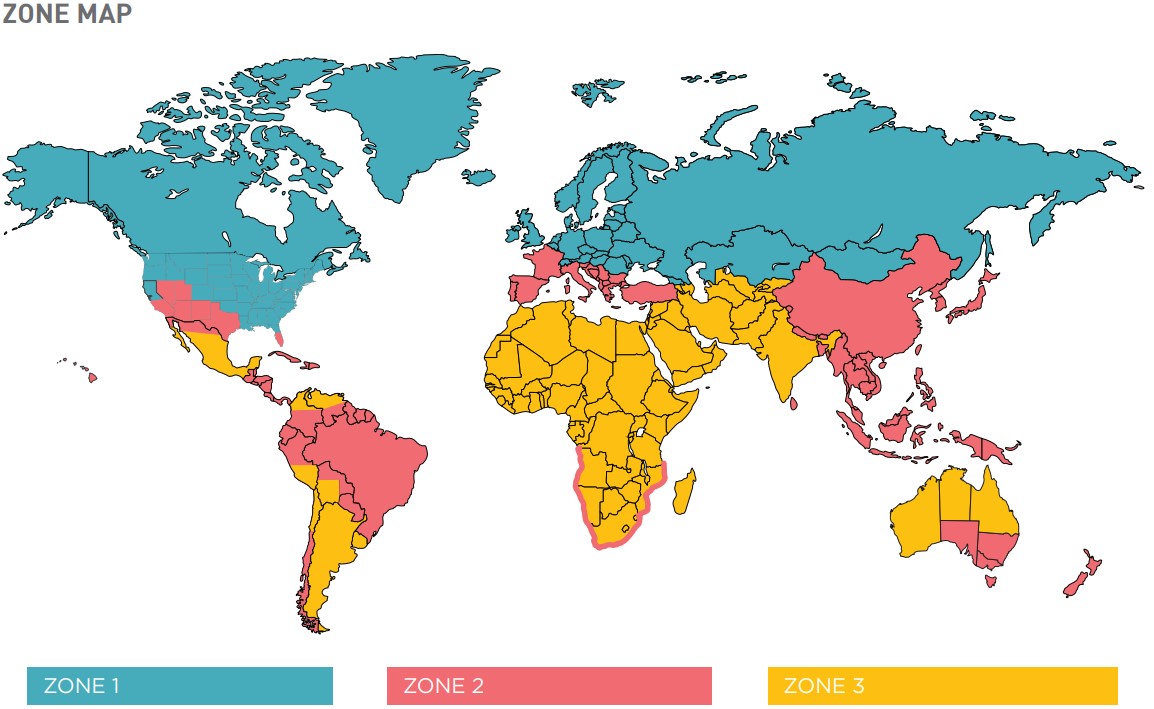 Component based policies are a higher form of warranty that include faults that occur during production using company qualified inks and overlaminates. Avery's policy is called the Integrated Component System whilst Arlon's is called Total system warranty.
Partnership level warranty is typically reserved for larger customers ordering larger volumes of product. This level of warranty provides protection against costs incurred as a result of a faulty wrap, for example labour costs, in addition to the cost of the material itself.
Partnership level warranty is often tiered based on client size, with level of service and warranty increasing with client investment. Actual terms at this level are usually negotiable, to ensure a mutually beneficial partnership for both parties.
Arlon has better Silver, Gold and Platinum level warranty, meaning it's partnership perks are available to a variety of business sizes. Avery only has Platinum Warranty, so it is less accessible than Arlon, but if you are large enough to qualify, Avery's terms and conditions are generally more favourable than Arlon's.
This is because Arlon uses a diminishing returns formula to calculate reimbursement incurred due to faults after your first year, instead of issuing full reimbursement.
Check out our full comparison of warranties across 3M, Avery, Arlon, Orafol, Mactac & Metamark for more information.
Installation
Both companies use a pressure sensitive adhesive and air release technology to ease the process of installation.
Arlon claims to have the most efficient wrapping technology on the market so it might have a slight advantage over Avery for fleet wrapping. We use Arlon for fleet wrapping at Raccoon for that reason.
Arlon's FLITE technology makes it very easy to quickly maneuverer and adjust a wrap without initiating a permanent bond. However Avery does have very similar technology through its low tack Easy Apply system, so you can't really go wrong whoever you happen to choose.
Price
Avery and Arlon do not differ significantly on price or in terms of value for money, although Avery might have slightly more favourable partnership warranty policies
If you want to know how much it costs to wrap using 3M or Avery for a specific vehicle, just hit the button below. We'll send you a free quote straight to your inbox!
Verdict
The main difference between Avery and Arlon is their colour options. Avery is a better choice for personal colour change as they offer roughly 5 times as many colour options as Arlon.
Arlon has only recently reintroduced it's colour change line though so this may well change in the future. Both companies use colour ranges ideal for fleet wrapping.
Arlon claims to have the most user friendly fleet wrapping friendly vinyls on the market, but Avery is also a great choice for installing fleet wraps.
Both companies have extensive warranty options, but they do differ slightly. Avery provides slightly more value for money at the partnership level, but such policies are less accessible than Arlon, which has a tiered partnership system.
What are my next steps?
For more information check out our comparisons of 3M vs Avery, or 3M vs Arlon.
If you are still wondering which company is right for you, focus on their colour options. For links to Arlon and Avery product colour ranges, head to our colour chart guide.