3M and Arlon are some of the most respected brands in the wrapping world, but which company is the best for vehicle wrapping?
In this article I will breakdown the key differences between 3M and Arlon including materials, adhesive, colour options, warranties, installation and price.
Contents:
Materials
As with most vinyl brands, 3M and Arlon both use a range of cast and calendared film in their vehicle wrap products.
Cast vinyl tends to be in premium and higher end products as it is thinner and more flexible than most films, making it easier to apply and helping it to better conform to the contours of a vehicle.
Calendared films are a bit cheaper to manufacture, and result in a thicker, less malleable film that does not conform as well as a cast vinyl.
Cast vinyl films last about 5-7 years whilst calendared last about 3-5.
Adhesive
3M and Aron both use adhesives designed to optimise the installation process, with repositionability and easy removal built in.
3M uses a pressure-sensitive adhesive called Controltac. Films that use Controltac hold their adhesive behind a perforated layer of interconnected beads. The more pressure that is applied, the more adhesive can be squeezed from behind the bead layer.
This allows installers to control the amount of adhesive that comes into contact with the vehicle, which makes it easy to reposition a printed wrap. Once the graphic is lined up in the perfect position an installer can they apply more force to it, squeezing out all the adhesive and initiating a permanent bond.
Arlon uses a very similar system called FLITE technology. Arlon's wrap use a low initial contact system that 'floats' over the vehicle surface. Once pressure is applied, the adhesive is forced out and begins to 'whet' or spread across the surface of the vehicle, allowing bonding to initiate.
The ability to lightly stick and reposition is extremely useful, as it cuts down on the pairs of hands needed to get a vehicle wrap done. What might once have taken an entire team might now only take just 1 or 2 professionals.
These technological breakthroughs are a great advantage for both small and large wrapping businesses. Projects become more manageable whether you pick 3M or Arlon, meaning you can take on more of them and increase your revenue.
Colour Options
3M is by far the better option if you are just looking for a premium colour change. Whilst Arlon does do colour change, it has only recently reintroduced it's colour change range post-covid and the current selection is just 20 colours and finishes.
3M has nearly 100 colours and finishes, providing customers with about 5 times as many options. It is therefore not advantageous to pick Arlon if you want a colour change based on colour change options alone.
If you are in the market for fleet wrapping and branding then either 3M or Arlon will suit your requirements nicely.
To try out different colours for yourself, hit the button below and we'll match you with one of our design team. During your consultation, a member of our design team will take your ideas and produce a concept design for you, all for free!
Warranties
Both 3M and Arlon offer extensive warranty options from standard limited warranty lasting the expected performance life of the product up to component based warranties and partnerships.
A component based policy will give you extra protection against faults that occur during production, as long as you are using 3M qualified inks and laminates on your vinyl.
A partnership level warranty covers you against costs incurred as a result of a faulty product, in addition to the cost of the material itself.
Expected product life
Expected product life is important to understand as it plays heavily into what you can expect from a warranty. Many countries denote zones whereby expected performance life will increase or decrease do to the climate or other environmental or atmospheric conditions.
A product in one country can therefore have significantly longer life expectancy than the same product used in another.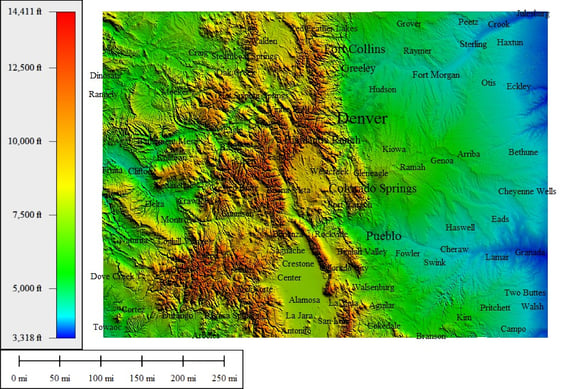 Whilst most of 3M's and Arlon's policies will be fairly similar location to location there will be regional variance, allowing you to get slightly more protection for your money.
It's also worth noting that 3M voids warranties in scenarios where the wrap is kept at elevations higher than 1500m.
This is quite a serious issue for companies operating in Colorado shown above, which has an average elevation of 2074m (6804ft). If you live in a high altitude location, you are therefore much better off going with Arlon than 3M.
Check out our ultimate guide to vehicle wrap warranty warranty for more information.
Installation
Arlon pride themselves on installation and claim to have the fastest installation on the market – ideal for fleet wrapping.
This is actually exactly what we use Arlon for at Raccoon, as it does make fleet wrapping easy. The FLITE technology is great for minimising the hands needed on a job and the low initial contact stops it sticking to things it shouldn't, including itself!
That being said 3M is no slouch when it comes to ease of installation either. It is very user friendly, especially for beginners, and is ideal if you're working on your first project alone.
One thing 3M does have that Arlon doesn't is a protective film that sits over the vinyl during installation, protecting it from nicks and scratches.
Both companies offer a range of overlaminates for extra finish effects and protection from damage cause by UV light or abrasion.
Price
Whilst the price of either material does vary product to product, 3M is generally more expensive than Arlon.
3M invests a lot of resources into research and development, and often set wrapping film trends. It is for this reason that 3M wraps tend to be more expensive.
Whilst Arlon is by no means cheap, it is slightly less expensive than 3M.
If you want to know how much it costs to wrap a vehicle in 3M or Arlon for a specific vehicle, just hit the button below. We'll send you a free quote straight to your inbox!
Verdict
The main difference between 3M and Arlon is their target market and colour options. 3M is a better option for colour changes whilst Arlon is better for fleet wrapping and businesses. 3M is slightly more expensive than Arlon, but the difference isn't massive.
Both companies use a range of cast and calendared vinyls in their product ranges, which come with extensive warranty options, dependant on your level of buy in.
3M's warranty voids at high altitude though making it a poor choice if you live in the mountains or at elevations higher than 1500m.
What are my next steps?
For more product comparisons, check out our comparison of 3M and Avery, or Avery and Arlon.
If you are still wondering which company is right for you, focus on their colour options. For links to Arlon and 3M product colour ranges, head to our colour chart guide.